Bands Performing at Bragg Jam Concert Crawl 2022
Image
The Bragg Jam Concert Crawl is back after a two year hiatus. Almost 50 musical acts will be performed throughout downtown Macon on Saturday, July 30th. 
Tickets for this event are $40 for General Admission (or $45 on the day of the event) or $150 for a VIP ticket and can be purchased online at this link. VIP ticket holders will have unlimited access to a VIP lounge at the Blacksmith Shop, complimentary drinks, and a Bragg Jam t-shirt.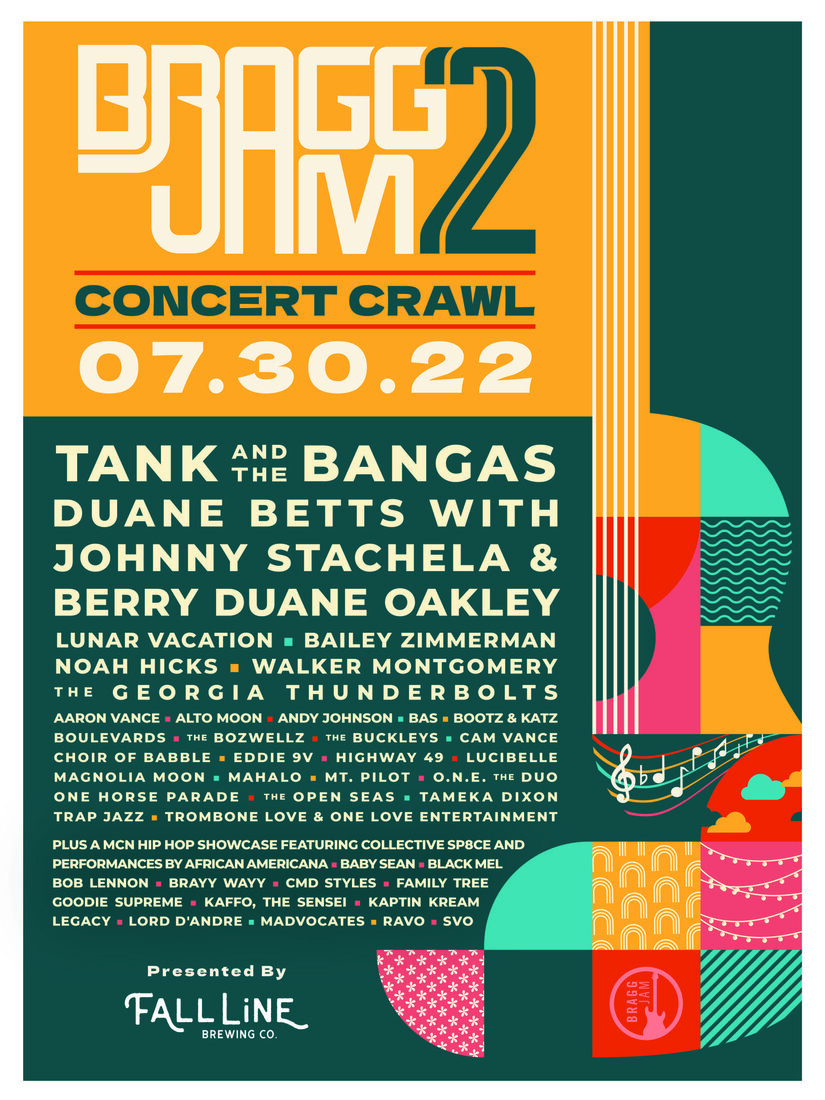 Bragg Jam first took place in 1999 to commemorate the lives of beloved up-and-coming young singer/songwriter Brax Bragg and his younger brother Tate Bragg who were involved in a tragic car accident. 
Bragg family friend Russell Walker organized an "impromptu jam session of local musicians" to bring everyone together to hear great music and begin healing from the tragic loss of the Brax and Tate. 
Bragg Jam was born from a place of deep love for family and community and it has continued to commemorate the loss of two very well loved brothers. 
Since 1999 Bragg Jam has also continued to bring talented musicians to Middle Georgia. Each year since then Bragg Jam has been a celebration of life for community members and the many brought to Macon for the festivities. 

The various types of music that will be performed this year ranges from R&B to Rap, Country to Rock and roll and Heavy Metal, and to much lesser known musical styles like Trap Jazz (not to be confused with Trap Jazz, one of the bands performing this year).
The following bands are performing at Bragg Jam Concert Crawl 2022. 
1. Tank and the Bangas

2. Duane Betts with Johnny Stachela and Berry Duane Oakley
3. Lunar Vacation
4. Bailey Zimmerman 
5. Noah Hicks
6. Walker Montgomery
7. The Georgia Thunderbolts
8. Aaron Vance
9. Alto Moon
10. Andy Johnson
11. BAS
12. Boots & Katz
13. Boulevards
14. The Bozwellz
15. The Buckleys
16. Cam Vance
17. Choir of Babble
18. Eddie 9V
19. Highway 49
20. Lucille
21. Magnolia Moon
22. Mahalo
23. Mt. Pilot
24. O.N.E. the Duo
25. One Horse Parade
26. The Open Seas
27. Tameka Dixon
28. Trap Jazz
29. Trombone Love & One Love Entertainment
Additionally, there will be a MCN Hip Hop Showcase featuring Collective SP8CE and performances by Africana Americana, Baby Sean, Black Mel, Bob Lennon, Brayy Way, CMD Styles, Family Tree, Goodie Supreme, Kaffo, The Sensei, Kaptin Kream, Legacy, Lord D'Andre, Advocates, Ravo, and SVO.
Bob Lennon performs "Narcissistic"
Lord D'Andre performs "Hollup"
Sharp eyed Middle Georgia residents will likely recognize some of the places several of the above music videos were filmed. The local talent performing this year is impressive to say the least.
Bragg Jam published a Spotify playlist of songs from the performing bands that can be found at this link.
---
---