Top Live Music Events in Macon and Middle Georgia this Week
Image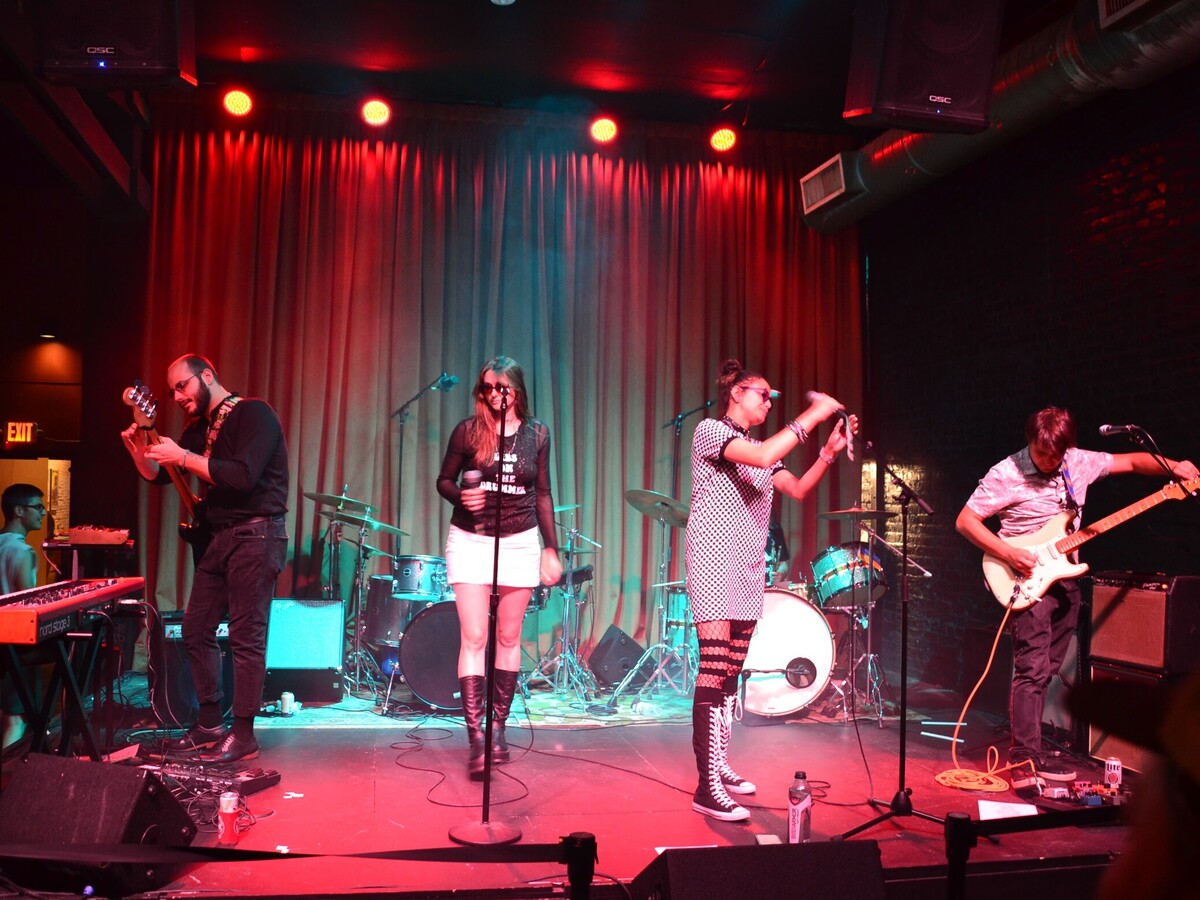 Get ready for an unforgettable week of live music! Many talented musicians will perform at a multitude of venues including The Pink Stones and Esther Stone at Grant's Lounge, Jim Lauderdale at Capricorn Sound Studios, Mike Kinnebrew at The Society Garden, and Mahalo at JBA . The following is just a short selection of some of the live musical performances taking place this week in Middle Georgia.

---
THURSDAY, JUNE 22
ANDREW TRUNER, RACHEL FOREHAND, AND BRITTON SEPRISH AT EMERSON AT PLUM (6 - 9 P.M.)
Middle Georgia musicians Andrew Truner, Rachel Forehand, and
Britton Seprish will all perform at Emerson at Plum on Thursday night. Emerson at Plum will charge a $10 cover, there will be a cash bar from Macon Drinks, and outside food is allowed, according to the organizers. Gates will open at 5 p.m.
JIM LAUDERDALE AT CAPRICORN SOUND STUDIOS (7:30 P.M.)
Jim Lauderdale is a country, bluegrass, and Americana singer/songwriter who will perform acoustic songs as well as tell stories about his life and music during this concert at the Capricorn Sound Studios. At the time of publication, there were no tickets available online for the Jim Lauderdale show.
THE PINK STONES AND ESTHER ROSE AT GRANT'S LOUNGE (9 P.M.)
The Pink Stones mix the genres of cosmic country and rock and roll and include both humor as well as heartbreak in their unique sounding music. Their newest album, "You Know Who", is scheduled to be released on June 30th. The Pink Stones will be joined by Esther Rose, who is a country musician based in New Orleans. Tickets to The Pink Stone and Esther Rose show cost $10.
The Pink Stones featuring Nikki Lane recently released the music video for their song "Baby, I'm Still Right Here (With You)"
---
FRIDAY, JUNE 23
RICHARD MARTIN AT BUFFINGTON'S IN MILLEDGEVILLE (7 P.M.)
Richard Martin is a singer and songwriter from Middle Georgia and also a member of the Free Lance Ruckus band. Buffington's is a restaurant that does not have a cover charge.
KALEIGH COURSON AT 20'S PUB (9 P.M.)
Kaleigh Courson is a singer and songwriter from Macon who blends southern rock with country music and can often be found performing at venues all around Middle Georgia. 20's Pub does not have a cover charge.
MAPLES CROWN AT COMPANY SUPPLY IN DUBLIN (9 - 11:30 P.M.)
Maples Crown is a band that performs covers of popular rock and roll songs. Company Supply describe themselves as a Cajun and Creole inspired restaurant in Downtown Dublin and they often have live music performances for diners to enjoy. Maples Crown will play during Company Supply's new "Company After Dark" performances.
MIKE KINNEBREW AT THE SOCIETY GARDEN (8:45 - 11:45 P.M.)
Singer and songwriter Mike Kinnebrew is a musician that writes songs that he wants to "grab you by the heart - or by the throat". He will perform with a full band on The Society Garden's big stage this Friday night. The Society Garden will have a $10 cover at the door after 7 p.m.
MS. SAN AT GRANT'S LOUNGE (9 P.M.)
Ms. San is a rhythm and blues and soul singer from Macon. Tickets to see Ms. San's performance cost $10.
THE LEVI DE VILLE BAND AT BILLY'S CLUBHOUSE (10 P.M.)
Levi De Ville Band is another singer, songwriter, and guitarist who will be performing in Macon on Friday. The band's music has been described as blues, rock, and country with a bit of Stevie Ray Vaughn. Billy's Clubhouse does not have a cover charge.
MAHALO AND DJ CL33BO AT JBA (10 P.M.)
Mahalo is another talented band from Macon and they will perform for the first time on JBA's new stage Friday night. After Mahalo's performance, DJ CL33BO will take the stage and spin records until late. JBA will charge a cover of $5 at the door starting at 9:45 p.m.
GARY LAZER EYES AT THE HUMMINGBIRD (10 P.M.)
The uniquely named band Gary Lazer Eyes will return to Macon on Friday. This band from Florida has been performing together since 2015 and have performed at many festivals, including the popular Okeechobee Music and Arts Festival. The Hummingbird has a $5 cover charge.
---
SATURDAY, JUNE 24
CHRIS HICKS AND FRIENDS AT AMICI MACON (8 - 11 P.M.)
Chris Hicks is the lead guitar player, vocalist, and songwriter for the Marshall Tucker Band. He will appear with the band Chris Hicks and Friends at Amici's in Macon on Saturday night. Amici Macon is a restaurant near Mercer University and it does not have a cover charge.
ROCKAFELLAS REUNION AT THE SOCIETY GARDEN (8:30 - 11 P.M.)
The Rockafellas play a mixture of progressive and classic cover songs as well as their own original songs like "Crazy Women". This will be a reunion show as this prolific band has not performed together as The Rockafellas for 30 years.
EARLY JAMES AT GRANT'S LOUNGE (9 P.M.)
Early James is a folk rock/country artists known for his ability to write witty lyrics as well his unique, soulful voice. James knew at the young age of six that he wanted to be a musician and he began to write music soon afterwards. Tickets to the Early James show are $10.
Early James' music video for "What A Strange Time to Be Alive" is also the name of his first album
THE RELICS AT BILLY'S CLUBHOUSE (10 P.M.)
The Relics is a band from Atlanta whose sound has been described as a mixture of The Beatles and Green Day and their style was influenced by bands like The Rolling Stones, Led Zeppelin, and Pink Floyd. The Relics new single "Sunshine" is scheduled for release on June 23rd. Billy's Clubhouse does not have a cover charge.
---
SUNDAY, JUNE 25
MILL QUEENS AND THE ROUGROUS AT BUFFINGTONS IN MILLEDGEVILLE (6 - 9 P.M.)
Mill Queens and The Rougrous will perform at Buffington's in Milledgeville Sunday evening. Buffington's is a restaurant and does not have a cover charge.
---
---
More News from Macon