MACON VISIONARY: Photographer and Storyteller DSTO Moore
Image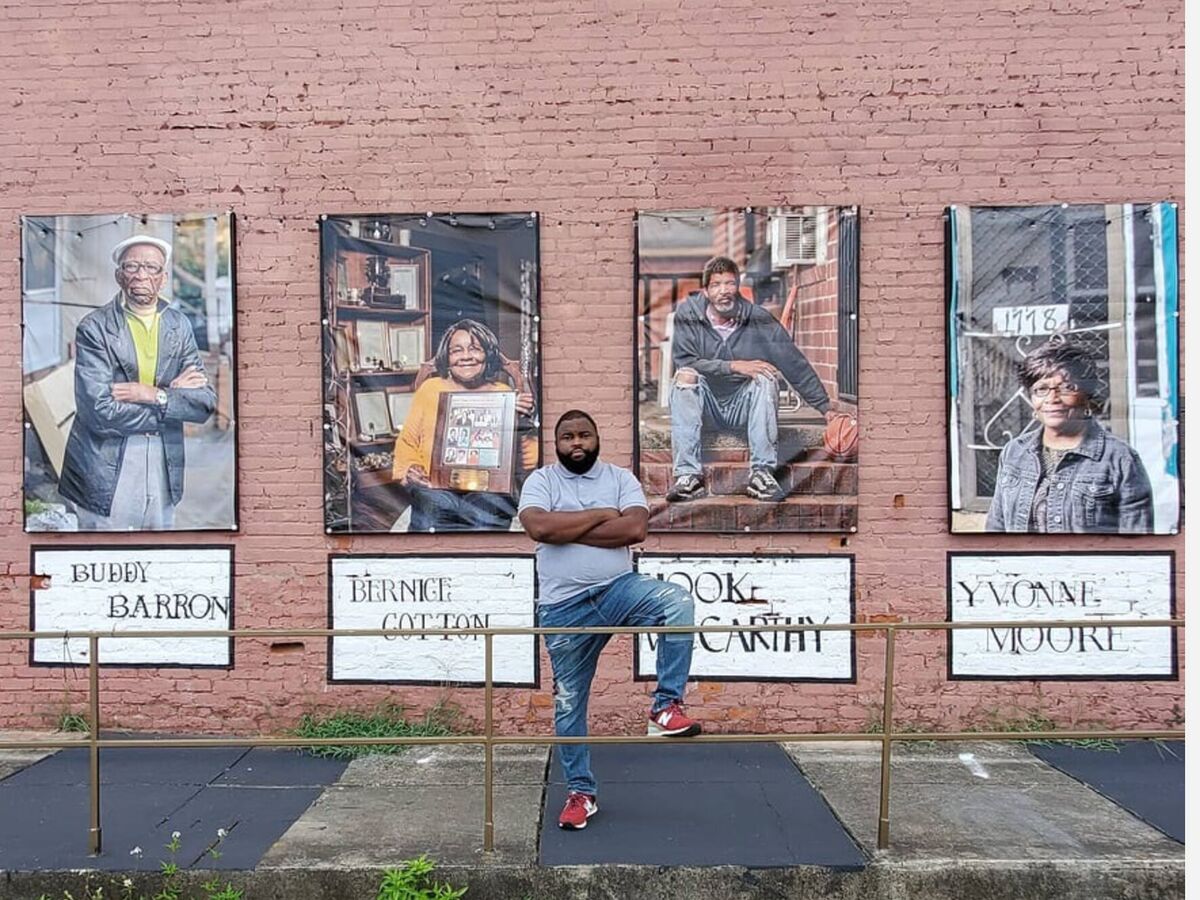 If you haven't heard DSTO Moore's name before now, it was only a matter of time.
Moore is a photographer whose work has been turning heads in Macon for several years now. His photographs all help tell unique and often untold stories of the people he is photographing.
You might have seen his photography at multiple exhibits throughout Macon, including currently a series of photographs called the "Unsung Heroes of Pleasant Hill"at Ucreate Macon  or the ongoing My Bike Photo Series at the McEachern Art Center.
Moore's photo exhibit "Take a Walk in My Shoes" was on display at the Macon Arts Alliance in May of this year. This exhibit was full of photographs of people in Macon whose stories often haven't been told in the public arena, such as the homeless, members of the drag community, and artists.
What made the exhibit especially brilliant was that the shoes from the people in the photographs were also exhibited. 
It was a bold and fresh restating of the wise saying "Don't judge someone until you have walked a mile in their shoes."
"Everybody's story is important," Moore says, "One of the guys [from the "Take a Walk in My Shoes" exhibit] had been homeless for 30 or 40 years. But his story inspired me…I get inspired with their stories."
Moores's ability to accept people for who they are makes a big difference in the photographs he is able to capture.
Moore is currently working on several projects dealing with people from communities that often are ignored, such as the community of people with Down's syndrome.
"I want to normalize people," Moore explains, "I'm a storyteller…I like pop up on people in their own environment…I don't want it to be pretty, I want it to be real."
This isn't very surprising once you find out Moore's philosophy of life. Moore has a lot of thoughts about the legacy he will leave for his children and future generations, which involves telling the stories of the subjects of his photographs, no matter what their paths in life looked like.
Moore's photography focuses on the stories of others but his own story is itself inspirational. He didn't grow up frequenting art galleries or paying much attention to photography and art. In fact, Moore says he went to his first art gallery about 5 years ago.
Moore made a brave decision to leave a good job with Coca-Cola to become a full-time photographer approximately 6 years ago. 
He took a class on photography in downtown Macon, wanting to be a fashion photographer. Moore soon changed his focus from fashion to the people of Macon and he hasn't looked back since.
When Moore talks about Macon, you can hear the love he has for the people. Moore's love for Macon started with his childhood in the historic Pleasant Hill neighborhood. 
Pleasant Hill was founded in 1872 and was built by and for the African-American community. This one-square-mile neighborhood to the west of downtown Macon has had an outsized impact on the world. 
During its heyday, Pleasant Hill was full of a mix the working class, numerous prominent African-American physicians, business owners, professionals, and famous people, including "The Innovator, The Originator, and The Architect of Rock and Roll," "Little" Richard Penniman, one of the many musicians to call Macon their home.
While Pleasant Hill has had its challenges with blight and other problems in more recent years, Moore knows firsthand that it is still a great neighborhood with many outstanding citizens.
Moore's grandfather, Buddy Barron, has lived in Pleasant Hill for more than 70 years. Moore describes Mr. Barron as a "walking library" due to the many stories he has to tell. Macon's Mayor Lester Miller even recently proclaimed April 6th as "Mr. Young "Buddy" Barron Day" in April of this year to celebrate Mr. Barron's turning 100-years old. 
Moore's love for Macon was recognized by NewTown Macon in 2020 when they awarded him the Downtown Ambassador Award. 
Regarding whether people should come visit Macon, Moore says that people should first talk to the people of Macon instead because the news only focuses on negative stories instead of all the positive ones.
"I know everybody wants to go to Atlanta…but for me, being an artist and everything, Macon is a prime town right now," Moore says, "Macon is…transcending from the...old ways and a lot of people are coming in with new ideas and...it is bringing people together."
When others ask Moore how to find the kind of success he has found, he tells them the meaning of his name.
"DSTO is not my real name…DSTO stands for Don't Stop Trying to Overcome," Moore says, "Life isn't going to be easy but you got to keep trying…I put a lot of work in…I heard a lot of no's and everything…but don't stop trying to overcome."
Moore will be at the McEachern Art Center this Friday, July 9th for a Happy Hour and Artist Q&A event starting at 6 p.m., along with photographers Matt Odom and Suzanne Lawler,  if you want to find out more about this fascinating photographer and storyteller.