Fun and Interesting Events in Middle Georgia This Week (7/18 - 7/24)
Image
Monday, July 18th
Hanging Terrarium for Adults at Robins Air Force Base Library (1 - 5 p.m.)
This event is a way for military members to get creative on Monday night. Materials will be provided so attendees can build their own globe terrariums (a miniature garden). Military ID is required for this workshop. For more information regarding this event contact the library at (478) 222-0774. The Robins Air Force Base Library is located at 620 Ninth Street, Building 905 in the Robins Air Force Base.
Tuesday, July 19th
Macon Film Guild Presents "Jazz Fest: A New Orleans Story" at the Douglass Theatre in Macon (7:30 p.m.)
The Macon Film Guild and the historic Douglass Theatre presents a documentary about Jazz music, New Orleans, and more. Featuring scenes from the 50th anniversary of The New Orleans Jazz and Heritage Festival, this documentary includes live performances, interviews, and archival footage about the history of Jazz and "The Big Easy". The Douglass Theatre is located at 355 Martin Luther King Junior Boulevard in Macon.
Jazz Fest: A New Orleans Story is a documentary released in 2022
Wednesday, July 20th

Moon Day at the Museum of Arts and Sciences in Macon (10 a.m. - 4 p.m.)
This event celebrates both the "first landing on the moon and exploration of space." Listen to a virtual presentation by Elizabeth Tammi from 12:15to 12:45 p.m. Tammi is a graduate of Mercer and the outreach and social media outreach for the Hubble Space Telescope's very large social media following. This event is included with admission to the Museum. The Museum of Arts and Sciences is located at 4182 Forsyth Road in Macon.

---
---
Thursday, July 21st
Book Sculpture for Teens at the Griffin-Spalding County Library (6:30 - 8 p.m.)
Kids under 13  (and young at heart adults) can build their own unique book sculptures with sea faring or sea monster themes at this free workshop on Thursday evening. Class size is limited and those interested in attending must call (770) 412-4770 to register. The Griffin-Spalding County Library is located at 800 Memorial Drive in Griffin.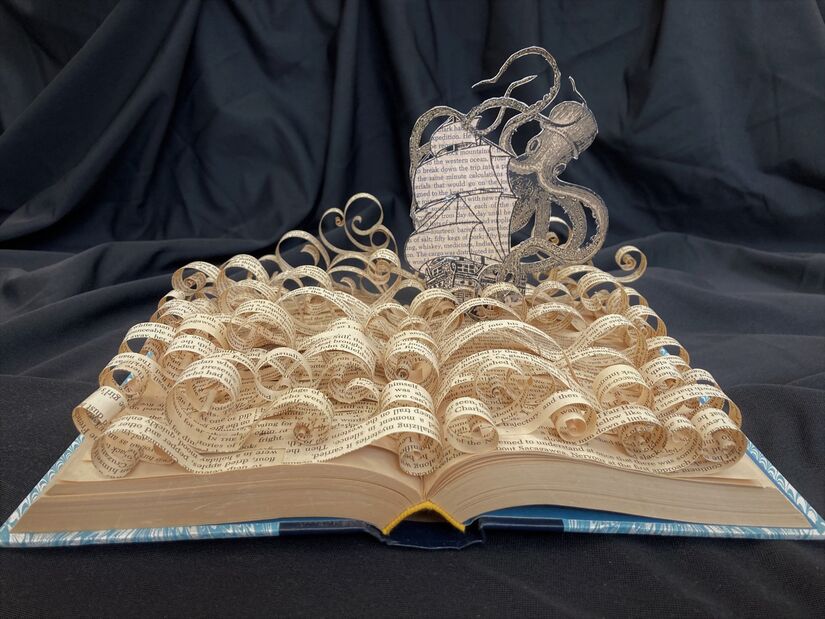 Thursday Night Karaoke at Friends On The Hill in Warner Robins (10 p.m. - 1 a.m.)
If you are looking to bring in the weekend early, this event at Friends On the Hill on Thursday might be for you. DJ B3 hosts a karaoke party with no cover charge for entry. There are multiple drink specials like two for $9 Biloxi Boys and Greentea shots. Friends On The Hill is located at 104 Westcliff Boulevard in Warner Robins.
Friday, July 22nd
Taco and Tequila Fest at Society Garden in Macon (6 - 9 p.m.)
The Taco and Tequila Fest takes place from Friday through Sunday this weekend. Two taco trucks as well as Satterfield's El Sancho menu will be serving tacos and other tasty food throughout the event. There will also be tequila sampling and craft cocktails and live music each day. On Friday GrandVille, a band out of Athens, will perform starting at 8 p.m. Orquesta MaCuba, a 10 piece salsa band from Atlanta, The Ritmo Soul Bunch, Mariachi band Mariachi Búhos de Oro, and Dean Brown and the Dubshak Band will also be performing live during Taco and Tequila Fest. Three day tickets cost $25 and individual day tickets cost $10: they can be purchased on Eventbrite.com. The Society Garden is located at 2389 Suite B Ingleside in Macon.
Rachel Forehand EP Release Party with Black Jacket Bandolier at Grant's Lounge in Macon (9 p.m.)
Black Jacket Bandolier and Rachel Forehand will perform to celebrate the release of Forehand's EP "Six Strings & Day Dreams" on Friday night. Forehand is from Macon and her music is inspired by artists like the Allman Brothers Band, Janis Joplin, and Johnny Cash. Tickets for this event are $10 and can be purchased online. Grant's Lounge is located at 576 Poplar Street in Macon.
Forehand's "Secrets" music video was filmed at Grant's Lounge and other locations throughout Macon
Saturday, July 23rd
Identify Native Plants at the Ocmulgee Mounds (8 - 9 a.m.)
The Ocmulgee Mounds National Historical Park hosts this free class on Saturday morning by the Georgia Native Plant Society and Fringed Campion Chapter of the Georgia Native Plant Society. Participants will be led a guided hike and shown how to identify native plants using a dichotomous key (a written tool for identification of plants and animals). The Ocmuglee Mounds National Historical Park is located at 1207 Emery Highway in Macon.
The Celebrity Comedy Series in Macon (7 and 9:30 p.m.)
Macktyme Entertainment presents The Celebrity Comedy Series this Saturday night. Actor and comedian Tommy Davidson of "In Living Color" as well as comedians DS Sanders and Ice Cream will perform. There will be two shows with the first starting at 7 p.m. (doors open at 6 p.m.) and the second at 9:30 p.m. (doors open at 9 p.m.). Tickets for this event start at $30 and can be purchased at Eventbrite.com. The Anderson Conference Center is located at 5171 Eisenhower Parkway in Macon.
Macon Bacon vs Savannah Bananas Coastal Plain League Baseball Game in Macon (7 p.m.)
These two rival teams always put on an entertaining and surprising show when they face off. Luther Williams Field has seen talented players like Pete Rose, Chipper Jones, and Andruw Jones, Sr. play there and has been the location for movies directed by Harrison Ford and Clint Eastwood. Lucky fans might even run into the Macon Bacon mascot, Kevin (a very large and appetizing looking piece of bacon). Luther Williams Field is located at 225 Willie Smokie Glover Drive in Macon.
---
---
More News from Macon