Fun and Interesting Events in Middle Georgia this Week (11/28 - 12/4)
Image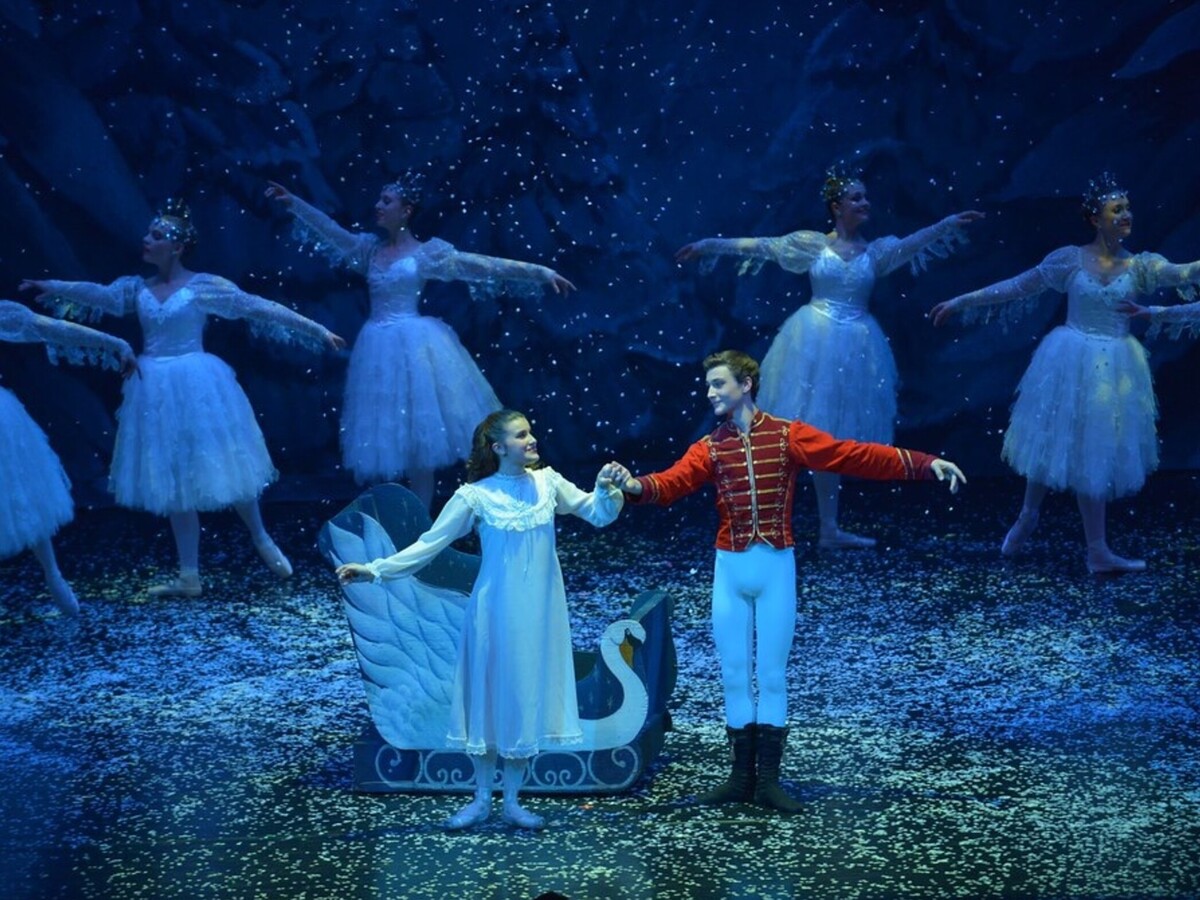 This week around Middle Georgia there will be many holiday and gift buying events taking place as well as live music performances, holiday light attractions, a chance to see a performance of "The Nutcracker", and more. 
---
MONDAY, NOVEMBER 28TH
Mark Johnson at Parish on Cherry (6 - 9 p.m.)
Guitarist and singer Mark Johnson will play an acoustic, solo set of popular songs on the patio at Parish on Monday evening. Parish on Cherry is located at 580 Cherry Street in Macon.
TUESDAY, NOVEMBER 29TH
Macon Arts Alliance's The Holiday Show (10 a.m. - 5 p.m.)
There will be many gift buying opportunities Tuesday at the Macon Arts Alliance's The Holiday Show. This show will be open from 4 - 7 p.m. Tuesdays through Saturdays until December 23rd. The Macon Arts Alliance is located at 486 1st Street in Macon.
Georgia Gives Day Celebration at Philosophie Wine Bar (5:30 - 7 p.m.)
Georgia Gives Day was started in 2012 to help nonprofits fundraise and connect with their communities. The Philosophie Wine Bar will help raise funds for the Junior League of Macon on Tuesday with "drinks, treats, and fellowship" on Tuesday evening. Philosophie Wine Bar is located at 616 Poplar Street in Macon.
WEDNESDAY, NOVEMBER 30TH
Open Mic Party Night Karaoke at My Piano Bar (7:30 p.m. - 11:30 p.m.)
This event is for people who like listening or performing karaoke or just hanging out with karaoke performers. My Piano Bar is a live music venue and bar located in Downtown Macon located at 570 Mulberry Street in Macon.
---
---
THURSDAY, DECEMBER 1ST
Annual Holiday Reception at Rose Hill in Milledgeville (6 - 8 p.m.)
The Lockerly Arboretum is a private, nonprofit arboretum (a "botanical collection composed exclusively or very largely of trees of a variety of species") located in Milledgeville. Thursday evening the Lockerly Arboretum will celebration their Annual Holiday Reception at Rose Hill, which will be decorated with some of the plants and trees from Lockerly by garden clubs from Milledgeville. Tickets cost $50 and must be purchased before November 28th. Lockerly Arboretum is located at 441 South in Milledgeville.
Disney On Ice presents "Let's Celebrate" at the Macon Coliseum (7 p.m.)
Over 50 Disney characters will be represented at this ice skating show at the Macon Coliseum on Thursday. Mickey and Minnie Mouse will host and the show will consist of "14 of the greatest Disney stories ever told" according to Disney on Ice. Ticket prices start at $20 and can be purchased online. The Macon Coliseum is located at 200 Coliseum Drive in Macon.
FRIDAY, DECEMBER 2ND
ROAD TRIP: Christmas in Griffin (5:30 p.m.)
This free Christmas event takes place in Downtown Griffin and includes Santa arriving by fire truck at 6 p.m. and lighting a festive Christmas tree. Attendees can walk on Christmas Tree Lane (sponsored by Chick-fil-A Griffin), kids can take a train ride, and the Grinch & Cindy Lou Who are expected to be in attendance as well. At 7:30 p.m. there will also be a screening of the animated movie "The Grinch" on the lawn at Historic City Hall located at 201 East Solomon Street in Griffin.
December First Friday in Downtown Macon (5:30 p.m.)
The last First Friday event of 2022 will take place in Downtown Macon this Friday. The Macon Christmas Light Extravaganza started last Friday and features music from the Macon Pops synchronized with more than half a million Christmas lights with shows starting on the hour from 6 until 9:00 p.m.
NewTown Macon will be serving free s'mores on Poplar Street between Second Street and Third Street under the Christmas lights. NewTown Macon are also doing a donation drive for those in need this winter and will accept donations of new adult thermal undergarments for men or women, adult hats and gloves, disposable hand warmers, and flip flops or shower shoes in all sizes.
There will be several art gallery openings including the McEachern Art Center's gallery's opening of "Art From The Heart" at 6 p.m. "Art From the Heart" will feature works from the talented and prolific Kevin Lewis and art students in the Boys & Girls Clubs of Central Georgia.
The 567's "Favorite Things Shop" exhibit will be open from 5 until 8 p.m. Colorful art, holiday decor, and unique gifts created by 20 local artists will be on display. Some of the artists will be on hand and light refreshments will also be served.
Pearl-Passionate Cuisine & Cocktails will be collecting pet food and supplies (blankets, etc.) for All About Animals Rescue. Hotel Forty Five will be serving $5 drinks and flatbread specials.
Rumours, the popular Fleetwood Mac Tribute band, will perform at The Hargray Capitol Theatre starting at 7 p.m. Tickets start at $20.
The Hummingbird will present The Macon Sound starting at 10 pm.
JBA will present the "Dark Americana Project" from Hot Rod Walt starting at 10 p.m. as well with "a 40's style gothic themed feel" consisting of 2 guitars, upright bass, violin, and pedal steel.
Fall Film Series Screening of "Elf" in Perry (6 - 9 p.m.)
Families can enjoy free popcorn and activities while watching the hilarious movie "Elf" on a big screen at this event on Friday night. This is the last Fall Film Series movie screening this year. Visitors can bring in their own coolers and are recommended to bring their own chairs and blankets for comfort. There will also be local food vendors on site during the playing of "Elf" for hungry attendees. This event takes place on the Perry Events Center Lawn located at 1121 Macon Road in Perry.
SATURDAY, DECEMBER 3RD
Walk With a Doc at Amerson River Park (9 a.m.)
This event starts will a discussion about health with an Atrium Health healthcare provider and then continues with a walk at the beautiful Amerson River Park. It's a great way to get out, get active, and enjoy all the benefits that come from walking. Walk With a Doc starts at the AGL Pavilion beside Amerson's playground. Attendees are requested to wear appropriate fitness clothing and bring water to drink. Amerson River Park is located at 2551 North Pierce Circle in Macon.
Native Plant Hike at Piedmont National Wildlife Refuge (10 a.m. - 12 p.m.)
The large Piedmont National Wildlife Refuge is the home of numerous plant and animal species. The Native Plant Hike will teach hikers how to identifying Georgia's native plants. This event may be cancelled for inclement weather or unforeseen events. Attendees are requested to wear long sleeves, long pants, hat, hiking boots, or shoes and to bring insect repellent, water, and trail snacks. No dogs are allowed on the Native Plant Hike. Text Carol Bokros at (478) 318-4067 or email her with any questions about this event. Online registration is required for the Native Plant Hike which begins at the Visitor's Center on Allison Lake Road is located at 415 First Street in Macon.
Centerville's Annual Lighted Christmas Parade (7 - 9 p.m.)
The City of Centerville will hold their tenth annual Annual Lighted Christmas Parade on Saturday evening. Numerous vehicles decorated with sparkling Christmas lights will drive down the Houston Lake Boulevard parade route. The Lighted Christmas Parade takes place along Houston Lake Boulevard in Centerville.
O'Tis the Season at the Hargray Capitol Theatre (7 p.m.)
O'Tis the Season is a concert performed by the Otis Redding Foundation's talented students and coaches and special guest which include Kim Michael Polote, Charles Davis and the Velvet Sound, Reese Soul, Kali Dance Studio, and more. This event is a holiday fundraiser created by students of the Otis Redding Foundation. Tickets start at $15 and can be purchased online. Hargray Capitol Theatre is located at 382 2nd Street in Macon.
SUNDAY, DECEMBER 4TH
World Ballet Series presents The Nutcracker at the Macon City Auditorium (6 p.m.)
The World Ballet Series presents The Nutcracker on Sunday with a "multinational cast of 50 professional ballet dancers" bringing Tchaikovsky's fanciful tale to life. Ticket prices start at $35 and can be purchased online. Doors open at 5 p.m and the show starts at 6 p.m. The Macon City Auditorium is located at 415 First Street in Macon.
More News from Macon