Fun Things to Do this Week in Macon (1/16 - 1/22)
Image
This week there will be celebrations of Dr. King's legacy, some free live music performances, and lots of other affordable and interesting events taking place throughout the community. 
Middle Georgia Times would like to thank our newest sponsor, Triangle Arts Market. Triangle Arts Market takes place on the third Saturday and Sunday of each month and features unique items for sale like art, jewelry, baked goods, and more from local producers and creators.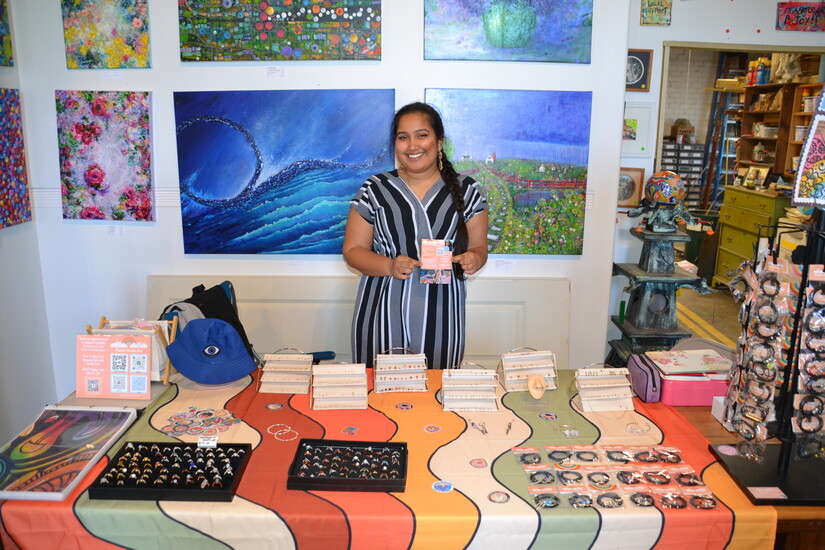 ---
MONDAY, JANUARY 16
Martin Luther King Jr. Day
There are many events taking place in Macon to honor and commemorate the legacy of Dr. Martin Luther King, Jr. Besides attending an event on MLK Day, the day is also known as the MLK Day of Service where citizens are encouraged to take part in volunteering to better their communities.
---
---
TUESDAY, JANUARY 17
Macon Film Guild Presents the David Bowie Documentary "Moonage Daydream" at The Douglass Theatre (7 p.m.)
David Bowie fans will want to visit the historic Douglass Theatre on Tuesday to see this 2022 documentary by Brett Morgen. This Bowie estate sanctioned film does run on the long side at over two hours. The film is Rated PG-133 due to some mature images, strong language, and smoking. Tickets to the screening cost $5 and can be purchased in advance online or at the door.
The Douglass Theatre is located at 355 Martin Luther King, Jr. Boulevard in Macon.
Music Therapy Hosted by the Kenny Ray Williams Band at JBA (7 p.m.)
Every Tuesday JBA presents a night of music therapy. Musicians are invited to signup to perform and then get on the stage with their instruments and release all their stresses and worries. The Kenny Ray Williams Band will host this night of live music.
JBA is located at 499 Martin Luther King, Jr. Boulevard in Macon.
WEDNESDAY, JANUARY 18
Pearl's First Street Low Country Boil (5 - 8 p.m.)
Pearl's Passionate Cuisine and Cocktails is having a low country boil on Wednesday evening. Tickets can be purchased through Eventbrite according to Pearl's event posting on Facebook.
Pearl's Passionate Cuisine and Cocktails is located at 470 1st Street in Macon.
---
---
THURSDAY, JANUARY 19
Black Jacket Symphony Presents Fleetwood Mac's "Rumours" at The Grand Opera House (8 p.m.)
The Black Jacket Symphony perform classic albums live with musicians chosen specifically for each album they choose to honor. The performance is presented as two sets with the first being a symphonic recreation and the second set includes a more laid back performance with light display. Tickets start at $30 and can be purchased online or at the the Grand's box office.
The Grand Opera House is located at 4760 Forsyth Road in Macon.
The video of Black Jacket Symphony's performance of Bohemian Rhapsody has been viewed over 5 million times on Youtube
FRIDAY, JANUARY 20
Dare to Live: The Daron Kline Benefit Show at JBA (7 p.m.)
The community is coming together around Daron Kline to help support his medical costs for a liver transplant. Many talented musicians will perform during this event including Scott Baston, Nate Bedgood, Mike Smallwood, Matt Lang, Justin Cutway, Caleb Melvin, Brent Thomason, and the always entertaining Choir of Babble finishing the night's festivities. JBA will also be donating 15% of the day's sales for the worthy cause.
JBA is located at 499 Martin Luther King, Jr. Boulevard in Macon.
Faculty Jazz Quintet in Fickling Hall (7:30 p.m.)
The Faculty Jazz Quintet will present a free performance Friday evening. The musicians will perform everything from "classic bebop to modern masterworks" as well and premiere of new compositions, according to Mercer's Townsend School of Music. This event will take place in the McCorkle Music Building's Fickling Hall.
McCorkle Music Building is located at 1501 Mercer University Drive in Macon.
Tuckered Out Movie Hour Presents "Birdemic" at Reboot Retrocade and Bar (9 p.m.)
Comedian Tucker Andrews hosts a free night of comedy along with the screening of cheesy movies (including Birdemic: Shock and Terror) of Friday. Reboot's Jamie Helms will provide timely trivia about the movies as well. This event is for attendees 18 and older.
Reboot Retrocade and Bar is located at 566 Cherry Stre Street in Macon.
SATURDAY, JANUARY 21
Ocmulgee Brewpub's 6th Anniversary Celebration (6 p.m.)
Ocmulgee Brewpub opened six years ago this year and they will be celebrating the special occasion Saturday night. The public is invited to the party and will unveil their newest drink called a peanut butter stout named PB-8.
Ocmulgee Brewpub is located at 484 2nd Street in Macon.
Big Band of Brothers: A Jazz Celebration of the Allman Brothers at The Grand Opera House(8 p.m.)
Original Allman Brothers Band member Jaimoe will perform music inspired by ABB's album Big Band of Brothers along with Sammy Miller and The Congregation, special guests Lamar Williams Jr., and Drew Smith. The musicians performances will also feature a 10 song set of jazz interpretations of ABB's most popular songs. Tickets start at $34 and can be purchased online or at the Grand's box office.
The Grand Opera House is located at 651 Mulberry Street in Macon.
SUNDAY, JANUARY 22
Macon House Concert with The Blue Eyed Bettys (6 - 8 p.m.)
This unique concert by The Blue Eyed Bettys will take place at the residence of Maconites Alma and Calvin. The Bettys have fan bases located in Florida, New York, North Carolina, and the Midwest, and even here in Macon. There is a $15 suggested donation for the band and those interested can email Alma and Calvin for more information about the location of their home and the upcoming performance.
The Blue Eyed Bettys performing a cover of Stevie Nick's "Landslide" at the Florida Studio Theatre
Macon Mayhem vs. Knoxville Ice Bears at the Macon Coliseum (4 p.m.)
Macon's own minor professional hockey team, the Macon Mayhem, will be playing against the Knoxville Ice Bears on Sunday. Audience members are encouraged to bring new packaged underwear, t-shirts, socks, jackets, blankets, and other items to donate to Macon's Daybreak. The doors open at 3 p.m. and tickets start at $14 online.
The Macon Coliseum is located at 200 Coliseum Drive in Macon.
More News from Macon