Live Music in Middle Georgia this Weekend
Image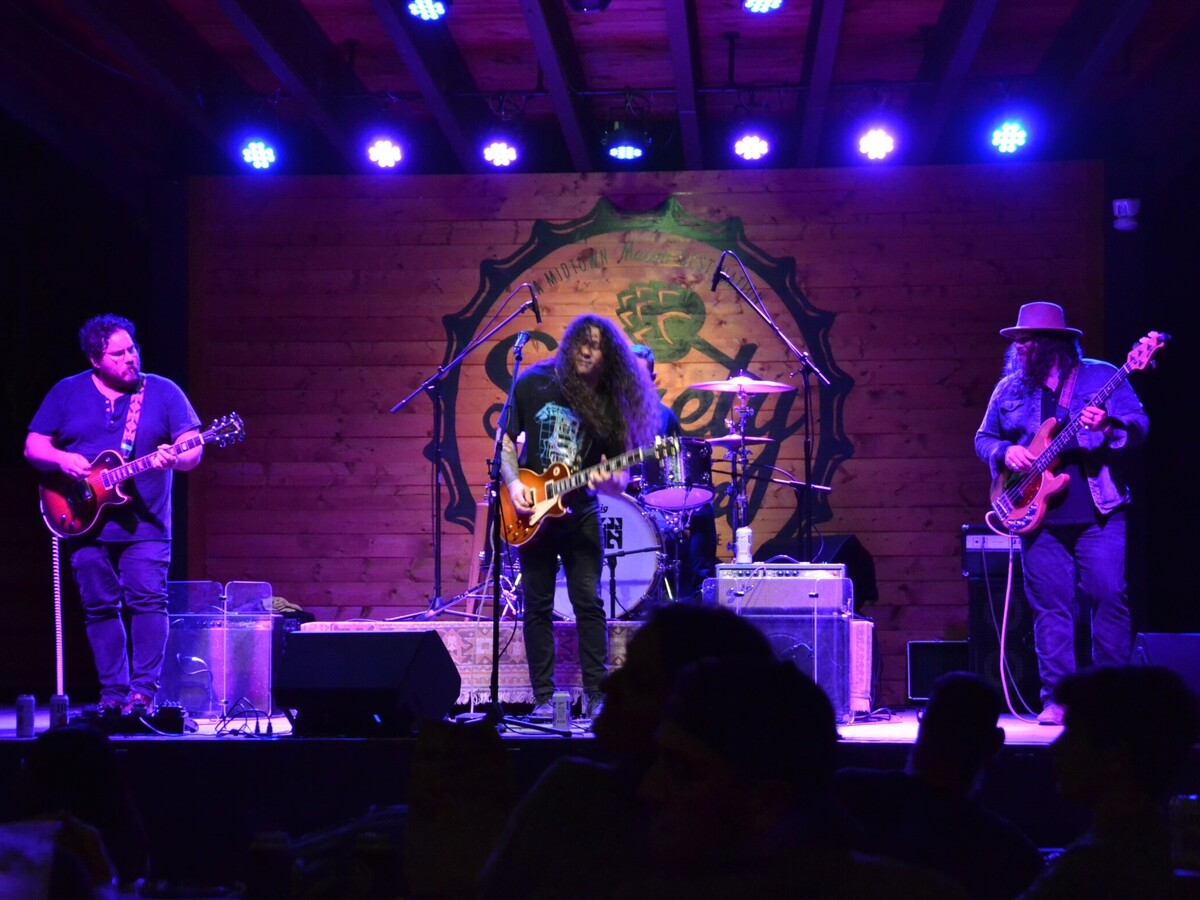 Music is a major part of Macon's culture and this weekend there are many great performances scheduled to take place all around the city. Here are just a few of the live music concerts you can find at venues around Macon on Friday and Saturday.
---
FRIDAY, FEBRUARY 10
MATT MONCRIEF AT AMICI MACON (6 p.m.)
Matt Moncrief was in a popular folk/alternative rock band back name "Red Fish Blu Fish" in the 90s. Now you can find this singer/songwriter playing mostly as a solo artist at locations all around Macon. Moncrief's sound is influenced by rock, jazz, bluegrass, and funk music genres. Amici Macon does not have a cover charge.
RACHEL FOREHAND AT THE SOCIETY GARDEN (8 p.m.)
Rachel Forehand is another talented Macon singer/songwriter. Listeners to Forehand's music will hear the influence of The Allman Brothers Band, Janis Joplin, The Marshall Tucker Band, and Johnny Cash. Forehand often performs solo but is also known to regularly perform with the band Black Jacket Bandolier. The Society Garden often has a cover charge at the door for live performances that starts an hour or so before the music.
WEST RIDGE CIRCLE AT BILLY'S CLUBHOUSE (10 p.m.)
West Ridge Circle's band name comes from the location of the house in Macon where the band formed in early 2021. This show at Billy's Clubhouse will include rock and roll hit songs from multiple eras. Band members Ben Kilgore (singer/songwriter), Tyler Jackson (lead guitar), Madison Kilgore (bass guitar), and Luke Cochran (drummer) have been heavily influenced by blues, funk, and space rock music. West Ridge Circle released an "Nobody Home" at the end of the same year that the band formed. Billy's Clubhouse does not charge a cover.
THE STEEPWATER BAND AT THE HUMMINGBIRD (10 p.m. - 2 a.m.)
The Steepwater Band is a talented rock and roll band that was formed in Chicago in 1998. They are currently touring the country and will stop for a while to get the crowds moving at The Hummingbird on Friday night. The Hummingbird Stage and Taproom's cover charge at the door is $5.
The Steepwater Band's creative music video for their song "Break"
---
---
SATURDAY, FEBRUARY 11
"THE RETURN" BEATLES TRIBUTE BAND AND DINNER AT THE MUSEUM OF AVIATION IN WARNER ROBINS (5:30 p.m.)
The Museum of Aviation Foundation is hosting their 3rd annual fundraising dinner and concert this Saturday evening. The dinner will be catered by The Butcher Shop and The Return, a talented Beatles tribute band, will perform starting at 6:30 p.m. There will be a retro costume contest for those who want to dress up in 60's and 70's fashion. Tickets cost $55 per person or $100 per couple. This event is a popular one so finding tickets might be difficult.
GABBA PRESENTS HEADSTRINGS AND FRIENDS AND DANIEL NESMITH AT GRANT'S LOUNGE (7 - 11 p.m.)
Headstrings and Friends with special guest Madison Harrell will perform on Saturday night along with a solo set from Daniel NeSmith of the Back City Woods and his newest project The Shade Trees. Headstrings and Friends is a popular Macon band whose talented members have years of performance experience. Grant's Lounge charges a $10 entry fee.
VALENTINE'S DAY WEEKEND R&B EXTRAVAGANZA AT THE MACON CITY AUDITORIUM (8 p.m.)
Multi-platinum singer Monica will perform along with special guest RL of Next, and Avery Sunshine. Comedian Mike Bonner from BET will host the evening's performances. Tickets start at $69 and can be purchased at the Macon City Auditorium's Box Office or online. Tickets for this event might also be difficult to find due to its popularity. Doors open at 7 p.m. and the show starts at 8 p.m.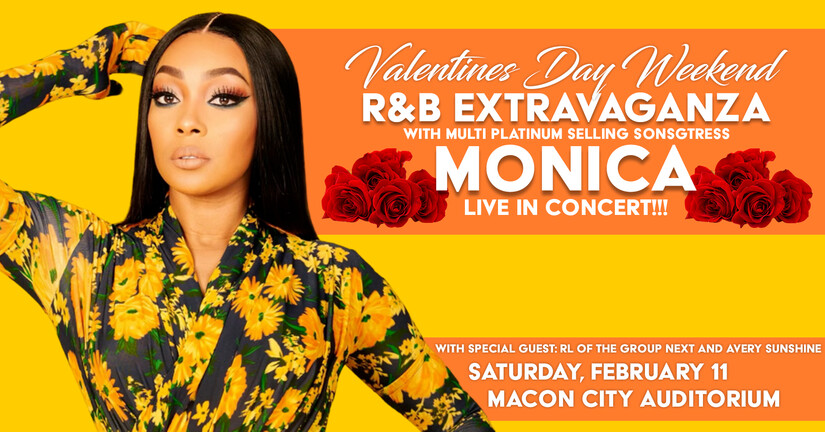 ROCK THE 90'S AT HARGRAY CAPITOL THEATRE (8 - 11 p.m.)
Fans of 90's rock will want to attend this concert at the Hargray on Saturday night. Rock the 90's is billed as "The Official 90's Rock Tribute" band and they perform covers that are meant to sound as if they are being performed by their original bands. This band's home is in Middle Georgia and they have performed throughout the U.S. Tickets start at $18 and can be purchased at the door or online.
SHAMARR ALLEN FROM GALACTIC AT THE SOCIETY GARDEN (8 - 11 p.m.)
Shamarr Allen from Shamarr Allen and The Underdawgs is a singer and trumpeter who hails from New Orleans. His music will bring a little of New Orleans to The Society Garden on Saturday night. Allen has collaborated with artists like Patti LaBelle, Willie Nelson, Lenny Kravitz, and other well-known musicians. The Society Garden often has a cover charge at the door for live performances that starts an hour or so before the music.
Listening to Shamarr's Allen's "I Love You" is a great way to get ready for Valentine's Day next week
STOP LIGHT PARTY FEATURING DJ OLD FLAME AT THE HUMMINGBIRD (10 p.m. - 2 a.m.)
DJ Old Flame will spin records as the crowd mingles at The Hummingbird late Saturday night. A Stop Light Party entails wearing different colored shirts to indicate your relationship status. A red shirt says your taken, a yellow shirt says its complicated, and a green shirt indicates you are ready to meet someone new. The Hummingbird Stage and Taproom's cover charge at the door is $5.
DJ CL33BO AT JBA (10 p.m.)
DJ CL33BO is a regular performer at JBA. This DJ spins electronic dance music that is perfect for moving and grooving on the dance floor. JBA does not have a cover charge and is well known for its selection of drinks as well as bringing an eclectic mix of musicians to Downtown Macon.
---
---
More News from Macon