Fun and Interesting Events in Macon this Week
Image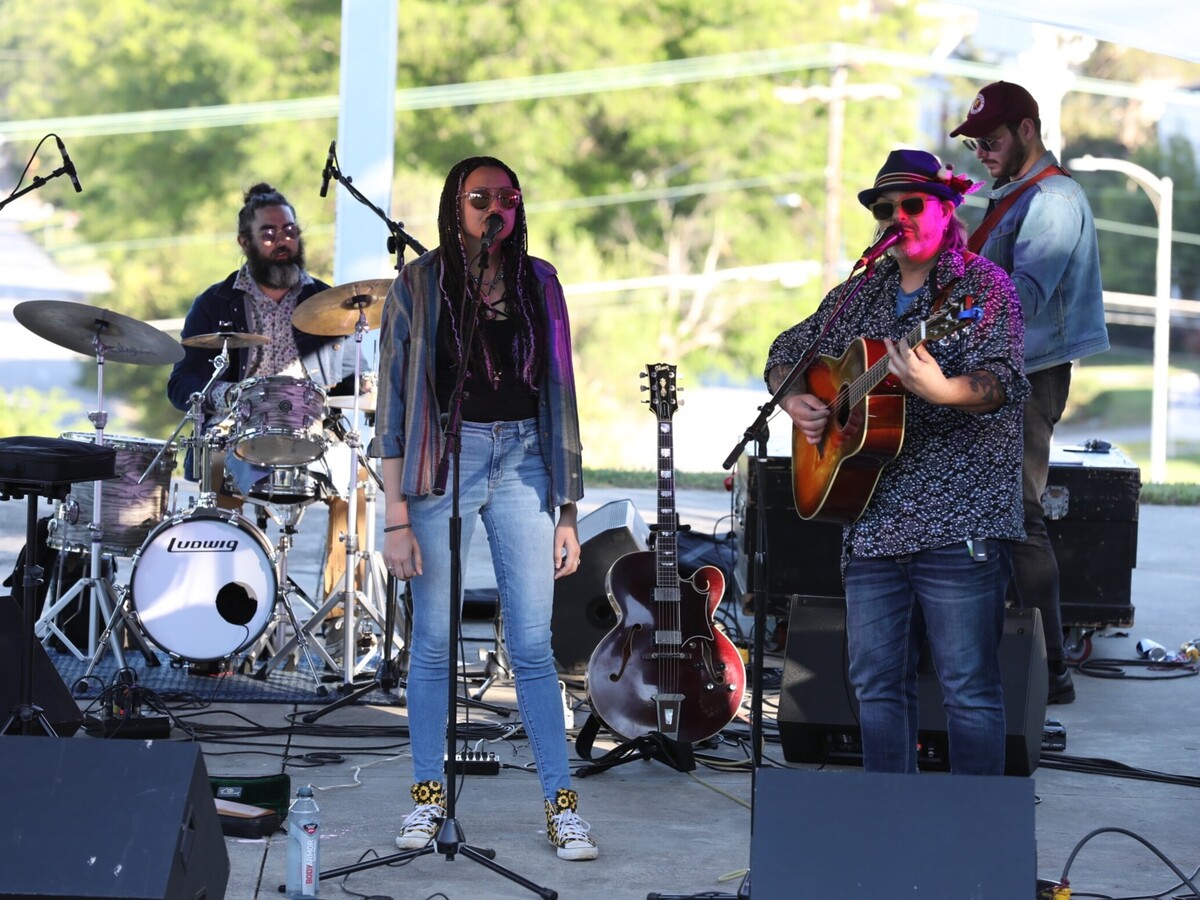 This week in Macon many free or affordable fun events are scheduled to take place including a night of storytelling at Grant's Lounge on Tuesday, a screening of a new Little Richard documentary at The Douglass Theatre on Friday, and Middle Georgia Times' sponsor Triangle Arts Market will host two free events this Saturday and Sunday. The following are just a select few of the interesting events taking place this week.
---
MONDAY, APRIL 10
Storytelling, Flute, and Visual Art Performance by Randy Kemp at Middle Georgia State University (6:30 p.m.)
Native American artist and musician Randy Kemp of the Muscogee, Choctaw, and Euchee tribes, will present storytelling, flute playing, and visual art performance at this free educational event on Monday. It will take place in the Rehearsal Hall of Middle Georgia State University's Arts Complex Theatre. This event is free to attend.
Middle Georgia State University - 100 University Parkway, Macon
---
TUESDAY, APRIL 11
Storytellers Presents "Concrete Jungle" at Grant's Lounge (7:30 - 9 p.m.)
The theme for all the stories that storytellers will tell at this free event on Tuesday will revolve around resilience even when "stuck between a rock and a hard place." The featured storytellers for the evening will be Tedra Huston and Paul D. Bauknight Jr. Members are the audience are also invited to sign up to tell their own true, 5 minute story about the topic as well. This event is free to attend.
---
WEDNESDAY, APRIL 12
Rachel Forehand at Northside Cheers (6 p.m.)
Singer and songwriter Rachel Forehand will be performing at Northside Cheers on Wednesday night. Northside Cheers does not have a cover charge (but they do serve some tasty food and drinks).
Northside Cheers - 3852 Northside Drive, Macon
---
THURSDAY, APRIL 13
Macon Bike Party: South Macon Slow Roll (6 p.m.)
Macon Bike Party is a free, slow-paced community bicycle ride that invites participants to enjoy biking through different neighborhoods in Macon. Registration will start at the South Bibb Recreation Center with the ride beginning at 6:30 p.m. and ending at the recreation center by 8:00 p.m. Helmets are required to participate in the Macon Bike Party.
South Bibb Recreation Center - 7035 Houston Road, Macon
---
FRIDAY, APRIL 14
Screening of "Space Jam" (1996) at the Grand Opera House (7 p.m.)
The Grand Opera House will be screening "Space Jam" on Friday night. In this family-friendly comedy, Michael Jordan and other basketball superstars team up with Bugs Bunny and other Looney Tunes Cartoons to help keep aliens from invading Earth while still cracking jokes and showing off their basketball moves. "Space Jam" received mixed reviews from critics when it was released but was ultimately a box office success, becoming the highest grossing basketball film of all time. Tickets to the Grand Opera House's screening of "Space Jam" cost $5.
Some of the famous human actors in "Space Jam" include Bill Murray and the very talented Michael Jordan
Grand Opera House - 651 Mulberry Street, Macon
Screening of "Little Richard: I Am Everything" at Douglass Theatre (7:15 p.m.)
The Macon Film Festival is hosting a special opening night screening of the documentary "Little Richard: I Am Everything" at the historic Douglass Theatre this Friday. This documentary is directed by Lisa Cortés' and tells the story of the true origins of rock n' roll. The doors will open at 6:30 p.m. Tickets to the special screening of "Little Richard: I Am Everything" are $10.
The Douglas Theatre - 355 Martin Luther King Jr. Blvd., Macon
Check Your Head - A Beastie Boys Tribute at The Society Garden (8 p.m.)
Those looking to fight for their right to party will want to join other like minded individuals at this Beastie Boys tribute show on Friday night. Check Your Head is a Beastie Boys tribute band who do their best to recreate what a Beastie Boys concert looks and sounds like. The band is made up of of Josh Phillips, Eli Cramer, and Philo Reitzel. General admission tickets cost $15.
The Society Garden - 2389 Ingleside Avenue, Macon
---
SATURDAY, APRIL 15
ROAD TRIP: Dickey Farms Strawberry Festival in Musella (10 a.m. - 4 p.m.)
Dickey Farm's 2023 Strawberry Festival will feature plenty of recently picked strawberries, fresh produce, local vendors, food trucks, live music, a kids area with games and bouncy houses, and more. This family-friendly event is free to attend.
Dickey Farms - 3440 Musella Road, Musella
Triangle Arts Market at Triangle Arts Macon (11 a.m. - 5 p.m.)
The Market Manager of Triangle Arts Market, Darlene Murphy, is retiring this month so Triangle Arts Market will include arts and craft vendors, baked goods, and also a party to wish Murphy all the best this Saturday. There will also be free, light refreshments served while supplies last. If you aren't able to go to this Triangle Arts Market, there will be another one on Sunday. The monthly Triangle Arts Markets are free to attend.
Triangle Arts Macon - 206 Lower Elm Street, Macon
Picnic in the Park Food Truck Festival at the Macon Bibb County Recreation Office (11 a.m. - 3 p.m.)
The 4th Picnic in the Park Food Truck Festival will take place this Saturday at the Macon Bibb County Recreation office. The public is invited to bring their pop-up tents, picnic blankets, and lawn chairs to enjoy this free, family-friendly event.
Macon Bibb County Recreation Office - 150 Willie Smoke Glover Drive, Macon
Angie Henigman "A Point in Time" Art Exhibit Opening at Triangle Arts Macon (6 -8 p.m.)
Angie Henigman is a talented local artist whose vibrant paintings often depict other artists and musicians living in and around Macon. Henigman's art show will take place at Triangle Arts Macon after the Triangle Arts Market that takes place there earlier in the day. This art gallery opening is free to attend.
Triangle Arts Macon - 206 Lower Elm Street, MaconAngie Henigman's vibrant paintings (often of iconic artists and musicians like Newton Collier and Robert Lee Coleman) are full of charm and bright colors (Photographer Nate Weeks)
---
SUNDAY, APRIL 16
Loomis Bros. Circus at Macon Coliseum (6 p.m.)
Loomis Bros. Circus is making a first time appearance in Macon this Saturday and Sunday. There will be aerialists, daredevils, clowns, performing animals, specialty acts, and more as well as live music from The Loomis Bros. Orchestra. The circus will take place at 7:30 p.m. on Saturday and at 2:30 p.m. and 6 p.m. on Sunday. Parking onsite is $10 a vehicle. Mobile tickets are required and the Macon Coliseum enforces their clear bag policy. Standard admission tickets are $27.50 each, children 2 to 12 years old receive free entry (with a limit of 2 children per adult - tickets are $8 for each additional child).
Macon Coliseum - 200 Coliseum Drive, Macon
---
---
More News from Macon