Get Ready for Fun!: Macon and Middle Georgia's Event Highlights this Week
Image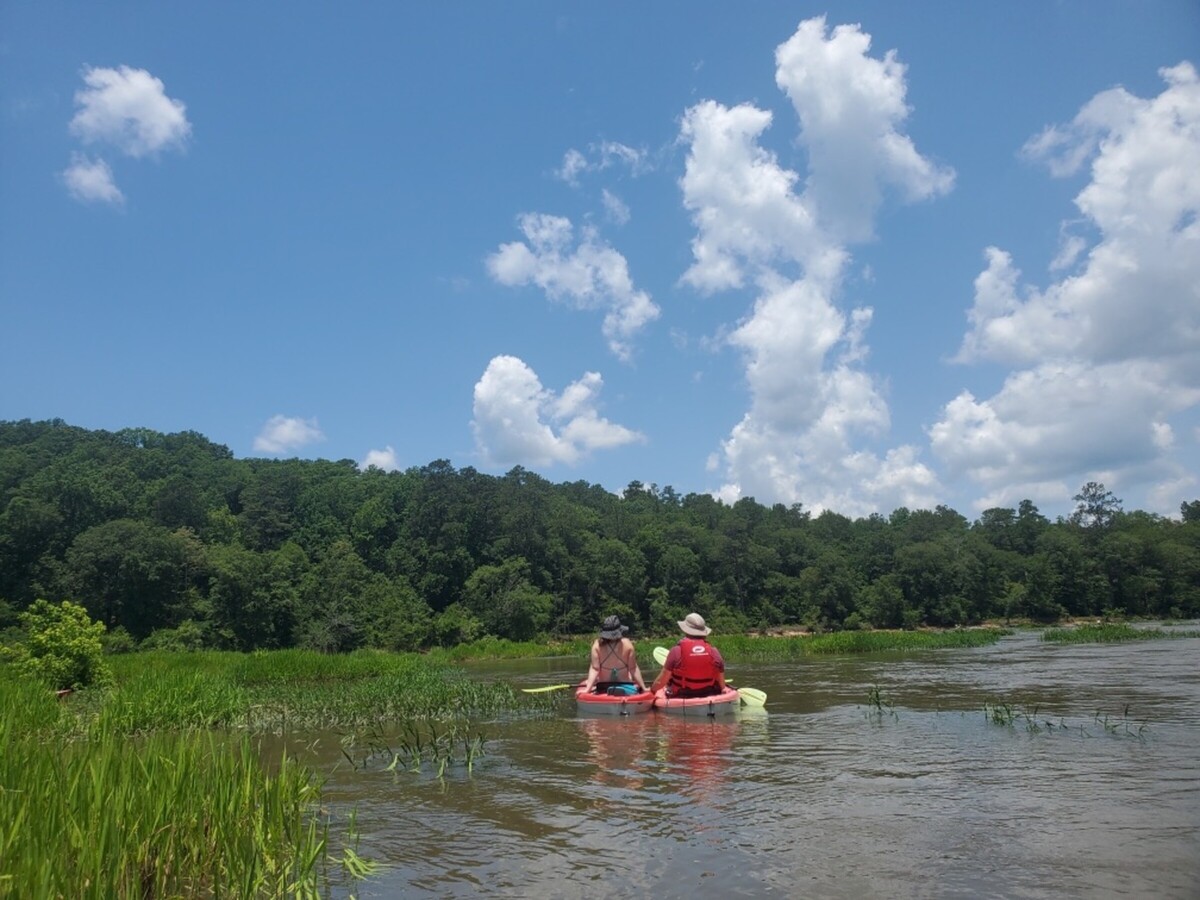 Get ready for a week filled with excitement and entertainment in Macon and Middle Georgia! From the enchanting Litha Festival (which celebrates the summer solstice) at The Society Garden to the delightful Bark in the Park event at the Macon Bacon game, there's something for everyone. For those looking to cool off this weekend, there will also be a massive water fight happening in Downtown Perry. This week's lineup of events promises unforgettable experiences so let's dive into a few of the thrilling events awaiting you in Macon and Middle Georgia this week.

---
MONDAY, JUNE 19
Juneteenth Celebrations
Juneteenth, also known as Juneteenth National Independence Day, celebrates the anniversary of the order by Major General Gordon Granger that proclaimed the freedom of enslaved people on June 19th, 1865. It has been celebrated as early as 1866 and became a federal holiday two years ago. This year several towns in Middle Georgia celebrated Juneteenth, including Macon, which had its inaugural Juneteenth Parade downtown on Monday.
---
TUESDAY, JUNE 20
New World vs. Old World wine tasting with Allan Bass at Philosophie Wine Bar (6:30 p.m.)
Eagle Rock Distributing's Allan Bass will present a night of wine tasting that will include Old World and New World wines at Philosophie Wine Bar in Downtown Macon. Tickets to this wine tasting event are $30 apiece.
Philosophie Wine Bar - 616 Poplar Street, Macon
---
WEDNESDAY, JUNE 21
Entrepreneur's Happy Hour at Just Tap'd (5 - 6:30 p.m.)
Startup Macon is hosting another evening for local entrepreneurs to mingle at Just Tap'd this week. Entrepreneurs will receive one free beer to enjoy as they network with like minded individuals.
Just Tap'd - 488 1st Street, Macon
Litha Festival at The Society Garden (5 - 9 p.m.)
MoonStruck Souls presents a festival celebrating the summer solstice (also called Litha) at The Society Garden this Wednesday. There will be live entertainment, local vendors and artists, yoga class (at 5:30 p.m.), as well as a food truck and, of course, the Garden's many cold beverages.
The Society Garden - 2389 Ingleside Avenue, Macon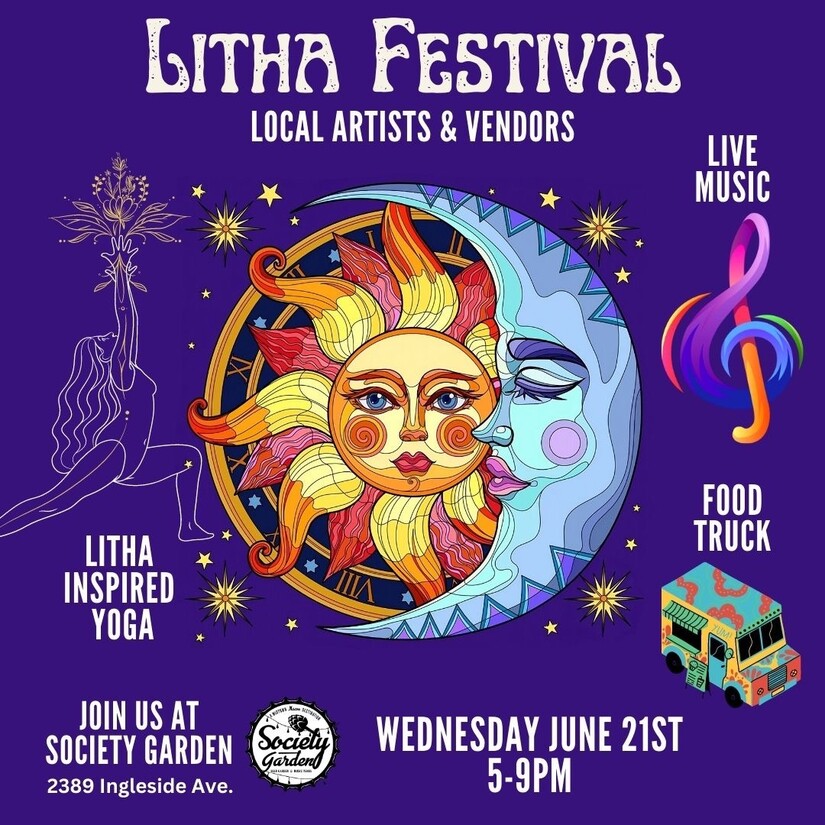 ---
---
THURSDAY, JUNE 22
World Yoga Day and Summer Solstice Celebration at Washington Park (6 p.m.)
Amber Valentine Wellness presents another donation based yoga class this Thursday, where participants will be led through a yoga flow in celebration of World Yoga Day and the Summer Solstice. Yogis should bring water and a yoga mat to beautiful Washington Park where the class will take place.
Washington Park - 1134 Magnolia Street, Macon
Courtyard Collaborations at Emerson at Plum (6 - 9 p.m.)
Emerson at Plum is hosting a musical evening with live performances from musicians Andrew Truner, Rachel Forehand, and Britton Seprish. Courtyard Collaborations will have a $10 cover charge as well as a cash bar provided by Macon Drinks. Outside food is allowed for Courtyard Collaborations and the gates open at 5 p.m.
Emerson at Plum - 543 Plum Street, Macon
Reclaiming Ladies Night! at The Society Garden (6:30 - 10 p.m.)
Chelsea Breann, Court of Miracles, and Live Motion Painting are presenting a night for the ladies this Thursday. This alcohol free event will include alternative ways to enjoy the night out and will include art, and a Creative Flow Workshop and Live Motion Painting with artist Sylvia Donaldson. Each attendees will also receive a gift bag, an herbal elixir mocktale flight, and even a private music performance, according to the organizers. This event will take place in the private room of the newly upgraded The Society Garden. Tickets to Reclaiming Ladies Night! cost $40.
The Society Garden - 2389 Ingleside Avenue, Macon
Bark in the Park Night at the Macon Bacon game (7 p.m.)
The Macon Bacon are facing off against the Florence Flamingos this Thursday evening. Baseball fans will be able to enjoy a competitive game between two teams in the Coastal Plain League while also helping support an organization that helps animals in need of medical treatment, Critical Care for Animal Angels, who will showcase different adorable animals in need of adoption during the game. Ticket prices for the Macon Bacon vs. Florence Flamingos game start at $15.
Luther Williams Field - 225 Willie Smokie Glover Drive, Macon
---
FRIDAY, JUNE 23
Historic Trolley Tour in Milledgeville (10 - 11 a.m.)
Ride through Milledgeville's historic district on "Milly the Trolley" and enjoy a sixty minute tour about Milledgeville's history, architecture, and its "sixty-eight year period as the capital city of Georgia". Tour participants will also take a guided walk through the "former statehouse square and St. Stephens Episcopal Church" (1843). Trolley tours take place on Fridays and Saturdays starting at 10 a.m at the Milledgeville Visitor Information Center. Tickets for the Historic Trolley Tour cost $12 per adult and children two and younger receive free tickets. Pre-purchased tickets are encouraged.
Milledgeville Visitor Information Center - 200 W. Hancock Street, Milledgeville
ROAD TRIP: 2023 AthFest in Downtown Athens (5 p.m.)
The AthFest Music and Arts Festival presents both local and regional musicians and visual artists showcasing their talents, art, and music in Downtown Athens. There will be multiple events and venues taking part in AthFest and the festival helps benefit the nonprofit AthFest Educates, which seeks to provide much needed funding for music and arts education. The festival will take place from Friday, June 23th through Sunday, June 25th. Tickets prices for AthFest start at $25.
Live Painting and Artist Reception with Pat Hobaugh at The 567 Center (6:30 - 8:30 p.m.)
Pat Hobaugh is known for creating striking realistic paintings of people. This event will take place at the end of a a 3 day oil painting workshop and attendees will see Hobaugh as he creates one of his impressive artworks. This event is free and open to the public and will include light refreshments.
The 567 Center - 456 1st Street, Macon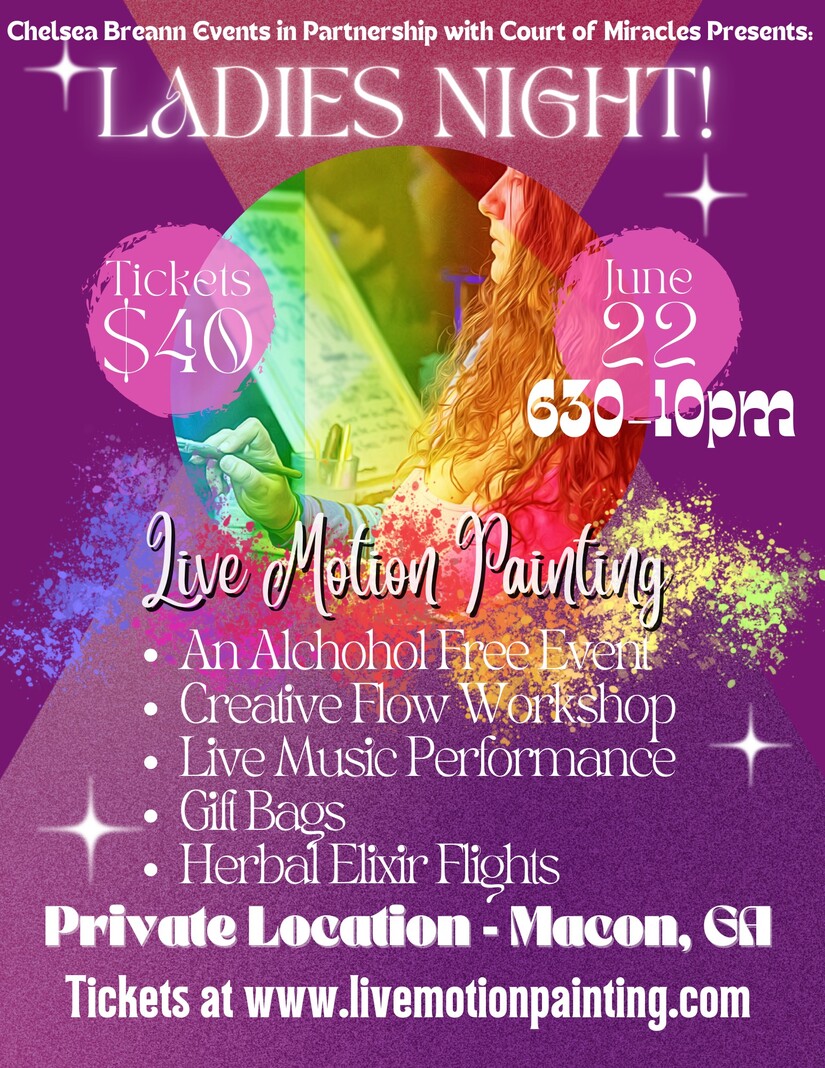 Pride Karaoke at Reboot Retrocade & Bar (9 p.m.)
Pride Karaoke is an event for those who want to celebrate Pride month while singing your favorite tunes. This event is for adults 18 and older and is free to participate in or watch.
Reboot Retrocade and Bar - 566 Cherry Street, Macon
Mahalo and DJ CL33BO at JBA (10 p.m.)
Mahalo is a five person rock band from Macon that formed in 2019 and is appearing on JBA's new stage for the first time. After Mahalo's performance, DJ CL33BO will take the stage and spin records until late. JBA will charge a cover of $5 at the door starting at 9:45 p.m.
JBA - 425 Cherry Street, Macon
Gary Lazer Eyes at The Hummingbird (10 p.m.)
Gary Lazer Eyes is a indie rock and roll band from Florida that will perform at the historic Hummingbird this Friday. This band with a unique name works hard on making a connection with those who come to hear them play. The Hummingbird will charge a $5 cover at the door for this show.
The Hummingbird Stage and Taproom - 430 Cherry Street, Macon
---
SATURDAY, JUNE 24
The Perry Water Battle (10 a.m.)
Downtown Perry will have an enormous "water battle" this Saturday which will include "dueling fire trucks, water slides, water balloons, wading pools, and a free community cookout (while supplies last)". Guests are requested to wear comfortable waterproof clothing, bring water toys, sunscreen, bottled water, towels, and outdoor chairs.
Rozar Park - 1060 Keith Drive, Perry
Movie Night at the Farm at Buck Nekkid Farms (5 p.m.)
The cult classic hit The Goonies (1985) will be screened at Buck Nekkid Farms in Danville this Saturday and theme for the evening is treasure hunt. There will be vendors, food trucks, activities, a petting farm, and more. The movie screening starts at sundown. This is a free family-friendly event.
Buck Nekkid Farms - 326 Old Macon Road, Danville
Big Mike and the Booty Papas at Blues, BBQ, and Brews at Blanche Farms Meats (6 - 9:30 p.m.)
Get ready for a night of "BBQ ribs, chicken, craft beer" wine, and live music at Blues, BBQ, and Brews. Guests are invited to bring their lawn chairs and appetites for this event at Blanche Farms Meats. Tickets will cost $15 at the gate.
Blanche Farms Meats - 5959 Highway 41S, Macon
Big Mike and the Booty Papas performed a Johnny Paycheck cover song dedicated to Glen "Cuzz" Hutchinson back in 2012

ROAD TRIP: Lady Creech and the Main Street Band at Downtown Griffin's Summer Concert Series (7 - 9 p.m.)
Downtown Griffin is presenting a Summer Concert Series on some Saturdays in June, July, and August and it is hosted by the Griffin Downtown Council. The live music starts at 7 p.m. and guests are invited to bring lawn chairs or blankets to get comfortable on. The city is also providing free public parking in the parking deck on Solomon Street.
Park at Sixth - 204 Solomon Street, Griffin
Open Mic Comedy with Tall Trey at Reboot Retrocade & Bar (9 p.m.)
Laughter is a great way to relax and forget all your worries. Tall Trey is a skilled comedian who is hosting this open mic comedy night at Reboot. This show is for patrons 18 and older and it is free to attend. The set list is available by 8:30 p.m. and the show starts at 9 p.m.
Reboot Retrocade and Bar - 566 Cherry Street, Macon
---
SUNDAY, JUNE 25
Sunday Summer Series of Fun at Emerson at Plum (8 - 11 p.m.)
Emerson and Plum in Downtown Macon are kicking off a Sunday Summer Series of Fun this Sunday. This series of events will be interactive experiences where the attendees "become the star of the show". The dress theme for the first evening of this series will be Hawaiian Luau themed, and guests are encouraged to wear Hawaiian shorts or floral sundresses. There will be chances to win meals from Texas Roadhouse, Visa gift cards, gift baskets, concert tickets, a photo shoot, and more. Sing karoake, play trivia, and dance to music from AJ the DJ. Space is limited to 200 people. The next 3 shows will take place on June 30th, August 27th, and the last show will take place on September 24th. Contact (478) 318-2526 for more information.
Emerson at Plum - 543 Plum Street, Macon
---
---
More News from Macon