Spotlight on Music this Week in Macon and Middle Georgia
Image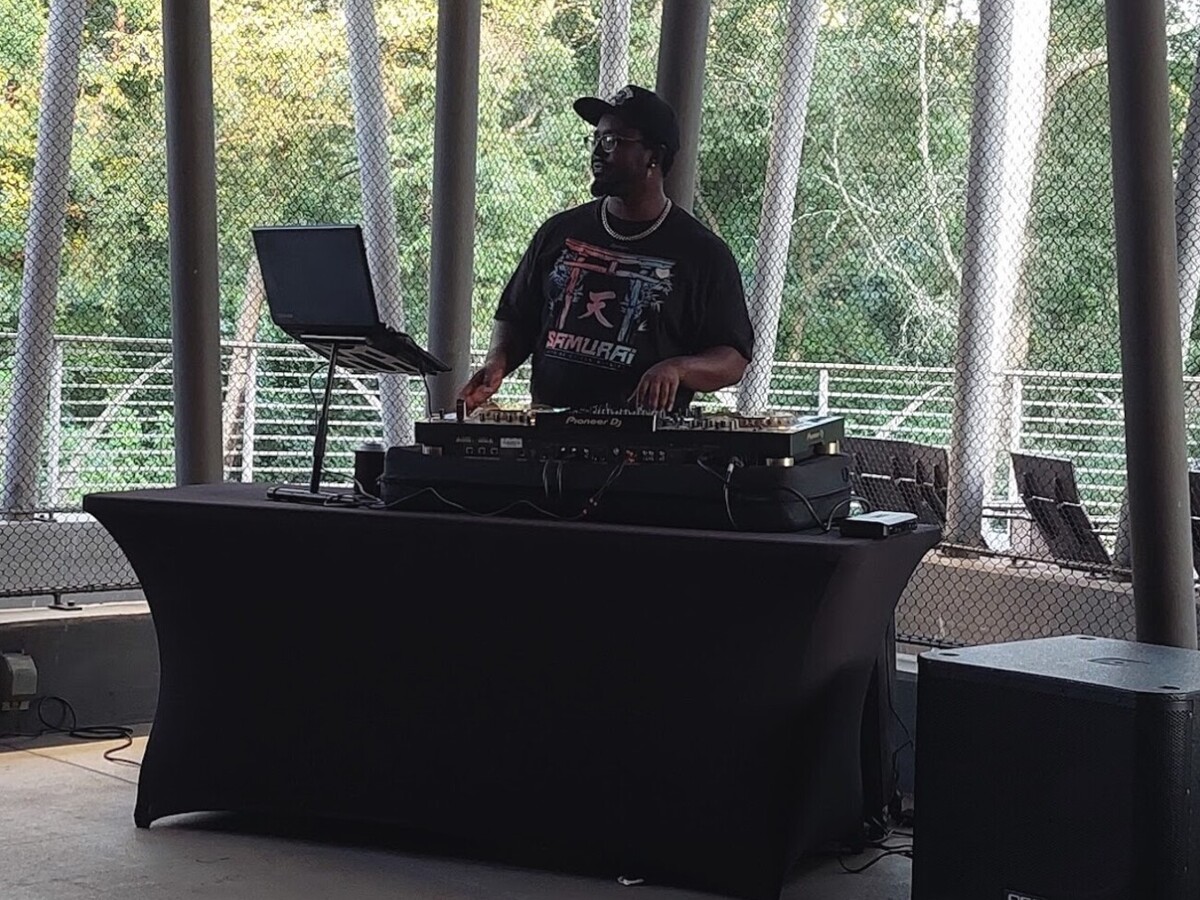 There are a huge amount of must see performances taking place in Middle Georgia this week. Three shows that are sure to be crowd pleasers are the Lords of the Underground concert with Bob Lennon and African Λmericana†, the A Friend in Me Macon event (with live music from fantastic bands like Shy Company and Cash's Juke Joint, food trucks, and more), and the Sunday Night Jam Session with Johnny Hollingshed Jr. at Grant's Lounge. The following are just a few of the talented acts Middle Georgia music fans can watch live this week.
---
WEDNESDAY, AUGUST 23
JAKE TOBIN & THE BEN VARIAN APPROACH AND GURGLE TWINS AT GRANT'S LOUNGE (9 P.M.)
Fresh Produce Records presents Jake Tobin & The Ben Varian Approach this Wednesday night at Grant's Lounge. Jake Tobin is a cartoonist and artist as well as a musician and the rest of this talented experimental music band is multitalented as well. The chaotic Gurgle Twins, who are from Macon, will perform afterwards as well. Grant's Lounge will charge a $5 cover for this show and doors open at 8 p.m.
---
THURSDAY, AUGUST 24
JACKSON GRIFFITH AT PARISH ON CHERRY ST. (6 P.M.)
Middle Georgia singer and songwriter Jackson Griffith will perform at Downtown Macon's Parish on Cherry St. Thursday night. Griffith is an artist, photographer, and musician from Warner Robins whose musical style is influenced by artists like Vance Joy, Billy Joel, and Otis Redding. Griffith's latest single "Running in Place" was released in June of this year. Parish on Cherry St. does not have a cover charge.
Jackson Griffith performing a cover of Vance Joy's "Missing Piece"
SEAN MCCONNELL AT GRANT'S LOUNGE (9 P.M.)
Singer, songwriter, and producer Sean McConnell will be performing at the historic Grant's Lounge on Thursday. McConnell's latest album is "A Horrible Beautiful Dream" is his fourteenth full length album. McConnell's music is a mix of country with some gospel influences and his powerful voice and lyrics are sure to captivate his audiences. Tickets to see Sean McConnell live at Grant's Lounge cost $20.
SUBJECT TO CHANGE AT BUFFINGTON'S IN MILLEDGEVILLE (11 P.M.)
Subject to Change is a five member rock band from Milledgeville. They will be performing late into the night on Thursday at Buffington's, a restaurant and bar with no cover charge.
---
FRIDAY, AUGUST 25
CANCELLED: CASH'S JUKE JOINT AND DJ MIX MASTER T AT HERITAGE PARK IN PERRY (7 - 10 P.M.)
Perry presents an evening of music with both Cash's Juke Joint, who plays a "groovy mixture of soul, funk, blues, and rock" music, and DJ Mix Master T. Cash's Juke Joint will perform from 7 to 9 p.m. and DJ Mix Master T will be on the turntables from 9 to 10 p.m. Attendees can bring their own coolers, lawn chairs, or blankets to this free family-friendly event.
HUNG JURY AT THE SOCIETY GARDEN (8:30 P.M.)
Hung Jury is a five piece classic rock band that plays covers of popular music from the 70's and 80's. The $10 cover at the gate starts at 7 p.m. and proceeds will benefit Middle Georgia Justice, a non-profit which helps provide legal assistance to those who can't afford it.
ROAD TRIP: THE RESTLESS NATIVES IN GRIFFIN (8:30 - 11:30 P.M.)
The Allman Brothers tribute band The Restless Natives will be performing at The Cotton Mill in Griffin. The Cotton Mill is a store with over 6000 square feet of furniture, home decor, gifts and boutique that hosts garden concerts. Tickets to see The Restless Natives perform live at The Cotton Mill cost $20 online.
90'S KARAOKE AT REBOOT RETROCADE & BAR (9 P.M.)
The event invites you to dress up as someone living in the 90's (think "flared pants, sequined purses, and scrunchies") and sing 90's karaoke music. Reboot does not have a cover charge and this event is only for patrons 18 years old and older.
KEITH WILLIAMS AT 20'S PUB (9 P.M.)
Keith Williams is a guitar player, singer, and songwriter based in Macon who started playing music in the 70's. One fun fact about Williams is that his son is the talented Sean Solo. 20's Pub does not have a cover charge.
JAK THE ACT PRESENTS SCORCHIN' SUMMER AT JBA (10 P.M.)
Jak The Act is a rapper and performer who, along with his friends Sarieon Los, Franky D, G Monet, and Charlie Zero, will be performing on JBA's main stage on Friday night.
PERFECT STRANGERS AT BILLY'S CLUBHOUSE (10 P.M.)
The classic rock band Perfect Strangers will be playing covers of popular classic rock songs at Billy's Clubhouse Friday. North Macon's Billy's Clubhouse never has a cover charge.
THE MIXER WITH CHRISTINA LEON AT FRIENDS ON THE HILL (10 P.M.)
This The Mixer event will be hosted by DJ B3 and will feature the multi-talented diva Christina Leon. The Mixer is for patrons 21 years old and older and there is no cover charge.
---
SATURDAY, AUGUST 26
ASHLEY WALLS AT THE CRAZY BULL (7 P.M.)
Ashley Walls is a country music singer raised in Marietta who grew up playing guitars and singing music with her grandpa. This Saturday night she will be performing at The Crazy Bull in Downtown Macon.
Ashley Walls performing a version of Bailey Zimmerman's "Fall In Love" 
BLAK PEARL AND DJ AD AT SERENITY ENTERTAINMENT COMPLEX (8 P.M.)
Inspyard and Serenity is presenting a Harlem Nights cigar event this Saturday which will feature music from Blak Pearl as well as DJ AD. This event is for sophisticated music lovers who are looking to dress to impress. General admission tickets to Harlem Nights are $20.
SHYANNE AT BARNSTORMER'S GRILL IN WILLIAMSON (8 P.M.)
Shyanne will perform popular rock hits of the 80's while attendees can take part in an 80's themed costume contest for best dressed. Doors open at 6:30 p.m. and tickets to see Shyanne start at $15.
2FINGERJESTER AT FRIENDS ON THE HILL IN WARNER ROBINS (9 P.M.)
Friends on the HILL present a Rock-N-Roll Concert On The Hill this Saturday night with a performance by 2FingerJester who have been rocking out for more than 20 years. The band Low Frequency Messiah, another Middle Georgia rock band, will also be performing at this music filled event.
LORDS OF THE UNDERGROUND WITH BOB LENNON AND AFRICAN ΛMERICANA† AT GRANT'S LOUNGE (9 P.M.)
Grant's Lounge will be the scene of performances from very talented performers on Saturday night during Lords of the Underground. Bob Lennon and African Λmericana†, both of which have been impressing Middle Georgia crowds for the past for years for their creativity and larger than life stage presence. Tickets to the Lords of the Underground show cost $15.
African Λmericana†'s song "Forever" featured Middle Georgia's talented Lord D'Andre as well
HUSH MONEY AT BILLY'S CLUBHOUSE (10 P.M.)
Hush Money is a modern alternative southern rock band and they will be performing at Billy's Clubhouse late Saturday night. Billy's Clubhouse does not have a cover charge.
THE MACON SOUND AT THE HUMMINGBIRD (10 P.M.)
The Macon Sound will be celebrating their 7th anniversary as a band that has delighted Middle Georgia audiences with a wide range of covers from artists like Prince, Lady Antebellum, Guns N Roes, and more. The Hummingbird will have a $5 cover charge during The Macon Sound show.
---
SUNDAY, AUGUST 27
SHY COMPANY, CASH'S JUKE JOINT, BRANDON SANDERS, AND RACHEL FOREHAND AT A FRIEND IN ME MACON AT WESLEYAN COLLEGE (4 - 8 p.m.)
A Friend In Me Macon is a mental health and suicide awareness event that will feature live music from Shy Company, Cash's Juke Joint, Brandon Sanders, and Rachel Forehand, food trucks, art, and mental health talks on the quad at Wesleyan. No pets or outside food and beverages (other than water) are permitted. A Friend in Me Macon is presented by the non-profit A Friend and Me and is sponsored by Wesleyan College. Tickets to A Friend in Me Macon cost $23.
FUNKY BLUESTER AT BUFFINGTON'S IN MILLEDGEVILLE (6 - 9 p.m.)
Funky Bluester is a uniquely named rock band that will play at Buffington's this Sunday. Funky Bluester's sound is heavily influenced by rock and roll from the 60's and 70's. Buffington's will have no cover charge for the performance.
JOHNNY HOLLINGSHED, JR.'S FINAL HOSTING OF THE SUNDAY NIGHT JAM SESSION AT GRANT'S LOUNGE (9 p.m.)
Johnny Hollingshed Jr. is a musician, actor, and storyteller who will be hosting the Sunday Night Jam Session at Grant's Lounge for the last time this Sunday after 7 years of doing so. Hollingshed is celebrating a birthday and invites the public to come to Grant's and have a good time enjoying good music with him to mark the occasion.
---
---
More News from Macon