Live Music Spotlight in Middle Georgia this Week
Image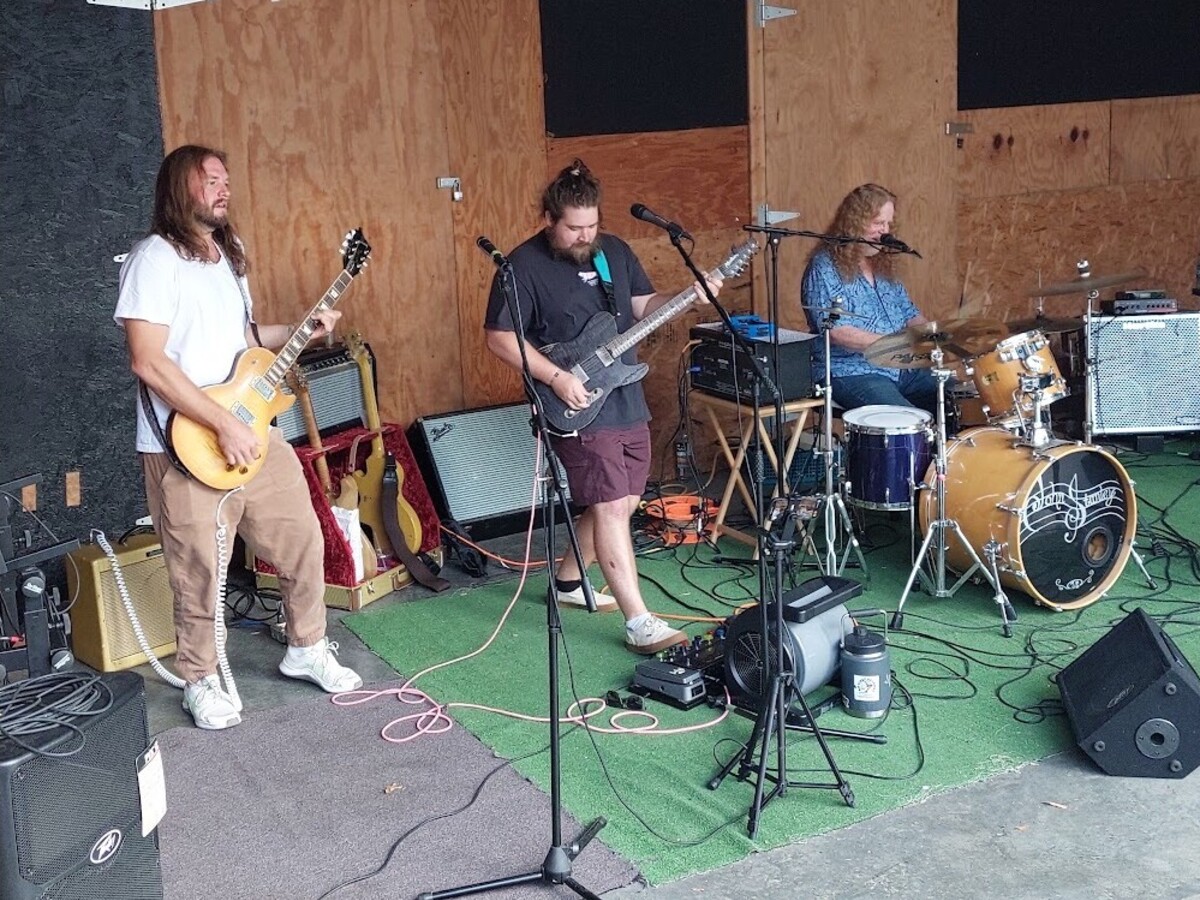 This week there will be two free music festivals taking place in Macon, the All Blues Music and Arts Revival and Jazz and Arts on Riverdale, along with performances from music icons like Molly Hatchet, Johnny Cash (through the power of technology), and the Empress of Soul Gladys Knight. The following concerts and shows are just a small selection of some the music being played throughout Middle Georgia this weekend.
---
THURSDAY, OCTOBER 19
CAIN AT SECOND BAPTIST CHURCH IN WARNER ROBINS (7 - 10 P.M.)
The Christian band CAIN is on their Live and In Color Tour and will be stopping by the Second Baptist Church this Thursday night. The band's music videos have been viewed millions of times on YouTube. CAIN is made up of three pastor's kids from Hartselle, Alabama, Madison Cain Johnson, Taylor Cain Matz, and Logan Cain. Tickets to see CAIN cost $15 online.
CAIN's music video for their song "I'm So Blessed" has been viewed over 6 million times on YouTube
COYOTE ISLAND AND CERTAINLY SO AT GRANT'S LOUNGE (9 P.M.)
Coyote Island's sound is a mix of folk, reggae, and pop music with world music: their album Holy Illusion was recently released earlier this year in June. The band Certainly So is an indie-rock band based in Nashville, Tennessee. Tickets to see Coyote Island and Certainly So in concert cost $15 online or at the door.
DJ WILLIE D OF FRESH PRODUCE RECORDS AT KARAOKE AT JBA (9 P.M.)
DJ Willie D of Fresh Produce Records will be hosting another night of karaoke at JBA this Thursday night. There is no cover charge at JBA during this event.
---
FRIDAY, OCTOBER 20
ROAD TRIP: FOREST VIOLETTE AT CALLAWAY GARDENS (7 P.M.)
Forest Violette is a rock and roll singer, songwriter, and musician whose current project is with the band VoltageHead. Violette will be performing on both Friday and Saturday night and entry into Callaway Gardens includes the evening concerts.
GCSU MUSIC DEPARTMENT HONORS RECITAL AND RECEPTION IN MILLEDGEVILLE (7:30 P.M.)
The Georgia College Department of Music will host the Music Department Honors Recital in the Student Activity Center of the Magnolia Ballroom in Milledgeville. Ten GCSU students will perform during the Honors Recital which will be followed by a reception. The concert will be livestreamed on Facebook. A $5 donation is encourage with all proceed benefiting music scholarships at the GCSU Department of Music.
CHI-TOWN TRANSIT AUTHORITY AT THE GRAND OPERA HOUSE (7:30 P.M.)
Chi-Town Transit Authority is an 8-piece Chicago tribute band based in Atlanta. The band has been playing since 2017 and seeks to recreate the experience of seeing the band Chicago in concert. Tickets to see the Chi-Town Transit Authority perform cost $19.99.
ROB LEINES AT THE SOCIETY GARDEN (8 - 10 P.M.)
Rob Leines' music is a "hard-driving blend of country and rock and roll" and he will be performing at The Society Garden this Friday night. The Society Garden charges a cover charge at the gate for their live music shows.
ALL FIRED UP (PAT BENATAR TRIBUTE) AND FOREVER JANICE (JANIS JOPLIN TRIBUTE) AT THE GRIFFIN OPERA HOUSE (8 P.M.)
This event will include two performers, one who will perform a tribute Pat Benatar and another who will play a tribute to Janis Joplin. Tickets for the show start at $22.75.
MOLLY HATCHET AT THE CAPITOL THEATRE (8 P.M.)
Molly Hatchet is an iconic rock and roll band formed in Jacksonville, Florida back in 1971. Some of their hit songs include "Satisfied Man" (1984) and "Stone in Your Heart" (1985). Doors open at 7 p.m. and the show starts at 8 p.m. Tickets to see Molly Hatchet in concert start at $40.
---
---
MAGNOLIA MOON WITH MOJOTHUNDER AT GRANT'S LOUNGE (9:30 P.M.)
Magnolia Moon is a Macon based band whose sound mixes "grit, soul, and rock 'n' roll". The four-piece rock band band MojoThunder will also be playing at Grant's Lounge on Friday night. Tickets to see Magnolia Moon and MojoThunder cost $12 online or at the door.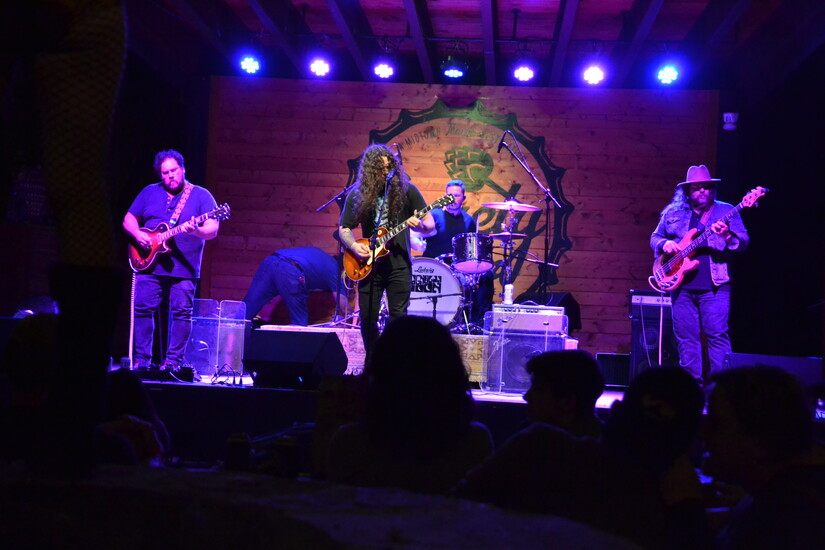 GOLDEN HABITS WITH BLUE LIVE AT JBA (10 P.M.)
Golden Habits is an alternative rock and roll band based out of Atlanta. The band Blue will also be performing: Blue is a "high energy, heavy emotion pop punk band" from Milledgeville. Tickets to see Golden Habits and Blue in concert cost $10 online or at the door.
DILLON CARMICHAEL AT THE HUMMINGBIRD (10 P.M.)
Opry singer Dillon Carmichael will perform at The Hummingbird late Friday night. Carmichael was called "country music's most convincing young country singer…since Stapleton" by Rolling Stones. Tickets to see Dillon Carmichael in concert cost $10 online or at the door.
THE LEVI DE VILLE BAND AT BILLY'S CLUBHOUSE (10 P.M.)
The Levi De Ville band plays blues rock music that has been compared to Stevie Ray Vaughn's style. Billy's Clubhouse does not have a cover charge.
DJ UH-OH AND DJ B3 AT FRIENDS ON THE HILL (10 P.M.)
DJ Uh-OH and Christina Leon, along with host DJ B3, will be performing at Friends on the HILL late Friday night at an event that has been dubbed a Big Purple Disco. This show is for attendees 21 years old and older and Friends on the HILL does not have a cover charge.
SATURDAY, OCTOBER 21
ALL BLUES MUSIC AND ARTS REVIVAL AT MILL HILL PARK (12 P.M.)
The All Blues Music and Arts Revival will include music on 2 stages from blues bands/musicians Bettye Lavette, Larry McCray, Cha Wa, Little Willie Farmer, Alvin Youngblood Hart's Duo Sonik, Brotha Ric Patton, Piedmont Bluz, and Lightin' Malcolm & Kinney Kimbrough. There will also be food trucks, a kids art zone, and more. Admission to the family-friendly All Blues Music and Arts Revival is free.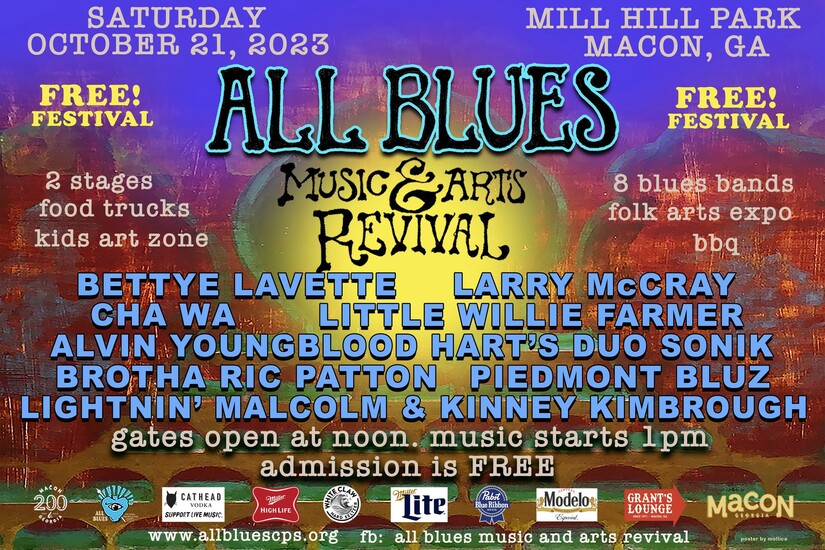 20TH ANNUAL JAZZ AND ARTS ON RIVERDALE (12 P.M.)
The Jazz Association of Macon is presenting the two-day Jazz and Arts on Riverdale this Saturday and Sunday. On Saturday, Wycliffe Gordon and Friends will be the headliners and the Mose Davis Quartet and the JAM Ambassadors will also be performing on Riverdale Drive in Macon. On Sunday, there will be jazz and brunch at Churchill's on Cherry from 11 to 12 p.m. with live music from the Ritmo Soul Bunch. The 20th Annual Jazz and Arts on Riverdale is a free event.
SWIFTIE-OKE AT HOUSTON COUNTY GALLERIA (4 - 6 P.M.)
Swiftie-Oke is a Taylor Swift karaoke event that will take place at the Houston County Galleria on Saturday. Participants will have a chance to win a Taylor Swift prize package that includes tickets to the Eras Tour movie, Taylor Swift merchandise, and more. You can sign up at the event or sing up online beforehand.
DJ UH-OH AT LONGLEAF DISTILLERY (6 - 10 P.M.)
Longleaf Distillery will be hosting a pumpkin carving on Saturday afternoon and then DJ Uh-OH will be spinning tunes into the night. Patrons are encouraged to wear their Halloween costumes during this event. There is no cover charge at Longleaf Distillery.
JOHNNY CASH: THE OFFICIAL CONCERT EXPERIENCE AT GRAND OPERA HOUSE (7:30 P.M.)
This show will feature Johnny Cash projected on a screen above the Grand Opera House's stage as well as a live band and singers who will accompany Cash as he performs. Tickets to this show start at $38.
Some of Johnny Cash's performances from his television Show "The Johnny Cash Show" will be projected onto a screen at the Grand Opera House on Saturday
TUFF SON AT BACK PORCH LOUNGE (8 P.M.)
The band Tuff Son will be performing at the Back Porch Lounge this Saturday night. Back Porch Lounge does not have a cover charge.
SWAIN AND JOE PALMER AT THE SOCIETY GARDEN (8 - 11 P.M.)
SWAIN is an acoustic trio based out of Macon led by singer/songwriter Stephen Swain. They will be joined by Joe Palmer on bass and guitar during this show. The Society Garden charges a cover charge at the gate for their live music shows.
JERRY GRANT AND THE CORRUPTORS AT BILLY'S CLUBHOUSE (10 P.M.)
Jerry Grant and The Corruptors describe their music as "whiskey soaked rockin' blues with a deep respect for the Texas style". Billy's Clubhouse, as usual, does not have a cover charge.
---
SUNDAY, OCTOBER 22
GLADYS KNIGHT AT THE MACON CITY AUDITORIUM (7 p.m.)
The Empress of Soul, Gladys Knight, will be performing at the Macon City Auditorium this Sunday evening. Knight is not only a very successful musician but she is also a published author, an award winning actress, and has won Grammy awards on multiple occasions. Tickets to see Gladys Knight in concert start at $46.75 on ticketmaster.com.
---
---
More News from Macon