Macon Burger Week Brings the Beef Back to Macon Starting on November 13th
Image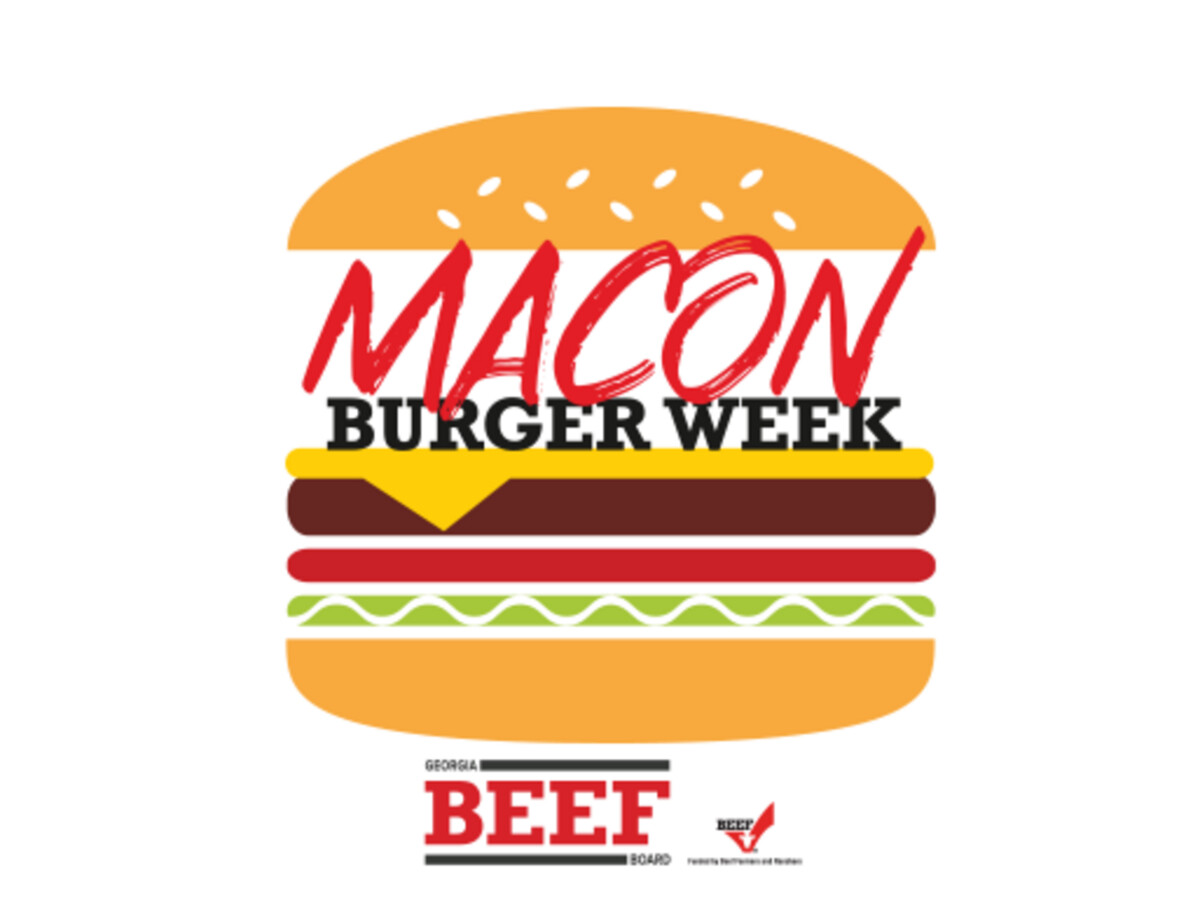 Macon Burger Week is an annual competition that leads to some very creative burgers (as well as some desserts and pizzas) being dreamed up by chefs of local restaurants around town. 
The competition is presented each year by Beef On Georgia's Mind, an organization created by the Georgia Beef Board, which represents the 15,000 beef cattle producers in Georgia.
27 Macon restaurants will be competing in 2023's Macon Burger Week. There will be one winner crowned "People's Choice Champion" and two other restaurants will receive either the "Cleverly Created" award or the "Most Beef Sales" award.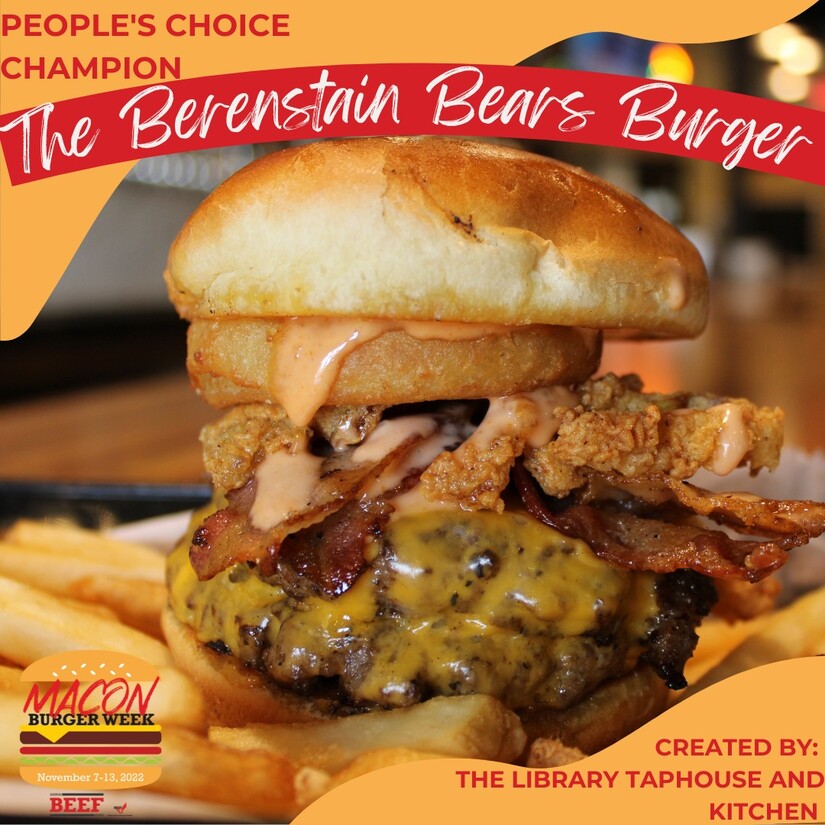 The "People's Choice Champion" and the "Cleverly Created" award were added to Macon Burger Week in 2021, which is also when burger prices were raised from $7 to $10 and when only 15 restaurants entered into the competition.
The restaurants competing in Macon Burger Week this year are Amici Macon, Bearfoot Tavern, Buffalo's Café of Macon, Cashman's Pub, Fall Line Brewing Co., Felicia's Cake Factory, Grey Goose Player's Club, H&H Restaurant, JAG's Pizzeria & Pub, Just Tap'd, Kinjo Kitchen + Cocktails, La Bella Morelia, Liliana's, Loom at Hotel Forty-Five, Macon Water Ice, Marie's Lounge, Marrow 41, Miramar Raw Bar & Tapas, Ocmulgee Brewpub, Oh Honey Baking Co., Satterfield's Barbecue, Sophia's on Second, The Brick, The Library Tap House and Kitchen, The Rookery, Tommy's Bakery, and Yollah Social Kitchen and Garden.
Two of the "burgers" this year are actually sweet concoctions that are made to look like hamburgers (and fries in one case): those will be available at Felicia's Cake Factory and Oh Honey Baking Co.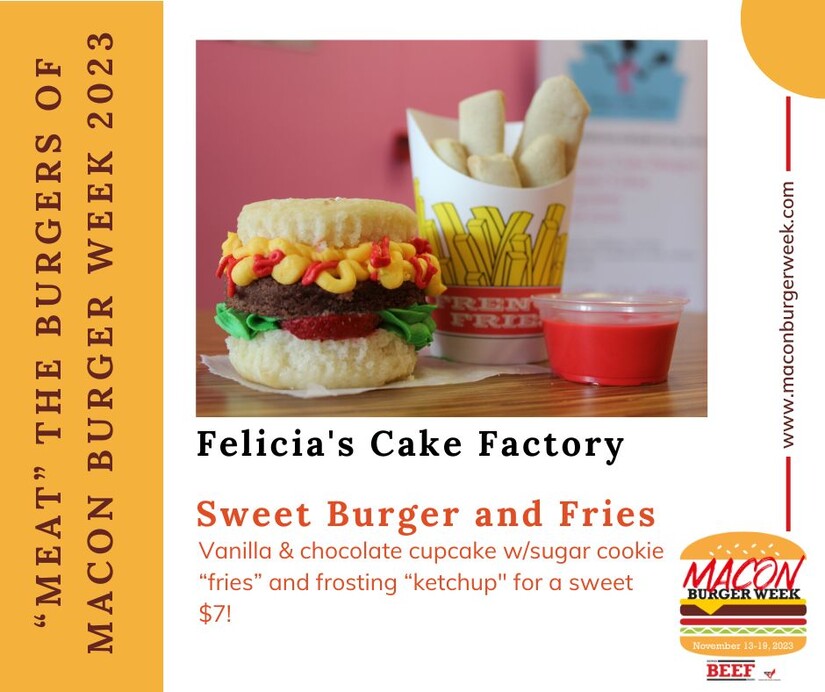 There are also two pizzas, whose ingredients are hamburger like, taking part in this year's Macon Burger Week. JAG's Pizzeria & Pub will have The "Good Burger" Pizza and Just Tap'd will have the Big Mac Pizza Burger.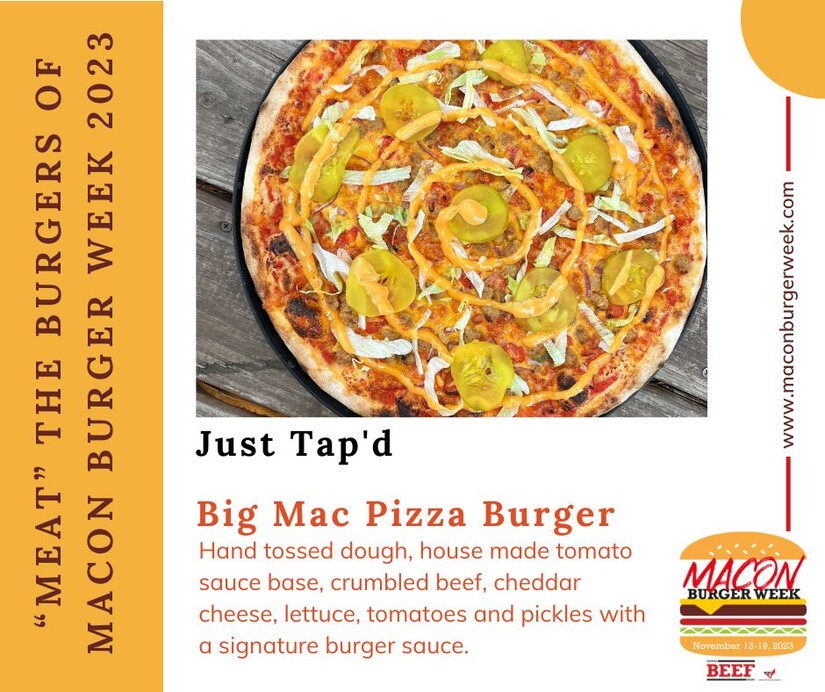 Participants in Macon Burger Week can vote for their favorite "burgers" online and by using the QR code to vote printed on the Macon Burger Week Official Passports. If you get your passport stamped after eating burgers at 5 or more restaurants during the competition, you can send it to the Georgia Beef Board for prizes.
Because Macon Burger Week is a very popular competition, the Georgia Beef Board has written 5 commandments to set expectations for hungry (and sometimes impatient) customers.
Those 5 commandments are: 1. Beware the Burger Rush, 2. Your Patience Will Pay Off Deliciously, 3. Remember to Tip Generously, 4. Burgers are Sold Solo, and 5. The Camera Eats First (which also means tagging your photographs on social media with #MaconBurgerWeek).
The image gallery below contains photographs and descriptions of all the creative entries in this year's Macon Burger Week.
More News from Macon