Middle Georgia's Many Fantastic Holiday Light Attractions
Image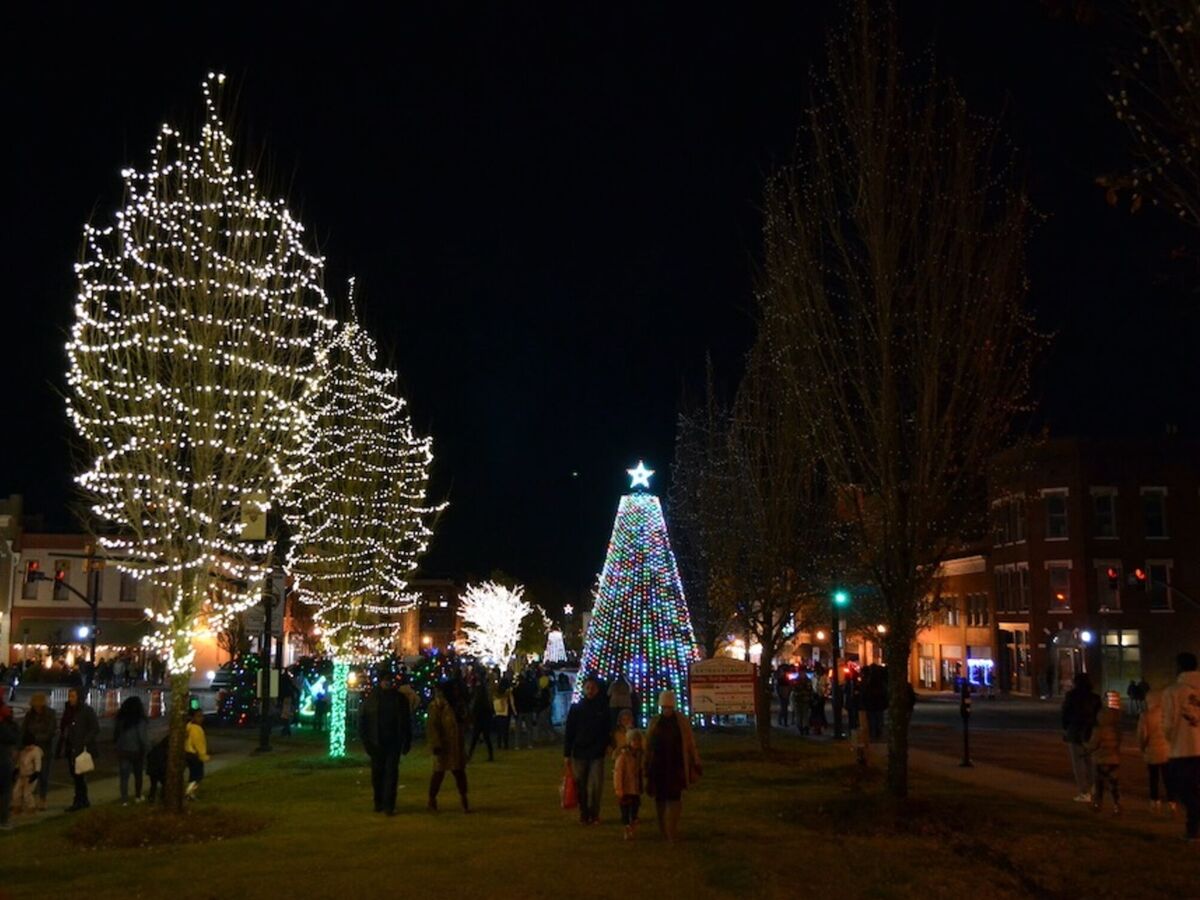 There is something magical about thousands of tiny lights blinking and brightening up dark and wintery nights. Georgia has many very impressive holiday light attractions that brings families from all over the country. Thankfully most of them are also located conveniently for middle Georgia residents.
Fantasy in Lights in Pine Mountain  ~  November 19, 2021 – January 3, 2022
Callaway Resort & Gardens' Fantasy in Lights is an annual celebration of lights that also has the distinction of being the largest such attraction in Georgia. National Geographic has even designated the Fantasy in Lights as being one of the Top 10 Light Displays in the World. Callaway has held Fantasy in Lights for 29 years which has given them plenty of time to continue to perfect entrancing light displays like the drive-through "Tunnel of Lights", according to Callaway's website. There are now almost 10 million lights, a 10 + story Christmas tree, and several themed areas for visitors to enjoy. Additional there is a Christmas Market where you can purchase Christmas gifts and meet and take photos of well-known Christmas characters. Callaway Gardens is located at 17800 US Highway 27 in Pine Mountain.
Main Street Christmas Light Extravaganza in Macon  ~  November 26, 2021 - January 2, 2022
This Christmas light display has taken place for the last five years in historic downtown Macon. Each year there have been improvements and additions made and now there are more than 500,000 Christmas lights on storefronts, trees, and plants. The lights are also synchronized to blink along to original music from the Macon Pops which features local artists singing as well. The Main Street Christmas Light Extravaganza start every night at 6 p.m. and continue until 10 p.m. with light shows that start on the hour at 6, 7, 8, and 9 p.m.
Lockerly in Lights in Milledgeville  ~  November 20th - December 18, 2021
While much smaller than Callaway's or Macon's attractions, visitors to Lockerly in Lights will still be able to enjoy plenty of twinkling lights. This attraction takes place within the Lockerly Arboretum which has 50 acres of "shrubs, trees, rhododendrons, a conifer collection, and an extensive camellia collection". This attraction features a one mile loop of trees and displays lit up with colorful, blinking Christmas lights.This event will take place from 6 until 9 p.m. during the nights the attraction is open. Admission to this event is $10 per vehicle (with a limit of 10 passengers per vehicle). Payment of cash and checks will be accepted according to Visit Milledgeville's website. Lockerly Arboretum is located at 1534 Irwinton Road in Milledgeville.
The Ludy Christmas Spectacular in Columbus  ~  November 25 - December 31st, 2021
The Ludy family love Christmas and their enormous Christmas Lights Spectacular Display proves that beyond any doubt. The Ludy's Christmas Lights Spectacular Display is located at the Ludy's home in the Cottonwood Subdivision in Columbus. The lights are synched to music that visitors tune their vehicles' radios to FM 90.1 to hear. After years of adding lights and making improvements to the attraction, in 2021 there are now over 300,000 lights and more than 10 miles of light strands, according to the Ludy's website. There are numerous displays that animate thinks like an an almost 40 foot long Santa with his sleigh and reindeer and the lights make Santa look like he is throwing gifts into the chimney. This year a Ferris Wheel lit by over 4,000 lights and a new Descending Light Dripping Tree attraction are sure to wow visitors to this Christmas attraction. The Ludy's home can be found at 5784 Ironstone Drive in Columbus.
Chehaw Park's Festival of Lights in Albany  ~  December 3 - 4, 10 - 11, 17 - 24, and 26, 2021
Albany is a small town about two hours south of Macon with lots of Christmas spirit. Visitors are able to drive through the attraction or take the Wiregrass Express Train. There are more than 1,000 Christmas light displays for visitors to enjoy. This attraction does charge an admission fee of $10 per vehicle for nonmembers or $8 per vehicle for members of any Artesian Alliance organization, according to the Chehaw Park and Zoo website. On the dates the attraction is open visitors can view Chehaw Park's Festival of Lights from 6 to 9 p.m. Chehaw Park & Zoo is located at 105 Chehaw Park Road in Albany.                                                                                                   
Holly Jolly Jekyll on Jekyll Island  ~  November 26, 2021 - January 2nd, 2022 
The Holly Jolly Jekyll attraction twinkles with more than one million lights that visitors can enjoy while walking or riding on a Holly Jolly Light Tours trolley. The trolley ride costs $15 for adults and $7 for children from 5 to 12 years old while children 4 and under get a free ride. Mini-golf, a trading post, and other special events give visitors even more things to do at this attraction. The Holly Jolly Jeckyll Light Parade takes place on December 4th, there are fireworks shows on December 11th and 18th, and a drive-in showing of Frosty the Snowman on December 12th and 19th, according to Jeckyll Island's website.