Interesting Events in Middle Georgia this Week (8/22 - 8/28)
Image
The Macon Film Festival last weekend brought audiences out to see nearly 100 films to Middle Georgia at multiple venues around town, including at the Museum of Arts and Sciences.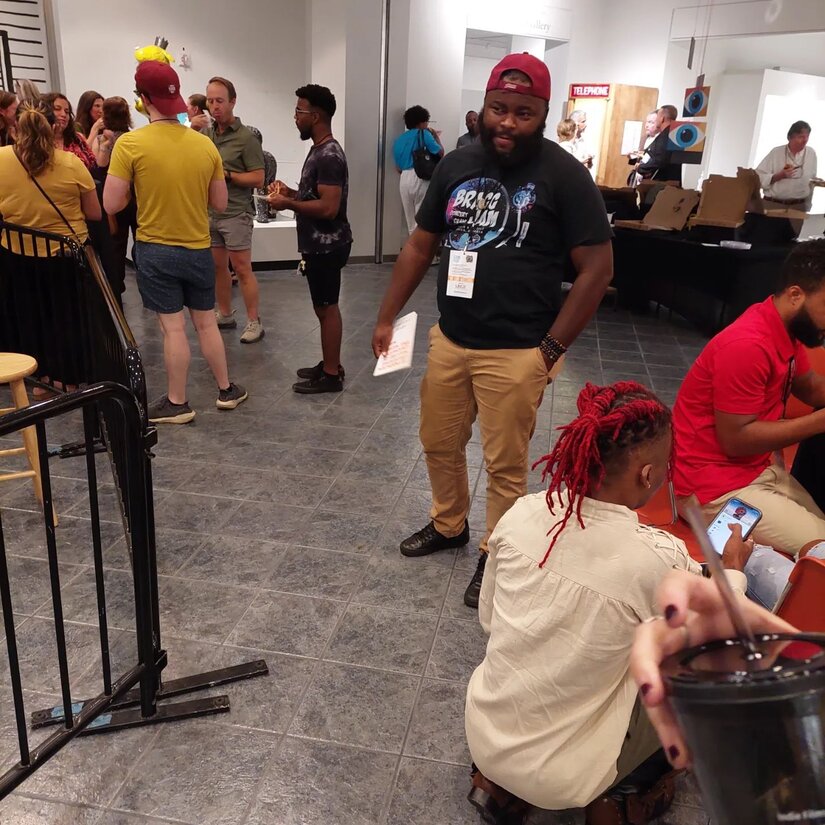 This week there will be plenty of music, free family-friendly events, and comedy shows taking place in multiple cities in the heart of Georgia.
Monday, August 22nd
SOS RESCUE Pet Pantry in Macon (6 - 7:30 p.m.)
This event by SOS Rescue GA assists people in Middle Georgia with dry and wet dog food and affordable microchips for dogs or cats. Microchips will be available for $10 and include a "free lifetime registration" and each household will be given two 40 pound bags of dry dog food and two cases of wet dog food. SOS Rescue Macon requests that interested parties not park in front of the businesses to their right and left. SOS Rescue Macon is located at 3870 Lake Street in Macon.
Tuesday, August 23rd
Gettin' Down in Downtown Macon (5 - 12 a.m.)
This year the Georgia Downtown Association's annual conference is being hosted in downtown Macon. Downtown Macon and NewTown Macon has planned lots of activities for both conference attendees and members of the public to take part in. 
Soul Spots is presented by Visit Macon and includes live musical performances by Reggie Trombone from 5 until 6 p.m. at Ocmulgee Brewpub and from McKinley Starks and Kelley Dixson from 6 until 7 p.m. at Travis Jean Emporium. 
Poplar Unplugged will take place from 5 until 8 p.m. and include family-friendly games in Poplar Street Park as well as live music in front of JBA by James Worsham, Matt McMillan, and Scott Baston (from Moonshine Still) and Friends. You are invited to bring chairs or picnic blankets to more comfortably enjoy the festivities.
The band Black Jacket Bandolier will perform at Grant's Lounge from 7 until 10 p.m. At JBA from 9 p.m. until 12 a.m. there will be free Music Therapy consisting of local musicians (which anyone can join) having a musical "jam session" as a way to release stress while having a great time.

---
---
Wednesday, August 24th
Mulberry Market at Tattnall Square Park in Macon (3:30 - 6:30 pm.)
This "producer-only farmer's market" takes place every Wednesday at the beautiful Tattnall Square Park near Mercer University. "Locally produced foods" as well as "arts and crafts" will be sold along with plants and other items. Arts and crafts. SNAP benefits are doubled at Mulberry Market because they are a Wholesale Wave Partner Market. Tattnall Square Park is located at 1155 College Street in Macon.

Thursday, August 25th
The Stews at Grant's Lounge in Macon (9 p.m. - 12 a.m.)
The Stews, a band hailing from Auburn, Alabama, will perform live at Grant's Lounge on Thursday night. The band members are Preston Hall, who sings lead vocals and plays lead Guitar, Blake Dobbs on rhythm guitar, Bennett Baugus on bass guitar, and Wyatt Griffith on drums and singing backing vocals. The Milledgeville band "Subject to Change" will also perform during this event. Tickets cost a very reasonable $5 and can be purchased at this link. Grant's Lounge is located at 560 Poplar Street in Macon.
The Stews performing "Make it Out" at Smith's Old Bar in Atlanta on July 24th, 2021
Friday, August 26th
Fridays on Main in Gray (5 - 8 p.m.)
On the last Friday of each month the city of Gray hosts an event for the community called "Fridays on Main". There will be opportunities for shopping, eating, and music, all sponsored by Gray business. Fridays on Main takes place in downtown Gray. 

Movie in the Park ("Lion King") in Griffin (7 p.m.)
Griffin Downtown Council, along with Chick-fil-A Griffin, City Church will host a Movie in the Park on Friday evening. Disney's classic "Lion King" from 1994 will play while popcorn, ice cream, and more will be distributed free of charge. Movie in the Park will take place in the Field on the corner of 5th and Solomon Street in Griffin.
Perry Presents Rock the 90's USA (7 - 10 p.m.)
This event will take place Heritage Park Perry and will feature live music by the band "Rock the 90's USA" from 7 until 9 p.m. and music from DJ Mix Master T playing from 9 until 10 p.m. Attendees are invited to bring their own coolers and beverages as well as lawn chairs and blankets for comfort. Food vendors will be available as well and the event may be cancelled if there is inclement weather. Heritage Park Perry is located at 2021 Sam Nunn Boulevard in Perry. 
Saturday, August 27th
ROAD TRIP: The 20th Annual Grant Park Conservancy Summer Shade Festival in Atlanta (10 a.m. - 6:30 p.m.)
On Saturday and Sunday of this week the Summer Shad Festival will take place in Atlanta's expansive Grant Park. This year marks the 20th year this end of summer event for lovers of art and music has been taking place. This festival also acts as an annual fundraiser for the Grant Park Conservancy, which helps keep the historic Grant Park beautiful. As part of the festivities there will also be an Adams Realtors Run for the Park 5K. Grant Park is located on Cherokee Avenue in Atlanta.

The Core recreates The H.O.R.D.E. Tour at The Society Garden in Macon (7 p.m.)
H.O.R.D.E. stands for Horizons of Rock Developing Everywhere and was a touring music festival started by the band Blues Traveler in the early '90s. The Allman Brothers Band, Dave Matthews Band, Smashing Pumpkins and many other bands took part in the H.O.R.D.E. festival. The Society Garden will host the band The Core from Atlanta who will play music played at H.O.R.D.E. festivals. The Core's band members are Wayne Healy from the Freddy Jones Band and H.O.R.D.E. '94 on guitar and vocals, Clay Fuller from Allgood and H.O.R.D.E '93 on guitar, Chris Queen playing piano and B3 organ, drummer Kevin Leahy, percussionist Rob Sumowski, and bassist Bill Taylor. Tickets cost $18 and can be purchased at this link or at the door. The Society Garden is located at 2389 Ingleside Avenue in Macon.

Open Mic Comedy Night with Tall Trey Comedy at Reboot Retrocade and Bar in Macon (9 p.m.)
If you are a budding comedian or just a fan of comedy, the Open Mic Comedy Night at Reboot Retrocade and Bar could tickle your funny bone. Tall Trey Comedy presents this free event where anyone brave enough can perform before a crowd. This event is for adults 18 years and older. Reboot Retrocade and Bar is located at 566 Cherry Street in Macon.
Sunday, August 28th
Funny How? An Abstract Comedy Happening at stARTup Studios in Macon (8 p.m.)
This isn't your regular comedy show: it is more like an obstacle course for comedians who must think on their feet while completing challenges in the most hilarious ways possible. stARTup Studios includes an art gallery, lots of skillfully created pottery and glass items, and a large selection of craft beers as well as delicious beverages from Taiwan. stARTup Studios is located at 1055 Riverside Drive in Macon.