Discover Macon: This Week's Event Highlights
Image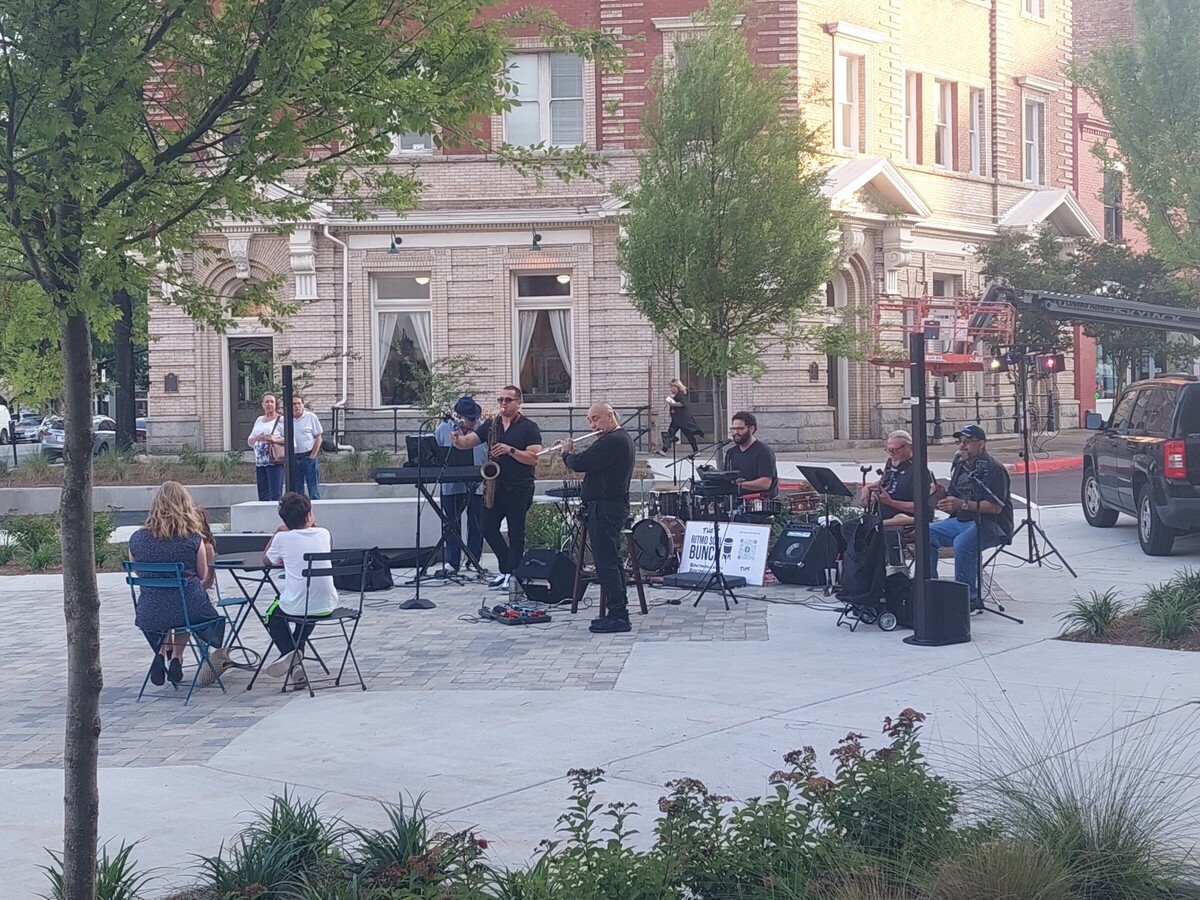 This week in Macon and Middle Georgia, there are many affordable events taking place for those looking to get out of the house and have some fun. The month of June will start on Thursday, which means First Friday will be bringing live music, new art exhibits, and more to Downtown Macon the next day. The following are a select list of just a few of the interesting events taking place this week.
---
MONDAY, MAY 29
Memorial Day
Memorial Day serves as a poignant reminder of the price of liberty and the enduring spirit of those who have given their lives for their country.
---
TUESDAY, MAY 30
Earth Lodge Tour at the Ocmulgee Mounds (1 p.m.)
A Park Ranger will lead a tour of the Earth Lodge where you will learn more about the ancient structure and its ceremonial council chamber's 1,000 year old clay floor. This tour is free to attend but the walk to the tour includes a steep decline and incline and the chamber is not wheelchair or stroller accessible.
Ocmulgee Mounds National Historical Park - 1207 Emery Highway, Macon
---
WEDNESDAY, MAY 31
Work of Heart Mini-Camp at the Museum of Arts and Sciences (1 - 3 p.m.)
The Work of Heart Mini-Camp will teach rising 2nd through 5th graders all about the most important muscle in the body: the heart. Campers will learn about reptile hearts at the mini-zoo, dissect a heart, and create a heart themed craft that they will be able to take home at the end of camp. Tickets are $20: email Kimberly Novak or call the Museum for more information.
 - Museum of Arts and Sciences - 4182 Forsyth Road, Macon
Art in the Park at the Ocmulgee Mounds National Historical Park (2 - 3 p.m.)
This free program will teach participants about sketching and drawing with colored pencils. Space is limited to the first 12 park visitors who sign up at the Visitor Center and this class is for artists 10 years old and up.
 - Ocmulgee Mounds National Historical Park - 1207 Emery Highway, Macon
---
THURSDAY, JUNE 1
Darrell Scott at Capricorn Sound Studios and Museum (6:30, 8:30 p.m.)
Darrell Scott is a singer, songwriter, and multi-instrumentalist whose love of music began at a very young age. Scott has toured with both the Zac Brown Band and Robert Plant and he now also teaches songwriting workshops to try to help others tell stories with their song lyrics as well as he does. Tickets for the early show at 6:30 p.m. and the late show at 8:30 p.m. cost $40.

 - Capricorn Sound Studios - 540 Martin Luther King Jr. Boulevard, Macon
Darrell Scott performing "You'll Never Leave Harlan Alive" for Transatlantic Sessions
---
FRIDAY, JUNE 2
First Friday in Downtown Macon: Art Gallery Exhibit Openings, Family Fun Zone, Live Music and More
June's First Friday in Downtown Macon will include lots of art, live music, and even something for families with kids. Macon Arts Alliance will open their exhibit of Curtis Hertwig's macro photography (Macro in Monochrome) (4 - 7 p.m.) and The 567 Center for Renewal will open their exhibit "Point of View: A Multi-Artist Narrative" with art from talented artists Chris Wind the EMA, DSTO Moore, and Kevin "Scene" Lewis (5 - 8 p.m.). NewTown Macon will present the Family Fun Zone in Third Street Park which will include lawn games and books to checkout (5:30 - 7:30 p.m.). There are usually multiple musicians playing outside during First Fridays, special events by local businesses, and plenty of other things to do and see in Downtown Macon to kick off the weekend as well.
Food Truck Friday in Centerville (5:30 - 9 p.m.)
Center Park at Centerville will be filled with the smell of foods from vendors like Cuban Island Cafe, Jail Creek Farms Winery, Scott Boys Smokin' BBQ, and more as well as the sounds of music from Macon singer and songwriter Marie Ortiz. This event is presented by the City of Centerville is free to attend.
 - Center Park at Centerville - 103 East Church Street, Centerville
Opening Night of the 2023 Macon Bacon season and Muscogee (Creek) Nation Night (7 p.m.)
The Macon Bacon will open their 2023 season with a tribute to the Muscogee (Creek) Nation. There will be opening night fireworks as well as special jersey's honoring the "fourth largest tribe in the United States". Single game tickets for the Macon Bacon vs. Lexington Co. Blowfish game cost $15.
 - Luther Williams Field - 225 Willie Smokie Glover Drive, Macon
---
SATURDAY, JUNE 3
Walk With a Doc at Amerson River Park (7:45 - 9 a.m.)
Walk With a Doc is an event for those looking to live a healthy lifestyle while also enjoying the natural beauty at Amerson River Park. The event will start with a medical professional from Atrium Health discussing a current health topic which will be followed by a walk and conversation with other participants. Registration begins 15 minutes before the walk starts.
 - Amerson River Park (AGL Pavillion next to playground) - 2600 Riverview Road, Macon
Macon Trails Day at Amerson River Park (9 a.m. - 12 p.m.)
Saturday is National Trails Day and you are invited to celebrate it at the beautiful Amerson River Park while helping support the Ocmulgee Heritage Trail. Bike Walk Macon along with Downtown Macon present a day of family-friendly activities, including guided tours. Participants are invited to bring their walking/running shoes, bikes, or skates and enjoy the great outdoors. If you would like to support NewTown Macon's Ocmulgee Heritage Trail construction fund, you can also make a donation at any time. Macon Trails Day is free to attend.
ROAD TRIP: Vintage Day Festival and Fly-in 2023 in Williamson (9 a.m. - 9 p.m.)
This aeronautical event will include aircraft, a vendor fair, multiple food trucks, and drinks from Barnstormer's Grill's outside bar. Williamson is located about 1 hour northwest of Macon near Griffin. Vintage Day Festival and Fly-in 2023 is free to attend.
 - Peach State Aerodrome - 349 Jonathan's Roost Road, Williamson
---
SUNDAY, JUNE 4
Fall Line's Backyard Bash Summer Pop-up Market (1 p.m.)
The Backyard Bash will include a chance to buy one-of-a-kind items from gifted local artists and vendors, fresh produce, sweet baked goods, and more. Fall Line will also be selling their large selection of adult beverages including cocktails. Fall Line's Backyard Bash is free to attend.
 - Fall Line Brewing Co. - 567 Plum Street, Macon
---
---
More News from Macon