Live Music Spotlight in Middle Georgia this Week
Image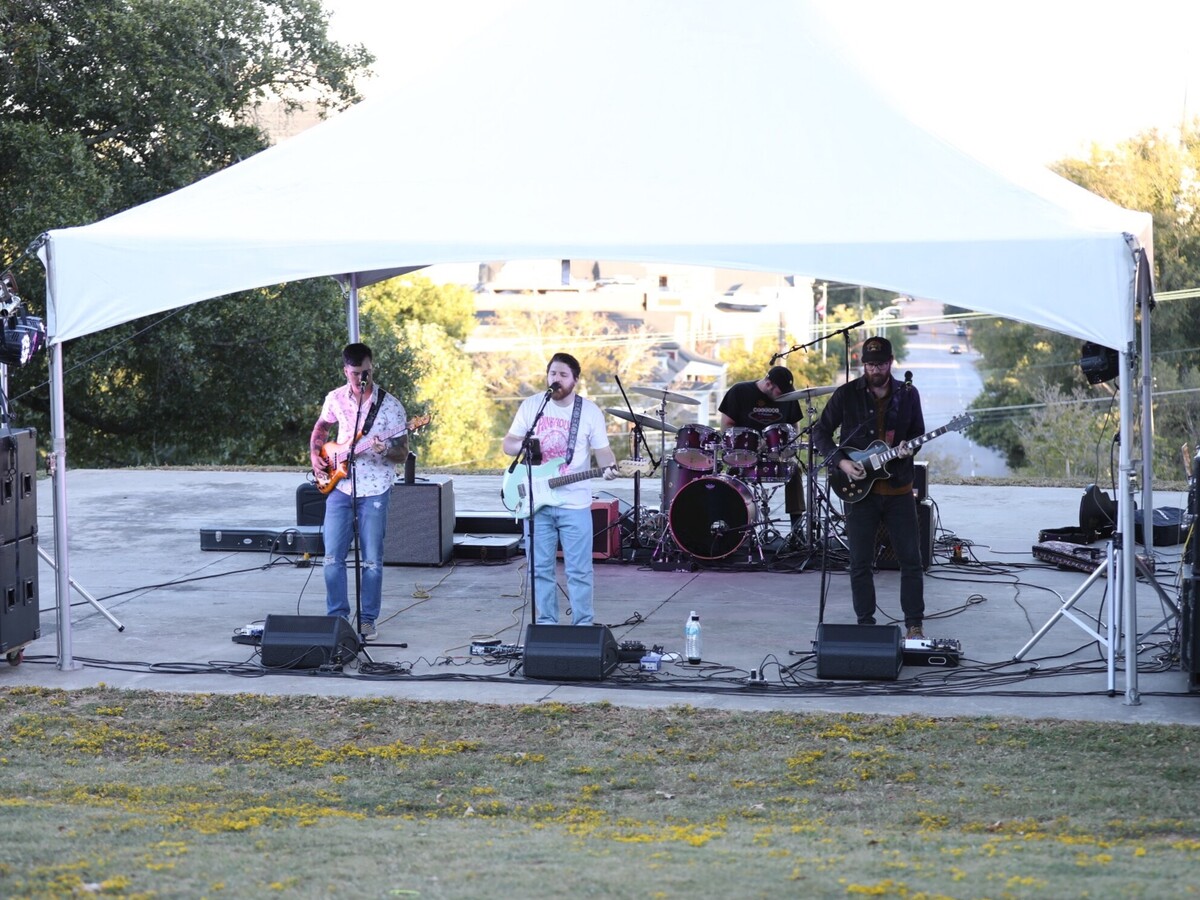 This week there will be talented musicians performing each night at the Georgia National Fair (which ends on Sunday) in Perry, at historic venues in Macon like the Capitol Theatre and Grant's Lounge, and at other venues all around Middle Georgia. The following are just a few of the more noteworthy live music concerts taking place during the next few days.
---
THURSDAY, OCTOBER 12
LIVE MUSIC AT NORTH HOUSTON SPORTS COMPLEX IN WARNER ROBINS (12 - 4 P.M.)
The Celebrating Hispanic Heritage event will include live music and entertainment along with face painting, piñatas, food trucks (including Cuban Island Café, They Gym Cantina, Ricky's Taco Shop), and more. This event is free and open to the public.
SMASH MOUTH AT THE GEORGIA NATIONAL FAIR (7:30 P.M.)
Smash Mouth, who are best known for songs like "Walkin' on the Sun" and "All Star" will be performing at the Georgia National Fair on Thursday. Although the former lead singer, Steven Harwell, recently passed away, he had previously retired from the band in 2021 due to a variety of health issues. Smash Mouth hired Zach Goode as the band's new vocalist in 2021 and they have been touring ever since. The Smash Mouth concert is free with fair admission.
BEE TAYLOR AT GRANT'S LOUNGE (9 P.M.)
Bee Taylor has had an interesting life: she grew up on a cattle ranch in East Texas, moved to Nashville, and then learned how to play piano in the New Orleans' style like one of her music idols, Dr. John. Tickets to see Bee Taylor are $10 in advance or at the door.
Bee Taylor and her band filmed the "Gas Station Takeover" in 2021
DJ WILLIE D AT KARAOKE AT JBA WITH FRESH PRODUCE RECORDS (9 P.M.)
DJ Willie D of Fresh Produce Records hosts unique karaoke nights on JBA on Thursday nights. DJ Willie D, also known as William Dantzler of Fresh Produce Records fame, has an eclectic style that often surprises and delights audiences.
---
FRIDAY, OCTOBER 13
MOCK OF AGES DEF LEPPARD TRIBUTE BAND AT THE MUSE THEATRE IN PERRY (6 P.M.)
Mock of Ages is a tribute band that performs Def Leppard's hit songs. The doors open at 6 p.m., the opener plays at 7 p.m., and Mock of Ages takes the stage at 8 p.m. This show is for audiences 21 years old and older and tickets cost $25.
RANDY HOUSER AT THE GEORGIA NATIONAL FAIR (7:30 P.M.)
Randy Houser is a country music singer and songwriter. Some of his biggest hits were "Boots On" and "How Country Feels". Houser also co-wrote the song "Honky Tonk Badonkadonk" by Tracie Adkins. The Randy Houser concert is free with fair admission.
SUSTO WITH ANDREW SCOTCHIE AT THE SOCIETY GARDEN (8 - 11 P.M.)
SUSTO is an Indie band from Charleston, South Carolina who are currently on their My Entire Life Tour. The band recently released their fifth album, My Entire Life, earlier this year. Andrew Scotchie is a young musician from Asheville, North Carolina whose music mixes rock and roll, blues, and Americana and his lyrics often include social commentary. Tickets to see SUSTO and Andrew Scotchie in concert cost $20.
SUSTO released the official music video for their song "My Entire Life" earlier this year
RUMOURS - A FLEETWOOD MAC TRIBUTE BAND AT THE CAPITOL THEATRE (8 P.M.)
Rumours, a popular Fleetwood Mac tribute band, will be back in Macon this Friday night. Doors open at 7 p.m. and the music starts at 8 p.m. Tickets to see Rumours cost $22.
THE BROKEN STRING BAND WITH CONRAD MOORE AT JBA (9 P.M.)
The Broken String Band was formed in Athens, Georgia and their music "breathes new life into the folk music tradition" by blending folk, bluegrass, and country music to make their own unique sound. Conrad Moore is a singer and songwriter from North Georgia who has been receiving lots of praise for his new song "Brack and Brine". JBA usually has a cover charge for their live music shows.
DJ LUPO AT A SWIFTIE FRITAY THE 13TH DANCE PARTY AT THE HUMMINGBIRD (10 P.M. - 2 A.M.)
DJ Lupo will be spinning Taylor Swift's biggest hits at A Swiftie FriTay the 13th Dance Party. This event is for Swifties 18 years old and older and there will be a $5 cover charge at the door.
ANDREW WOOTEN AT CASHMAN'S PUB (7 - 10 P.M.)
Andrew Wooten is a country music musician whose music is compared to that of Tyler Childers, Sturgill Simpson, and Cody Jinks, according to Cashman's Pub. Cashman's Pub does not have a cover charge.
MATT ROGERS, RJ SANDERS MUSIC, FALL LINE RAMBLER, AND LUKE BOSWELL AT HOMEGROWN TALENT ON THE PLAZA ARTS CENTER LAWN IN EATONTON (7 P.M.)
Homegrown Talent will feature a concert with Matt Rogers, RJ Sanders Music, Fall Line Rambler, and Luke Boswell on the Plaza Arts Center lawn. The bands will play country, southern rock, and blues. Lawn tickets are $20 and VIP table tickets are $50.
---
---
SATURDAY, OCTOBER 14
GRAPEVINE BAND AT THE GEORGIA NATIONAL FAIR (7:30 P.M.)
The Grapevine Band has played soul and rock and roll music throughout Georgia since 1987. They received the Band of the Year award from the Atlanta Society of Entertainers in 2000 and they have performed with popular bands like Sam and Dave, Grand Funk Railroad, and many more. The Grapevine Band concert is free with fair admission.
DUANE BETTS & PALMETTO MOTEL WITH THE CORDOVAS AT THE CAPITOL THEATRE (8 - 11 P.M.)
Duane Betts co-founded the Allman Betts Band and is a guitarist, singer and songwriter who also leads the Duane Betts & Palmetto Motel band. Betts is also the son of The Allman Brothers Band's Dickey Betts and toured with him as a member of Dickey Betts & Great Southern. Duane Betts released his solo album "Wild & Precious Life" in June of this year. The Cordovas are an Americana/rock and roll band hailing from Nashville Tennessee who will also be performing. Doors open at 7 p.m. and the show starts at 8 p.m. Tickets to see Duane Betts and Palmetto Motel with the Cordovas start at $25.
Duane Betts & Palmetto Motel recently performed "Evergreen" at the Neighborhood Theatre in Charlotte, North Carolina
ROAD TRIP: SATISFACTION ROLLING STONES TRIBUTE BAND AT THE GRIFFIN OPERA HOUSE (8 P.M.)
Satisfaction is an international touring tribute band who have been performing the Rolling Stone's greatest hits for more than 22 years. Tickets to see Satisfaction in concert start at $27.75.
DJ CL33BO AT JBA (10 P.M.)
DJ CL33BO will be bringing the bass back to JBA late Saturday night. The music starts at 10 p.m. and doesn't stop until JBA closes.
EASILY AMUSED AT THE HUMMINGBIRD (10 P.M. - 2 A.M.)
Easily Amused is an indie rock and roll band who will be returning to perform at The Hummingbird on Saturday night. The Hummingbird will have a $5 cover charge at the door for this show.
THE VARDEN AT BILLY'S CLUBHOUSE (10 P.M. - 2 A.M.)
The Varden is a rock and roll band from North Georgia. They will be playing covers of popular rock and roll songs. Billy's Clubhouse does not have a cover charge.
BRUCE KATZ BAND AT GRANT'S LOUNGE (10:30 P.M.)
The Bruce Katz Band is visiting Macon for the first time since they recorded their new album Connections at Capricorn Studios. Bruce Katz is a musician who plays the piano, organ, and bass and he was on the faculty of the Berklee College of Music in Boston. This show will be both a CD release party as well as the after party for the Duane Betts show at the Capitol Theatre. Tickets cost $15 online or at the door.
---
SUNDAY, OCTOBER 15
RUMBA LATINA 2023 AT THE GEORGIA NATIONAL FAIR (5 p.m.)
Rumba Latina has been performing for 15 years and they will be performing an energetic show at the Georgia National Fair on Sunday evening. The Rumba Latina concert is free with fair admission.
---
---
More News from Macon