Adventures in Macon and Middle Georgia: Fun Events Taking Place This Week
Image
Staying active and having fun is an important part of living the good life. This week there are many ways to do both in Middle Georgia. You can float down the peaceful Ocmulgee River under the light of a full moon, celebrate the first Friday in September in Macon and Milledgeville, or learn to meditate with a Park Ranger at the Ocmulgee Mounds National Historical Park. The following are just a few of the fun and interesting (and often inexpensive) things to do this week in Middle Georgia.
---
MONDAY, AUGUST 28
Release of First Episode of Fort Hawkins Podcast
Camp Hawkins plays an important part in the history of Macon, which is celebrating the 200th year anniversary of its founding this year. The Fort Hawkins Foundation is releasing the first episode of a podcast about the important historical site on Monday as part of Macon's Bicentennial with an interview with the Fort's namesake, Colonel Hawkins (played by Marty Willett). You can listen to the podcast for free online at this link.
---
TUESDAY, AUGUST 29
Tuesday Night Karaoke at Billy's Clubhouse (8 p.m.)
DJ Custom will host a fun night of karaoke at Billy's Clubhouse in North Macon on Tuesday night. Unlike the early karaoke machines, there will be no 8-track cartridges or cassette tapes used during this song filled event.
  - Billy's Clubhouse - 1580 Forest Hill Road, Macon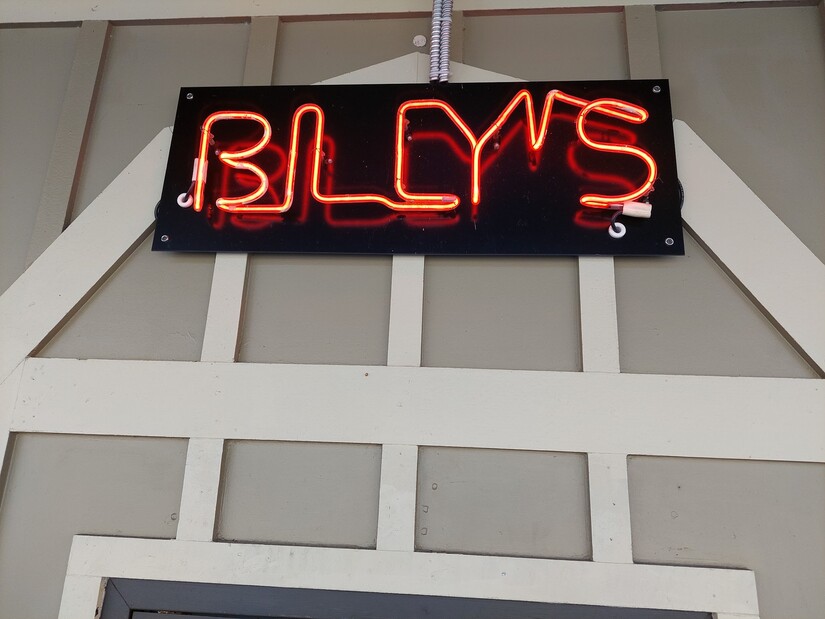 ---
WEDNESDAY, AUGUST 30
Full Moon Float with Ocmulgee Outdoor Expeditions in Juliette (7:30 p.m.)
You can float down the Ocmulgee River in Juliette under the light of a full moon on with Ocmulgee Outdoor Expeditions' Full Moon Float on Wednesday night. Glow sticks attached to the boats will help you see and provide a festive atmosphere. Tickets for the Full Moon Float cost $75 (for a kayak), $140 to $150 (for a two person kayak or canoe), or $25 to $35 for a shuttle only.
  - 5579 Juliette Road, Juliette
Chill and Pour: A Refreshing Wine Tasting Experience at Philosophie Wine Bar (6:30 p.m.)
Hailey Culmone will teach attendees at Chill and Pour all about 6 chilled wines during this educational class on Wednesday evening. Sip and learn from Culmone with other wine enjoyers for $35 at this event. You can purchase tickets at this link.
  - Philosophie Wine Bar - 616 Popular Street, Macon
---
---
THURSDAY, AUGUST 31
August Blue Full Moon Yoga and Fire Ceremony on Coleman Hill (7 - 8:15 p.m.)
There will be a super moon glowing brightly in the sky on Thursday night and this donation based yoga class will take full advantage of the occasion. Attendees at this all levels class will be led through pranayama (which focus on the breath), meditation, and yoga and the event will end with a freeing fire ceremony. If you are interested, the organizers request you bring a yoga mat, water, and some friends to come enjoy this unique event while looking out onto Downtown Macon.
  - Coleman Hill - 285 Spring Street, Macon
---
FRIDAY, SEPTEMBER 1
First Friday Celebration in Downtown Macon (5 p.m. - 12 a.m.)
Downtown Macon will celebrate the beginning of another month on Friday with art shows, special events at stores and restaurants, and lots of music as well. Some of the art focused events during First Friday include the soft opening of Green Light Gallery (next to the 567 Center gallery) with artwork from artist Hazel Caldwell, 478 Creatives will host the First Friday Art Crawl starting with the McEachern Art Center at 6 p.m., Kevin Scene Lewis will have a solo exhibit called "Talisman" at the Macon Arts Center from 4 to 7 p.m., and The 567 Center for Renewal will open their September art exhibit titled "From City to Soul" with an event from 5 to 8 p.m. You can hear live music at several locations during First Friday including at JBA (Overthinker), The Hummingbird (Plethra), and Serenity Entertainment Complex (at "Grown Folk Friday").
  - Downtown Macon
The Green Man: An Art Show at Quill Cocktail Bar (6 p.m.)
Quill Cocktail Bar will host a unique art show from Court of Miracles on Friday night around the Green Man archetype on Friday. DJ Clarkafterdark will provide the music while artisans and makers as well as artists will display their creations for this "Back to Eden" event. Tickets to The Green Man art show cost $10.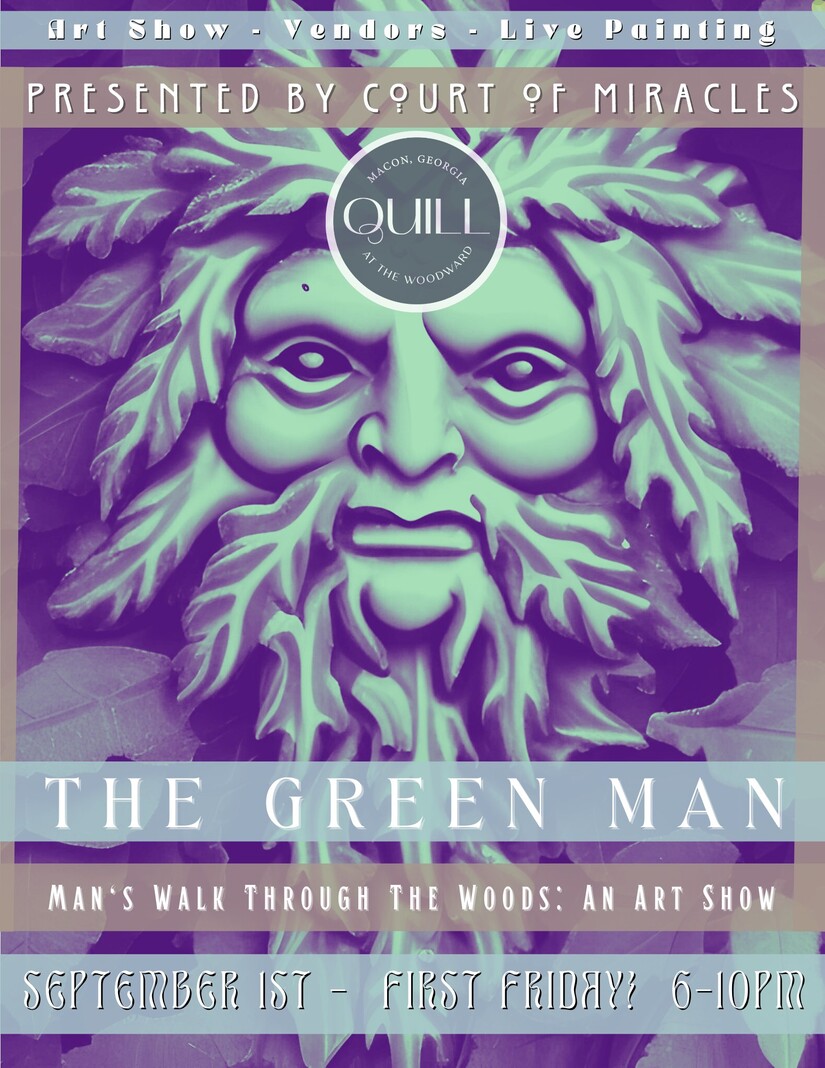 - Quill Cocktail Bar - 350 Second Street, Macon
Fall Film Series Screening of "Spider-Man: No Way Home" in Perry (6 p.m.)
The city of Perry will screen "Spider-Man: No Way Home" during this family friendly event on Friday evening. The movie starts at sunset and attendees will be able to enjoy free popcorn, activities, and food trucks. Bring your coolers, lawn chairs, and blankets to watch this movie with your friends and family at this free event from the City of Perry and Visit Perry.
  - 1121 Macon Road, Perry
Screening of "Shrek" and "Top Gun: Maverick" in Milledgeville's (6 - 10 p.m.)
As part of Milledgeville's First Friday celebration, the Five Star Automotive Group presents an evening of movies, activities, and food. The much loved kid's movie "Shrek" will be screened from 6 to 8 p.m. and then the action packed "Top Gun: Maverick" will be screened from 8 to 10 p.m. Food vendors will also be onsite to serve anyone looking for dinner and a movie during this free event.
  - The Pavilion - 222 E. Hancock Street, Milledgeville
ROAD TRIP: Elvis Live at the Griffin Opera House (8 p.m.)
Elvis (or at least the Elvis tribute artists Cote Deonath) will be appearing live at the Griffin Opera House on Friday and Saturday evening. Deonath will perform and dress in various costumes representing different stages of Elvis' musical career during the concert. The doors will open at 7 p.m. and tickets to see "Elvis in Concert" start at $37.75 online at this link.
  - Griffin Opera House - 102 N. Hill Street, Griffin
Cote Deonath recently performed as Elvis at the Nashville Elvis Festival (video courtesy of YouTube user sqsand)
---
SATURDAY, SEPTEMBER 2
Farmers Market at Center Park in Centerville (9 a.m. - 1 p.m.)
Support the Middle Georgia farmers, makers, and bakers at the Farmers Market in Centerville. The city of Centerville is located in Houston County about 18 miles southwest of Macon and has a population of around 7,000 as of 2010.
  - Center Park at Centerville - 103 E. Church Street, Centerville
Battle of Dunlap Hill (10 a.m. - 4 p.m.)
The Battle of Dunlap Hill will be reenacted this Saturday at a free, family-friendly event at Macon's Fort Hawkins. There will be cannon and musket salutes, blacksmith shop demonstrations, artists painting live, and more.
  - Fort Hawkins - 736 Emery Highway, Macon
Atlanta Black Theatre Festival in Macon (10 a.m. - 10 p.m.)
The Atlanta Black Theatre Festival is being hosted by Macon's Douglass Theater this year and will start on Friday and run through Saturday. It was feature stage performances, screenings of films, multiple speakers, a marketplace, and staged readings. Tickets to events at the Atlanta Black Theatre Festival start at $17.
ROAD TRIP: Spirited Away Marketplace at East Atlanta Village Farmers Market (1 - 7 p.m.)
Fans of Hayao Miyazaki's animated movie "Spirited Away" will live the Spirited Away Marketplace this Saturday. Attendees can buy Ghibli inspired handmade goods, arts, and crafts, take pictures with the No Face character, make a pet Soot Sprite, and listen to live music by Coruja. This family-friendly event also invites you to bring your friendly dogs along with you for a whimsical day of adventuring.
  - East Atlanta Village Farmers Market - 561 Flat Shoals Avenue SE, Atlanta
---
SUNDAY, SEPTEMBER 3
Ranger Meditation Program at the Ocmulgee Mounds National Historical Park (2 and 2:15 p.m.)
One of the Park Rangers at the Ocmulgee Mounds National Historical Park will lead two short, 5 minute family-friendly meditations on Sunday afternoon followed by discussions. Attendees will meet at the park's Outdoor Classroom which is located across from the Visitor Center's entrance.
  - Ocmulgee Mounds National Historical Park - 1207 Emery Highway, Macon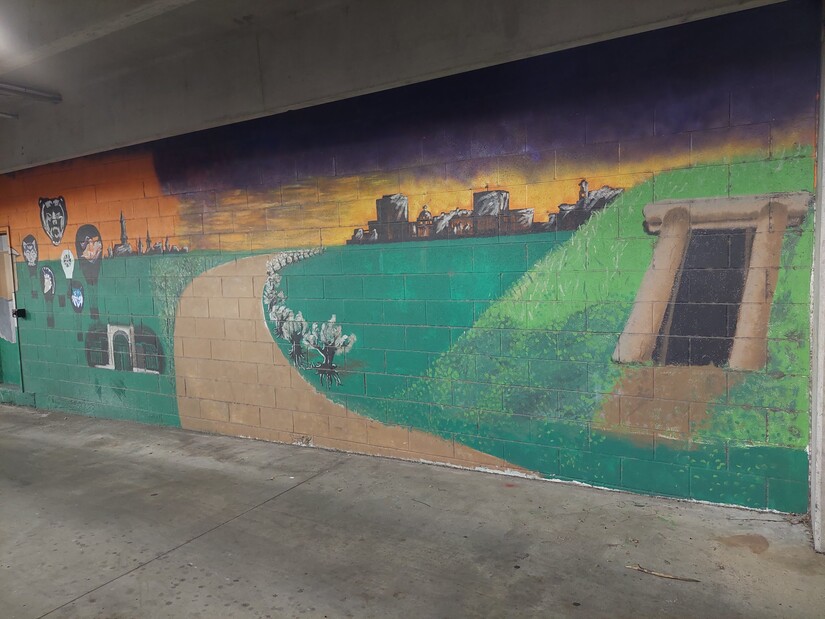 ---
---
More News from Macon