Live Music Spotlight this Weekend for Macon and Middle Georgia
Image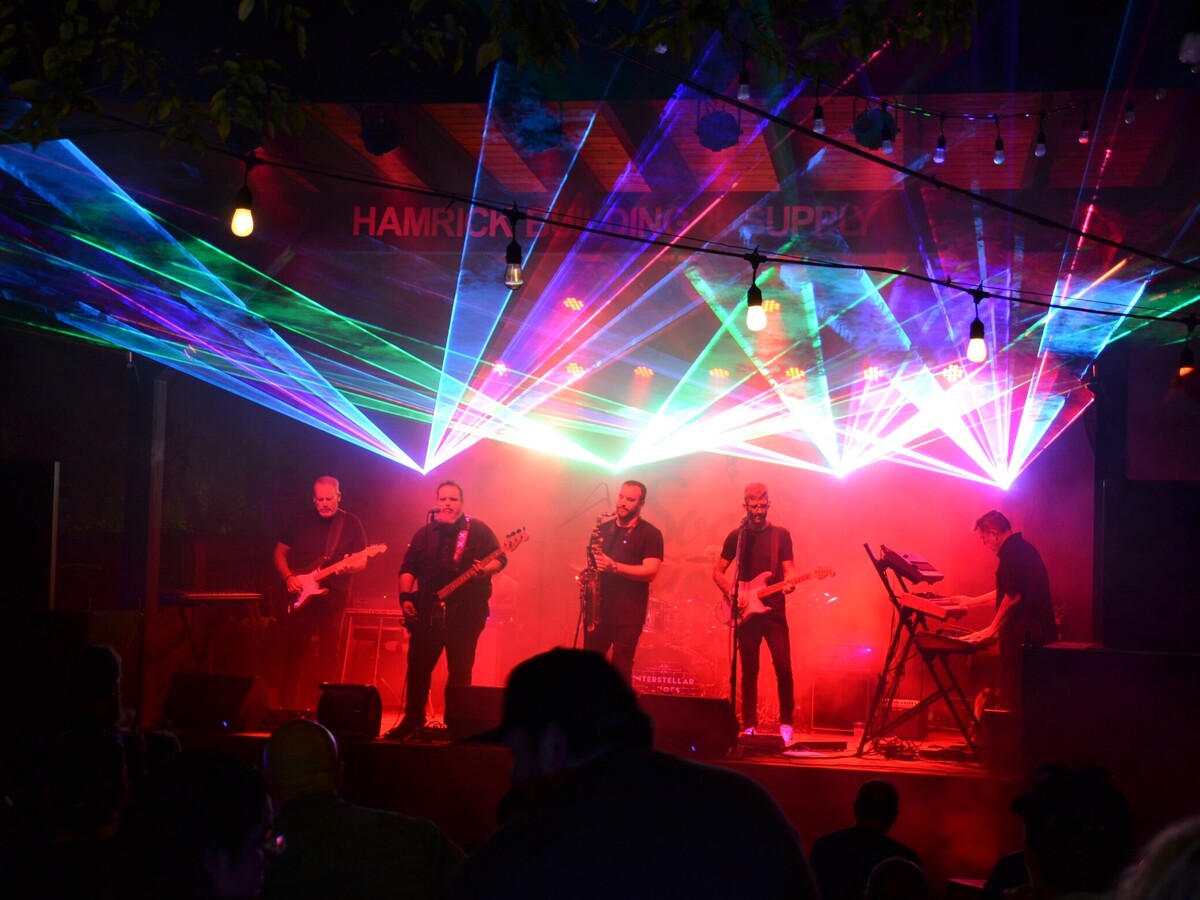 This weekend in Middle Georgia music lovers can enjoy live music performances at music venues, restaurants, and unique special events. Court of Miracles' The Green Man art event during Downtown Macon's First Friday festivities will feature performances from the band Circussurfer and DJ Clarkafterdark, The Society Garden's (GA)MBOREE will include live music from three local bands, and Elvis (kind of) is even performing this weekend at The Griffin Opera House. The following are just a few of the exciting live shows you can catch this weekend in Macon and Middle Georgia.
---
FRIDAY, SEPTEMBER 1
CIRCUSSURFER AND DJ CLARKAFTERDARK AT THE GREEN MAN: AN ART SHOW AT FRESH PRODUCE RECORDS AND QUILL (5 - 8 P.M. AND 6 - 10 P.M.)
Court of Miracles is taking over Downtown Macon with The Green Man themed art and music event. The band Circussurfer, which is made up of members of other popular, Middle Georgia bands, will play on the Cherry Street Stage at Fresh Produce Records from 5 to 8 p.m. Then, DJ Clarkafterdark will perform on the Quill Stage at The Woodward Hotel from 6 to 10 p.m. Presale tickets to this event cost $10.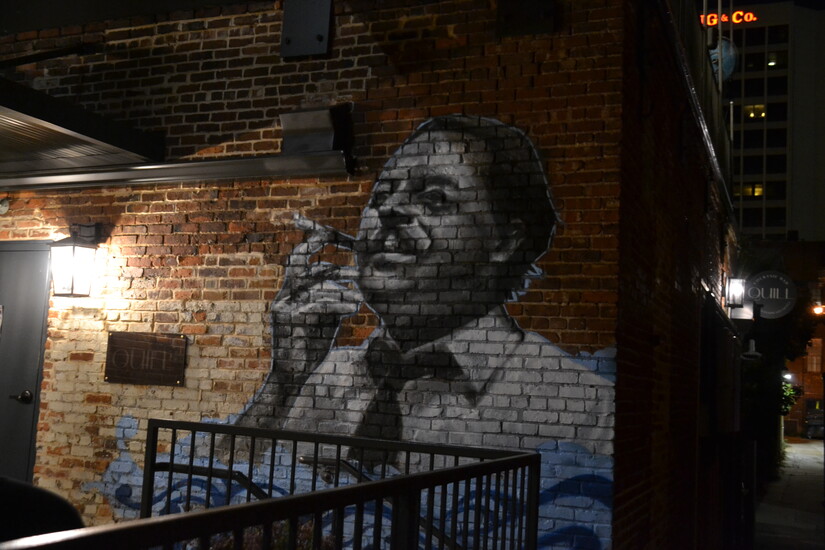 MCKINLEY STARKS AT JBA (5:30 P.M.)
Mckinley Starks, a Middle Georgia pianist who often performs at weddings and other private events, will be playing live cocktail music on JBA's baby grand piano on Friday evening. The Longleaf Distillery Takeover will also be taking place at JBA starting at 4 p.m. which means that there will be special curated cocktails on the menu in the lounge and Longleaf's Ryan Smith and Longleaf cocktails on draft in JBA's Game Room.
ZACH BUTLER & THE LIVING ROOM BAND, TIGER COUNTY REGULATORS, AND WEST RIDGE CIRCLE PERFORM AT (GA)MBOREE AT THE SOCIETY GARDEN (6 - 11 P.M.)
(GA)MBOREE will be a celebration of Macon music with performances from three bands at The Society Garden on Friday night. Doors open at 6 p.m. and Zach Butler & the Living Room band perform at 7 p.m. Butler is an American folk rock singer and songwriter who released his first live album earlier this year. The Tiger County Regulators take the stage at 8:15 p.m. and this band's sound include the influences of rock, blues, funk, and soul music. West Ridge Circle's performance starts at 9:30 p.m. and this band's music is heavily influenced by blues, funk, and space rock music. Presale tickets to the (GA)MBOREE start at $10.
KENNY RAY WILLIAMS BAND AT FISH N' PIG (7 P.M.)
The Kenny Ray Williams Band will be playing "funky soul, good rock [and] roll, and those low down blues" at the Fish and Pig this Friday evening. The Fish N' Pig is a restaurant that specializes in seafood and barbecue and they do not have a cover charge.
SANDY BUCKNER & THE GAME AT GRANT'S LOUNGE (9 P.M.)
Sandy Buckner & The Game's performance will include plenty of gospel, rhythm and blues, jazz, and soul influences. Buckner learned to sing in church choirs and was heavily influenced by such greats as Ella Fitzgerald and Billie Holiday. Tickets to the Sandy Buckner & The Game show cost $12.
THE GEORGIA CHRYSLERS AT 20'S PUB (9 P.M. - 2 A.M.)
The Georgia Chryslers will be playing covers of popular rock and roll tunes. Dancing is highly encouraged at this show and the 20's Pub has no cover charge as usual.
OVERTHINKER AND ABANDCALLEDLOVE AT JBA (10 P.M.)
Overthinker is a pop/punk trio from Orlando whose music is influenced by the early aughts. Their latest single is called "New Stranger". ABANDCALLEDLOVE will also perform on the big stage at JBA: this band is made up of songwriters Ryan Love and Joshua Riley from Atlanta.
DJ CARLOS AT FRIENDS ON THE HILL IN WARNER ROBINS (10 P.M.)
The Friends on the HILL is having another The Mixer event Friday with special guest DJ Carlos on the turntables. There will be live art by The Court of Miracles and free entry. This event is only for those 21 years old and older and is hosted by DJ B3.
PLETHRA AT THE HUMMINGBIRD (10 P.M.)
Plethra is a rock and roll band from Middle Georgia who will be rocking at The Hummingbird late Friday night. The Hummingbird will charge a $5 cover at the door for this show.
---
---
SATURDAY, SEPTEMBER 2
ASHLEY COOKE WITH VINCENT MASON AT THE HUMMINGBIRD (7 P.M.)
Country music singer Ashley Cooke is touring on her 1st headliner tour and will perform with special guest Vincent Mason at The Hummingbird on Saturday. Doors open for VIPs at 5:30 p.m., General Admission starts at 7 p.m. and Vincent Mason's performance begins at 9 p.m. Ashley Cooke will perform starting at 10 p.m. This show is for attendees 18 years old and older. Tickets to see Ashley Cooke and Vincent Mason start at $10 with VIP tickets costing $65.
BOOSIE AND FRIENDS DRIVE IN CONCERT AT THE MACON ARTS CENTER (7 P.M.)
Millionaire Vibe Productions will present the "Boosie and Friends Drive in Concert" this Saturday. Attendees are invited to bring lawn chairs to this first come first serve concert where rapper Boosie Badazz and others will perform. Tickets to the Boosie and Friends Drive in Concert start at $25.
THE DOOBIE BROTHERS 50TH ANNIVERSARY TOUR AT THE MACON CENTREPLEX (8 P.M.)
The Doobie Brothers is a famous rock and roll band that formed way back in 1970 in California. One of their most well known songs is "Listen to The Music" from 1972. They are still rocking and rolling and will be performing at the Macon Centreplex this Saturday. Tickets to see The Doobie Brothers in concert start at $36.50.
DEAN BROWN AND DUBSHAK AT AMICI MACON (8 P.M.)
Dean Brown and Dubshak can often be found performing at venues all across Middle Georgia. Their sound is smooth and easy to groove to. Amici Macon is a popular restaurant that does not have a cover charge.
ROAD TRIP: ELVIS LIVE AT THE GRIFFIN OPERA HOUSE (8 P.M.)
Through the years many people have claimed that Elvis lives and this show at The Griffin Opera House seems to prove that point. Either that or a very good Elvis tribute artist named Cote Deonath will be performing as the one and only Elvis with multiple iconic costume changes. Doors open at 7 p.m. and the show starts at 8 p.m. Tickets to see Elvis Live at The Griffin Opera House start at $37.75.
COREY SMITH AT THE SOCIETY GARDEN (9 P.M. - 12 A.M.)
Corey Smith is a country music singer, songwriter, a guitarist who has over 5 million listeners on his Spotify channel and has a loyal following across the U.S. His performances often lead to sold out shows so make sure to get your tickets soon before they sell out. Tickets to see Corey Smith at The Society Garden start at $25.
SUMMER DEAN AT GRANT'S LOUNGE (9 P.M.)
Summer Dean is a former schoolteacher based in Fort Worth, Texas who has gone on to have a successful career as a honky tonk musician. Dean is a singer and songwriter whose distinctive voice and powerful voice is one you won't soon forget. Tickets to see Summer Dean cost $12.
Summer Dean performing her song "She Ain't Me" for The Next Waltz
POSEIDON AT JBA (10 P.M.)
Poseidon is an alternative rock band from Tuscaloosa and they describe their sound as a mix of "modern rock, with influences from blues, psychedelic, 70's, pop punk, and southern rock". They released their single "The Lights" in June of this year.
WYATT AND DAN WITH FRIENDS AT BILLY'S CLUBHOUSE (10 P.M.)
Wyatt Pyles, Dan Kelly, and their friends will be getting "down and funky" at Billy's Clubhouse late Saturday night. Billy's Clubhouse never has a cover charge.
ROAD TRIP: YONDERWAYS METAL FEST WITH EMBERING EFFIGY, ATOMIC PEACEMAKER, BY WAY OF FIRE, RETURN TO SENDER, SPLICED, HOLLOW DEPTHS, AND MORE IN YATESVILLE (10 A.M. - 11 P.M.)
YonderWays Metal Fest will include music from multiple local heavy metal bands like Return to Sender, By Way of Fire, Spliced, Hollow Depths, and Embering Effigy this Saturday. The organizers' stated goal with this event is to "awaken the metal scene in the south". Yatesville is a small town located about 35 miles from Macon and this heavy metal concert will take place at 3110 Willis Road.
TOTEM AT BUFFINGTON'S IN MILLEDGEVILLE (11 P.M.)
The band Totem will be performing at Buffington's late Saturday night this week. Buffington's is located in Downtown Milledgeville and their motto is "Amazing fresh food - we like our music that way too."
---
SUNDAY, SEPTEMBER 3
BOOTZ AND KATZ, TRUFFELINA, SHY COMPANY, AFRICAN AMERICANA, AND CLARKAFTER DARK PERFORM AT A TRIBUTE FOR BRENNAN AT THE SOCIETY GARDEN (4 p.m.)
There will be a music filled tribute concert celebrating the life of The West Collective's Brennan West at The Society Garden on Sunday. Talented local musicians performing at this concert include Bootz and Katz, Truffelina, Shy Company, African Americana, and DJ ClarkAfterDark. The West Collective will also be vending at this event and profits from the sale of their products during this event as well as the suggested $5 donation for entry will benefit Macon Mental Health Matters.
FREE LANCE RUCKUS AT BUFFINGTON'S IN MILLEDGEVILLE (6 p.m.)
The very busy band Free Lance Ruckus will be performing at Buffington's this Sunday. This alternative Americana rock band is from Middle Georgia. As usual, Buffington's does not have a cover charge.
---
---
More News from Macon