Things to Do in Macon and Middle Georgia This Week (11/29 - 12/5)
Image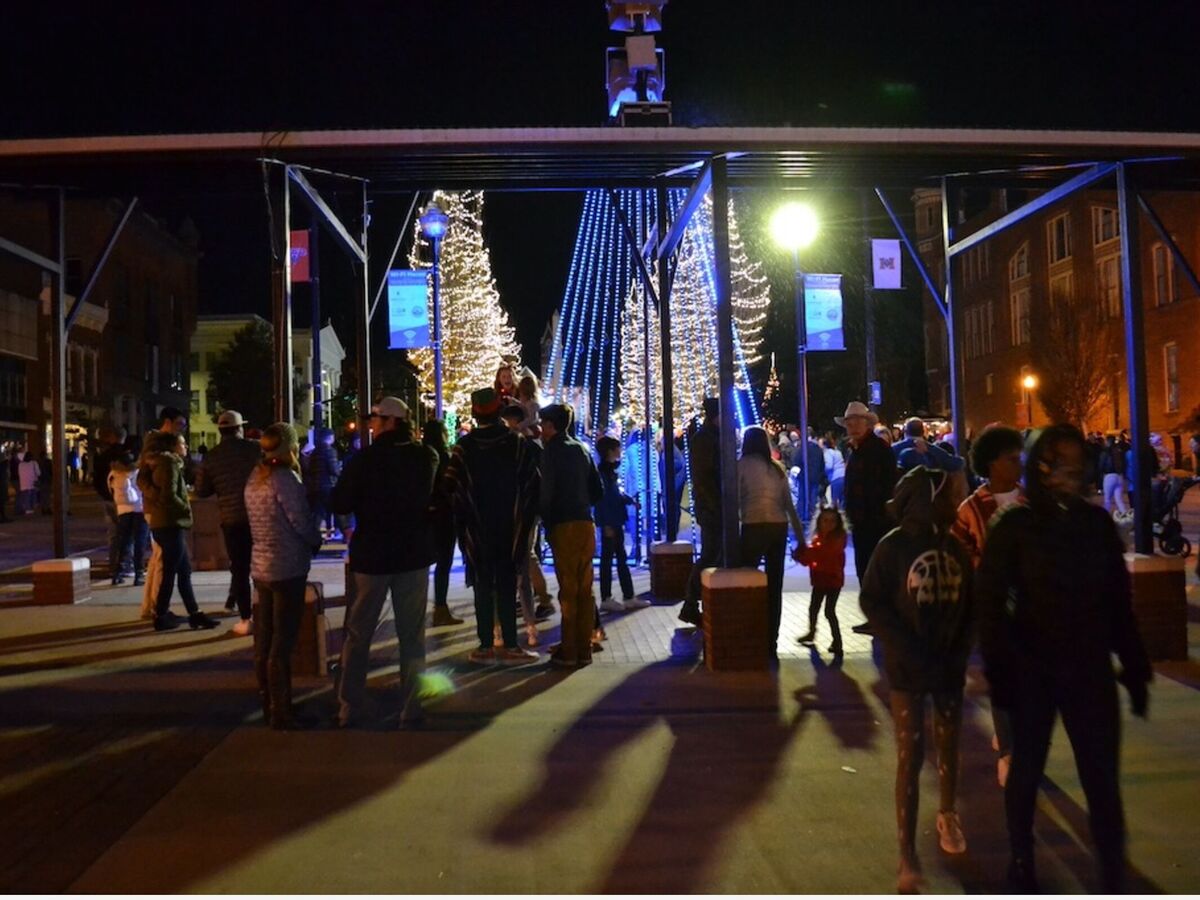 Monday, November 29th
Macon Startup Week - Virtual Session: Trademark and Business (11 a.m.)
Macon Startup Week is composed of a series of free events for professionals and entrepreneurs taking place this year from Tuesday, November 30th through Saturday, December 4th. Some of these events will take place online and some in person. Registration is required and you can register at this link.
Tuesday, November 30th
Giving Tuesday Celebration (5 p.m.)
Giving Tuesday is a "global generosity movement" that encourages people to do something to help make their community a better place. The Junior League of Macon is hosting a Giving Tuesday Celebration at Fall Line Brewing Co. There will be door prizes raffled off and you will receive a raffle ticket for every donation to Georgia Gives Day. Fall Line Brewing Co. is located at 567 Plum Street in Macon.
Macon Young Professionals Mingle Jingle (5 - 6:45 p.m.)
The Greater Macon Chamber of Commerce invites you to Just Tap'd - Macon for a "night of lights, lagers and leadership" at this meetup for young professionals in Macon. Kaitlynn Kressin, a successful local entrepreneur, will be the guest speaker. Attendees must register to attend this event and you can register at this link. Just Tap'd - Macon is located at 488 First Street in Macon.
Wednesday, December 1st
Fabian Center for Musical Excellence presents Canadian Brass (7:30 - 9 p.m.)
Mercer University - Townsend School of Music invites members of the public to this inaugural concert in the Fabian Center for Musical Excellence featuring the very entertaining and talented Canadian Brass. While this event is free, tickets are required to attend. Contact Leigh Anne Hise (478) 301-2748 or Lisa Sturgis (478) 301-5751 for tickets. Please note that masks are required to attend this event. The Fabian Center for Musical Excellence is located in McCorkle Music Building, Neva Langley Fickling Hall at 1501 Mercer University Drive in Macon.
JBA Jazz Wednesdays - Live Jazz Weekly (9 p.m. - 12 a.m.)
Every Wednesday JBA hosts an evening of live jazz with Adam Hendley and his trio. Attendees are invited to come jazz dance the night away with Old Fashioneds for $6 and no cover charge for this event. JBA is located at 499 MLK Jr. Boulevard in Macon.
Friday, December 3rd
December First Friday 2021 (5 - 11 p.m.)
NewTown Macon and Robins Financial Credit Union invite you to historic downtown Macon for another busy First Friday event which will include the following events and more.
  ~  The Main Street Christmas Light Extravaganza will light up the night with over 500,000  lights that are synced up to the music of the Macon Pops. This year the event is presented by Northway Church and will run every night with shows starting at 6, 7, 8, and 9 p.m. through January 2nd, 2022.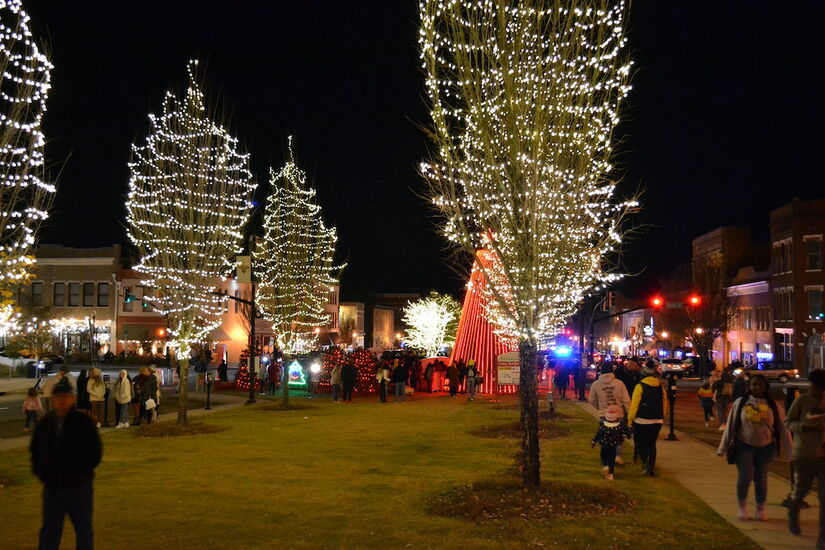 ~  Admission to the Georgia Sports Hall of Fame will be free again thanks to the Beverly Knight Olson Children's Hospital.
  ~  Macon Macabre Tour by Rock Candy Tours is a one and a half hour "ghost, murder, and mayhem Macon history tour" of downtown Macon's nightlife and businesses. This event costs $15 per person and will start at 8 p.m. Just Tap'd and end at Parish on Cherry around 9:30 p.m.
  ~  David Childers will perform at JBA starting at 10 p.m.
  ~  The Macon Sound will perform at The Hummingbird starting at 10 p.m.
Carriage Rides under the Lights! (6 - 10 p.m.)
The Main Street Christmas Light Extravaganza and Raines Carriage is bringing horse and carriage rides back to downtown Macon this year. These rides will take place on Fridays, Saturdays, and Sundays through Sunday, December 19th. The carriage ride will start at Dunlap Park near the fountain located at Third and Cherry Streets and passengers will ride through the over 500,000 lights of the Main Street Christmas Light Extravaganza. Tickets cost $10 for adults and $5 for children 5 to 12 years old. Cash and credit cards (with a $1 processing fee) will be accepted. Dunlap Park is located at 455–499 Third Street in Macon.
Christmas in Griffin (6 p.m.)
City Church, Chick-fil-A Griffin, and Downtown Griffin host this free event in downtown Griffin on Solomon Street in downtown Griffin. There will be plenty of Christmas lights, pictures with Santa, the Grinch, and his friend Cindy Lou Who, and a train ride. There will also be a showing of the animated movie "The Grinch" and a Christmas Tree Lane with 25 decorated trees, according to the organizers.
Public Ice Skating at the Macon Centreplex (6 and 8 p.m.)
The Macon Centreplex will allow the public to ice skate in 2 one hour sessions. Participants are asked to bring a pair of socks and to bring a clear bag for any items being brought into the venue and masks are also encouraged. Tickets price includes the skate rental and are available for purchase online at this link or they can be purchased from the Macon Coliseum box office. The Macon Centreplex is located at 200 Coliseum Drive in Macon.
A Motown & Friends Christmas (7 p.m.)
The Douglass Theatre will host a night of Motown Christmas songs from artists like Michael Jackson, Luther Vandross, and Mariah Carey. Admission to this event will cost either $10 or five non-perishable food items to benefit the Middle Georgia Community Food Bank. The Douglass Theatre is located at 355 MLK Jr. Boulevard in Macon.
Saturday, December 4th
Christmas in Gray (9 a.m. - 7 p.m.)
Christmas In Gray is an event to encourage locals to shop local businesses. There will be special Christmas discounts offered and stores are letting other vendors come in to sell their goods, according to the organizers. If you would like to see what businesses in Gray will be doing for this event, visit the Christmas in Gray Facebook page.
Holiday Arts and Craft Market (12 - 6 p.m.)
Triangle Arts Macon is hosting this two day Holiday Arts and Crafts Market on Saturday, December 4th through Sunday, December 5th from 12:00 p.m. to 6:00 p.m. There will be hundreds of unique, handmade gifts from more than 50 local artisans starting at $5, including jewelry, clothing, pottery, paintings, photography, furniture, and even oddities according to the organizers. Food trucks and local authors will also be at this festive event. This event will benefit the Mentors Project of Bibb County, a nonprofit organization that "provides role models" to eligible Bibb County Public Middle and High School students who need support to reach their potential. Triangle Arts Macon is located at 206 Lower Elm Street in Macon.
Lockerly in Lights in Milledgeville (6 - 9 p.m.)
Visitors will drive a one mile loop of trees and displays lit up with colorful Christmas lights at the Lockerly Arboretum. Admission to this event is $10 per car (with a limit of 10 passengers) and payment of cash and checks are accepted. This event occurs weekly on Saturdays until December 18th. Lockerly Arboretum is located at 1534 Irwinton Road in Milledgeville.
Sunday, December 5th
The Milledgeville Polar Express (6 - 7:30 p.m.)
Milledgeville Main Street invites you to a magical ride on the Polar Express Trolley. During the ride, passengers will listen to Liam Neeson's reading of Allsburg's "The Polar Express". There will also be characters from the movie on board. There will also be a chance to meet Santa and enjoy hot chocolate and cookies, according to the organizers. Tickets for this event start at $15 and they selling out fast. At the time of publication, there are only tickets available for rides on December 5th and 6th. Tickets can be purchased at this link.
An Evening with Chicago at the Macon City Auditorium (7 p.m.)
The band Chicago was formed in 1967and were once known as The Big Thing and the Chicago Transit Authority, according to Wikipedia. The self-described "rock and roll band with horns" blended elements of classical music, jazz, R&B, and pop music.Ticket prices start at $45.75 and can be purchased via Ticketmaster at this link. The Macon City Auditorium is located at 200 Coliseum Drive in Macon.