2022 Macon Burger Week's Creative Burgers
Image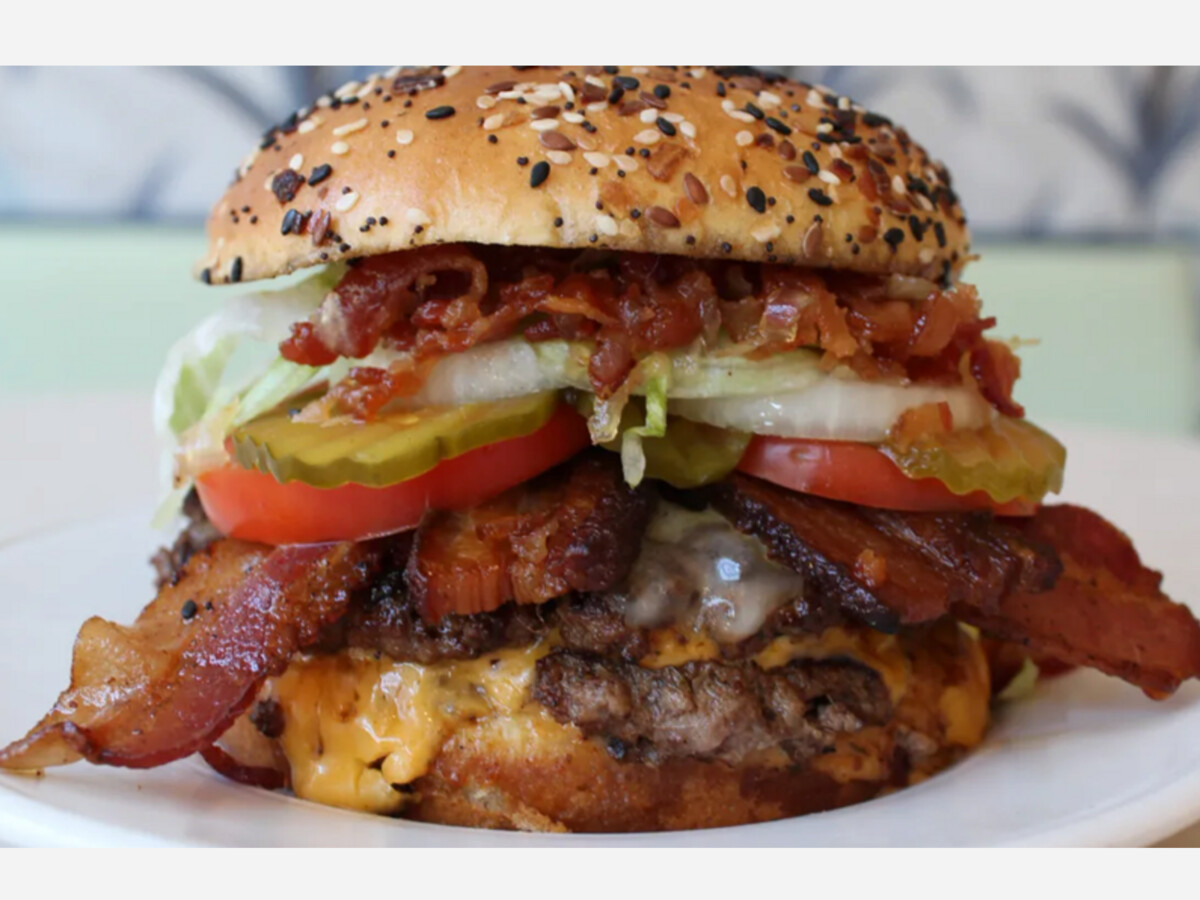 Restaurants located across Macon are competing in the Georgia Beef Board's 2022 Macon Burger Week competition this week. The burgers will all cost $10 which does not include any sides or drinks.
The 25 restaurants participating in the competition will have a chance to win the People's Choice Champion, The Cleverly Created Award, or The Most Beef Sales Award.
Last year only 15 restaurants participated with the the Macon Beer Company emerging as the ultimate winner of the 2021 Macon Burger Week with their High on the Hog burger.
---
Amici Macon's - Amici Blazin' BBQ Burger
Ingredients:  Double black angus beef patties, fried onions strips, Amici house made BBQ sauce, bacon strips, jalapeños, and provolone cheese on a pretzel bun 
Amici is located at 1510 Mercer University Drive.

---
Buffalo's Café - Loaded Philly Burger
Ingredients: Seasoned Beef Patty, pepperjack cheese, bacon, shaved ribeye steak, onions, green peppers, jalapeños, and queso on a gourmet bun
Buffalo's Café is located at 5990 Zebulon Road.
---
Cashman's Pub - Nacho Burger 2.0
Ingredients: Grilled 8 oz burger patty topped with nacho cheese, stuffed in an egg roll wrap and deep fried. Topped with lettuce, Pico de Gallo, fried jalapeños, cilantro, and ancho sauce
Cashman's Pub is located at 370 Cherry Street.
---
Dua Fish Tank - Dua VIET Burger
Ingredients: All Beef patty, Dua's signature pork, fried egg, pickled veggies, fresh avocados, tomatoes and cucumber slices, alfalfa sprouts, and wasabi aioli
Dua Fish Tank is located at 781 Spring Street.
---
Fall Line Brewing - Super Smash Burger
Ingredients: Two smash patties topped with grated onions, cheddar cheese, Swiss cheese, lettuce, tomato, and red pepper mayonnaise on a Hawaiian roll bun
Fall Line Brewing is located at 567 Plum Street.
---
Felicia's Cake Factory - Felicia's Sweet Burger
Ingredients: Vanilla and chocolate cake with buttercream condiments, and sugar cookie fries
Felicia's Cake Factory is located at 365 3rd Street.
---
Glory Days Grill - MacnCheese Burger
Ingredients: 7 oz Seasoned All Beef Patty grilled with lettuce, tomato, onion topped with cheddar cheese a crispy mac n cheese bite, and Glory Day's homemade Queso served on a buttered Brioche Bun
Glory Days Grill is located at 3933 Arkwright Road.
---
Grey Goose Player's Club - The Goose Green Jacket
Ingredients: Seasoned goose patty, Cajun aioli, smoked pimento cheese, spicy pickles, and spring mix on a bun
Grey Goose Player's Club is located at 4524 Forsyth Road.
---
Just Tap'd - Big Mac Pizza Burger
Ingredients: Crumbled Beef, diced tomatoes, shredded lettuce, pickles, cheddar cheese, and signature burger sauce on a sesame seed crust
Grey Goose Player's Club is located at 488 First Street.
---
Kinjo Kitchen and Cocktails - Beef and Broccoli Smash
Ingredients: Asian broccoli slaw, two smash beef patties, sticky sweet soy sauce, Havarti cheese, tempura fried red bell peppers, and potato buns
Kinjo Kitchen and Cocktails is located at 497 2nd Street, Suite A.
---
Macon Beer Company - Mississippi Mouthful
Ingredients: Double stack Certified Angus Beef burger, melted gruyere cheese, thin shaved caramelized yellow onions and chopped pepperoncini peppers in between a toasted King's Hawaiian Burger Bun and served with a house made au jus for dipping
Macon Beer Company is located at 458 2nd Street.
---
Ocmulgee Brewpub - Poppin' Jalapeño Burger
Ingredients: House ground beef patty topped with fried jalapeños, cheddar cheese, crispy bacon, and jalapeño cream cheese on a brioche bun
Ocmulgee Brewpub is located at 484 2nd Street.
---
Satterfield's Barbecue - Smoked Brisket Cheeseburger
Ingredients: Slow-Smoked Brisket Cheddar Burger topped with Fried Onions, Honey Bourbon Hickory Sauce, Duke's Mayo Special Sauce, Shredded Lettuce, and House Pickles on a Victory Bagels' Bun
Satterfield's Barbecue is located at 120 New Street.
---
The Brick - BRICKED UP Burger
Ingredients: Smash burger patty, Provolone Cheese, Lettuce, Diced Tomato, Diced Onion, Buffalo Chicken Dip spread, and Brown Sugar Hot sauce drizzle
The Brick is located at 1305 Hardeman Avenue.
---
The Library Kitchen and Taphouse - The Berenstain Bears Burger
Ingredients: Double smash burger topped with American cheese, brown sugar peppered bacon, fried onion rings, fried banana peppers, and house made angry bear sauce
The Library Kitchen and Taphouse is located at 1530 Mercer University Drive, Suite 300.
---
The Rookery - Chili Cheese Double Stack Burger
Ingredients: Two 4-ounce Certified Angus Beef patties, chili, sauteed onions, bacon, cheese sauce, lettuce, tomato, and onion
The Rookery is located at 453 Cherry Street.
---
Tommy's Bakery - Tommy's Donut Mega Burger
Ingredients: Glazed donut, 8 oz beef patty, secret cheese spread, bacon jam, and a fried egg
Tommy's Bakery is located at 5580 Thomaston Road, Suite 10.
---
Yollah - Hot Mamma! Burger
Ingredients: All beef burger topped with roasted peaches and jalapeños, peppered bacon, lettuce, tomato, fried elote, and Manchego cheese
Yollah is located at 894 College Street.
---
Bearfoot Tavern - The Irish Burger
Ingredients: 8 oz burger topped with bacon, Scottish banger, shredded lettuce, grilled tomato, onions, and a over easy egg with a Cajun Remoulade sauce
Barefoot Tavern is located at 468 2nd Street.
---
Marie's Lounge - Stuffed Macon and Cheese Burger
Ingredients: Beef blend, cheese, mac and cheese, Gruyere cheese, home-made house sauce, onion straws, and chives
Marie's Lounge is located at 4581 Forsyth Road.
---
VIBEZ - Jug Vibez Burger
Ingredients: Two smash burgers, American cheese, lettuce, bacon, tomatoes, onions, Zay's zesty sauce, and a fried egg
VIBEZ is located at 401 Cherry Street.
---
La Bella Morelia - La Bella Burger
Ingredients: Beef patty with hint of chorizo, queso fresco, fried jalepenos, avocado, grilled onion, mayo, and special spicy ketchup
La Bella Morelia is located at 524 Mulberry Street.
---
Midtown Daiquiri Bar and Grill - Midtown Quesadilla Burger
Ingredients: Taco shell, beef, fried onion queso cheese rings, lettuce, and tomatoes
Midtown Daiquiri Bar and Grill is located at 4376 Log Cabin Drive.
---
Northside Cheers - Cheer's Burger 2.0
Ingredients:  Beef burger with a blend of house spices, cheese and bacon on a butter toasted Hawaiian bun
Northside Cheers is located at 3852 Northside Drive.
---
Oh Honey Baking Company - Burger Macaron
Ingredients: A chocolate macaron shell with toasted sesame seeds, ganache with strawberry compote, and swiss buttercream "cheese"
Oh Honey Baking Company is located at 2391 Ingleside Drive.
---
---
More News from Macon