Former First Lady Eleanor Roosevelt's Val-kill Furniture Brand Reborn in Macon
Image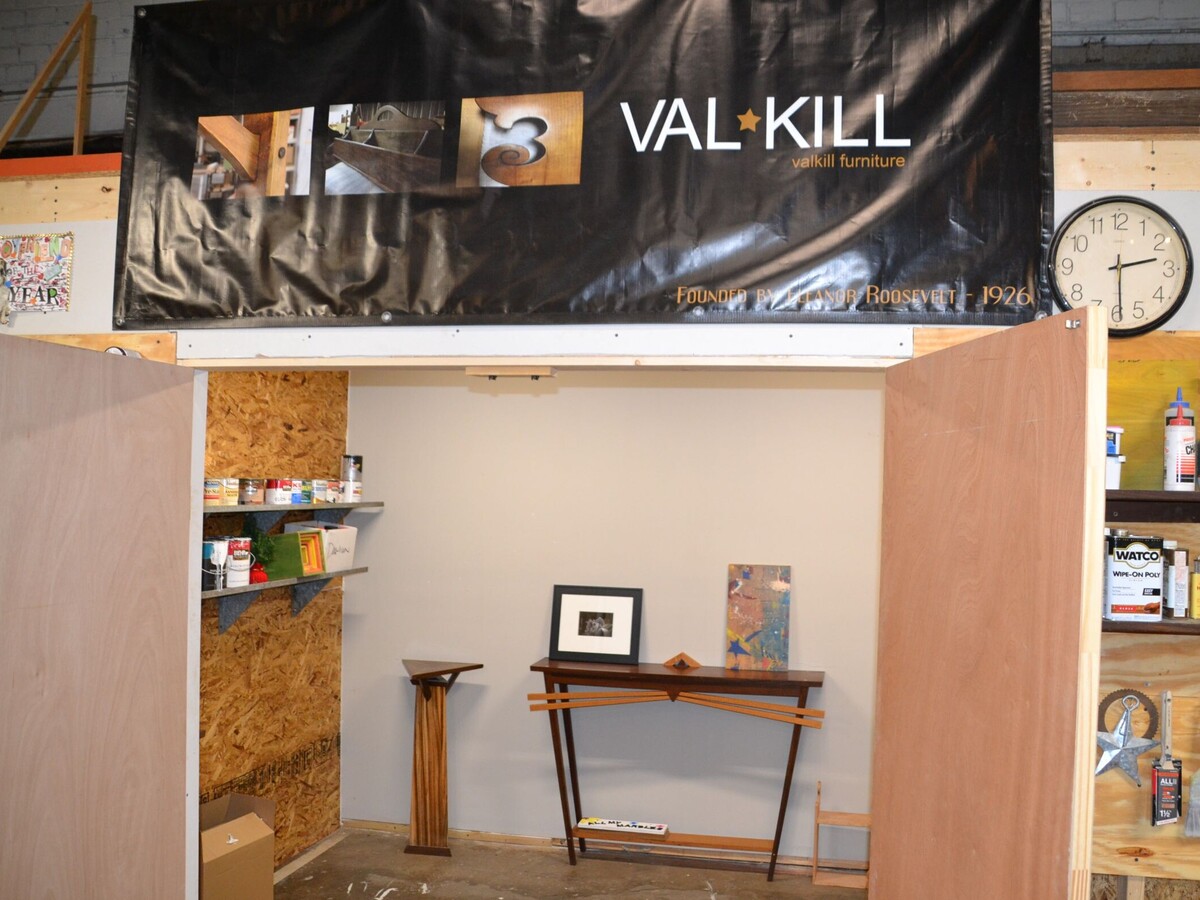 Macon has a long history of being a place where some very famous people (like Little Richard) and brands known worldwide (like Delta Air Lines) were born. Macon is now also a place where historically significant brands are brought back to life.
Ric Geyer has recently begun crafting furniture under the Val-kill Furniture brand, a brand that was originally founded by former First Lady Eleanor Roosevelt. 
Many in Macon know Geyer through Triangle Arts Macon, a four acre arts complex in the historic industrial district of Macon that combines large scale graffiti artwork, artist galleries, and unique event venues that attracts creatives from all walks of life and from around the world. 
Geyer is an energetic project innovator, urbanist, and social entrepreneur who has developed a habit of turning run down industrial areas in large cities like Atlanta and Detroit into magnets for local arts communities and other creative innovators.
Anyone who knows Geyer knows that he always needs to be working on something (usually multiple ambitious projects at a time) and that he likes seeing those around him succeed.
These two personality attributes, along with his interest in furniture making, led Geyer to pay special attention when he first learned about Val-kill Furniture's fascinating history. 
Before Eleanor Roosevelt was First Lady, she was a visionary entrepreneur and the founder of a furniture and crafts style cottage business named Val-kill Industries.
Val-kill Industries was founded in 1926 and mainly manufactured furniture. Roosevelt founded the business based on an idea from Franklin Delano Roosevelt that small industries that could help keep farming economically viable during difficult economic times and the winter months.
Val-Kill Industries was born as a cottage and workshop in part to help provide supplemental income to farming communities, whose members often had little formal education. It also served as a place where the "unemployable" could come to learn new skills and trades.
Roosevelt's Val-kill Furniture pieces were colonial reproductions often constructed from cherry, maple, and walnut wood. The company eventually also make pewter items (like eating utensils, bottle openers, cups, and plates) and even began to sell cloth after it was weaved on looms.
Eleanor Roosevelt's lofty ideas for Val-kill Furniture unfortunately ran into issues early on. 
At first, it was because there are not many people naturally skilled at creating custom, heirloom quality furniture. Val-Kill Furniture would attempt to solve that problem by hiring skilled professionals from Italy. Then they hired a talented carpenter as well, but the company basically eventually failed around 1938 following disagreements among the founders, according to Geyer.
As an entrepreneur and philanthropist, Geyer was intrigued by the idea behind Val-Kill Furniture's philosophy of giving back to disadvantaged communities.
Geyer has a long history of creating quality furniture and helping others succeed. He estimates he has completed around 200 pieces of furniture (and he has photos of each piece to prove it).
Around 2010, Geyer traveled to Hyde Park, New York to the Val-Kill estate, the location of the Roosevelt's home and Val-kill Industries, surrounded by thousands of acres of gardens and trails, which is maintained by the National Park Service.
Before Geyer's trip to Val-Kill, he discovered that the trademark for Val-Kill was available. He quickly set into action a plan to revive the Roosevelt's furniture brand as Val-kill Furniture and continue on its mission of helping those in need by giving them training and helping them develop career skills.
"Val-Kill was appealing to me because it was originally intended to be a way to help people more than as a furniture company. But I like the furniture and I also like helping people," said Geyer.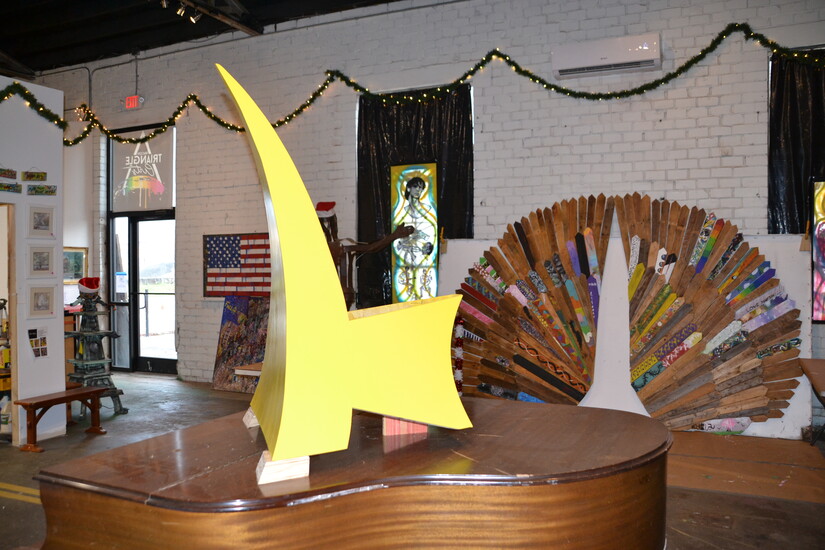 ---
---
Geyer has also helped promote and mentor many of Macon and Middle Georgia's talented artists as well as those who showed up at Triangle Arts Macon who were willing to try to help themselves succeed.
The artist studios at Triangle Arts Macon have also been the creative home for multitalented artists and creatives like painter Rhonda "Sunshine" Miller, photographer Mike Young, and painter and graphic designer Johnny Mollica.
"I want to…help people become successful around me and turn this into a place where I can make really cool and iconic [custom furniture]," Geyer said.
Triangle Arts Macon is now also where visitors can visit Val-kill Furniture's workshop and showroom and see the quality furniture pieces that are now being produced under the historic brand.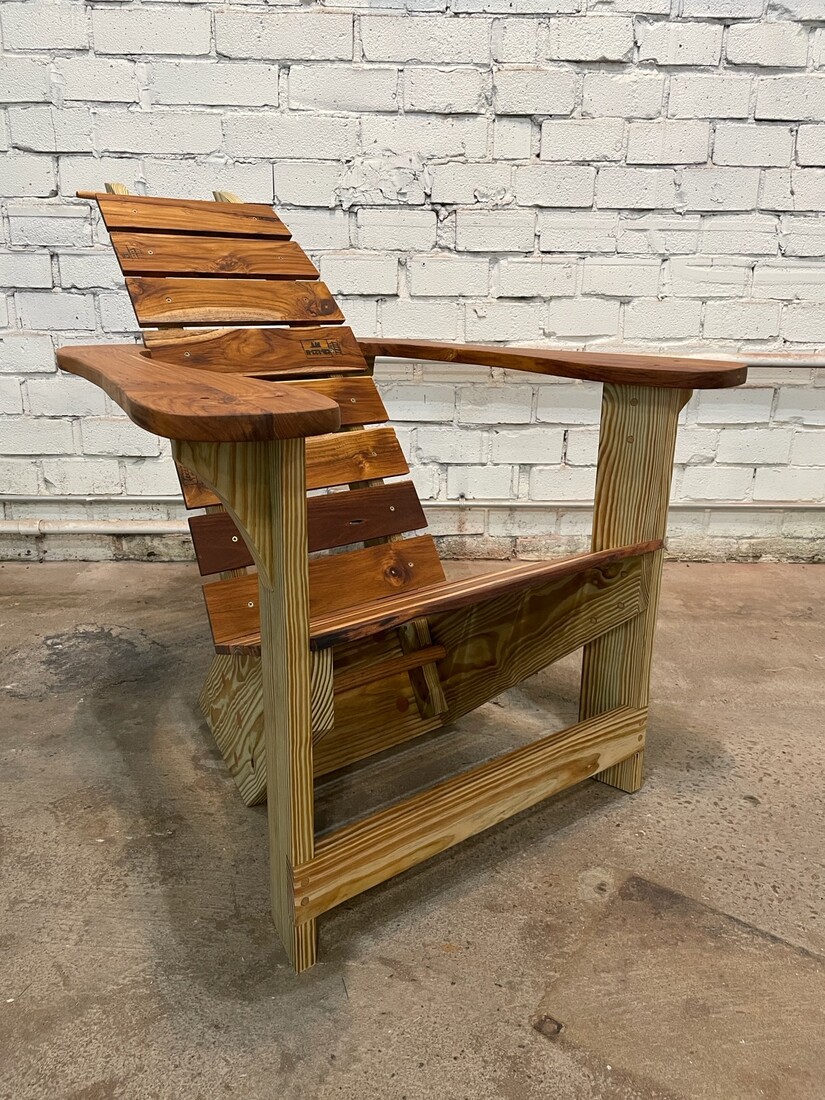 One of Val-kill Furniture's distinctive furniture pieces is the Macon lounger, which multiple people have called the "most comfortable chair they've ever sat in", according to Geyer. It is based on the famous Adirondack chair with some unique alterations dreamed up by Geyer to make it even more comfortable.
If you are interested in seeing even more Val-kill Furniture pieces, the Macon Arts Alliance will present Geyer's one-man show on Friday, October 6, 2023. While there, be sure to check out the big red bench outside of the art gallery, a creative Val-kill Furniture original that is classy, comfortable, and also has a miniature version of Macon Arts Alliance's art gallery attached to it.
More News from Macon